Gov't defends plan for water tunnel from Wulai to Taoyuan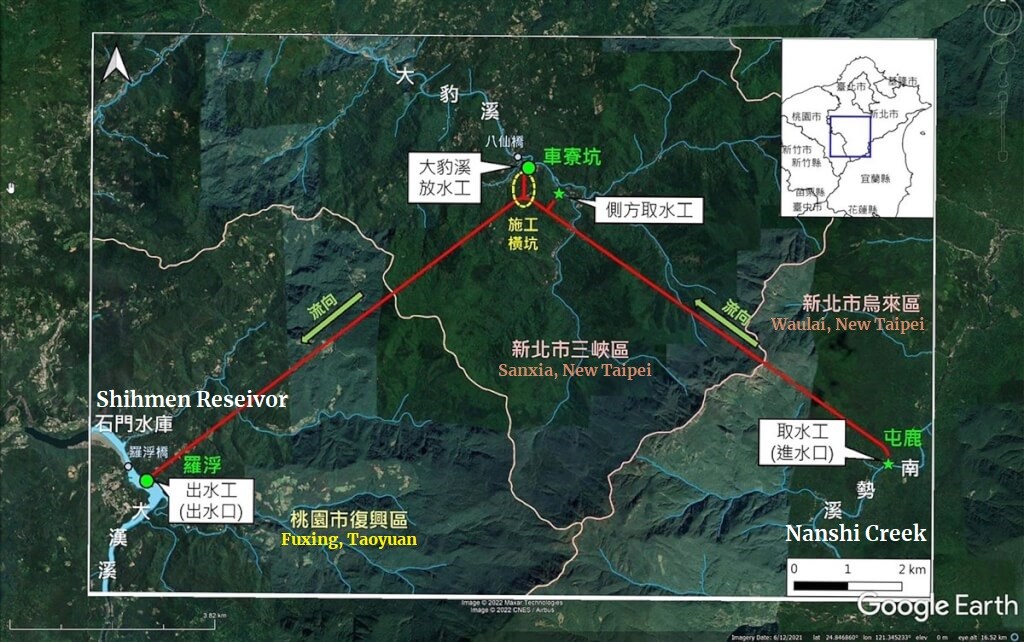 Taipei, Aug. 28 (CNA) The Water Resources Agency (WRA) defended proposals for a 17.3-kilometer-long tunnel from Nanshi Creek (南勢溪) in New Taipei's Wulai District to Shihmen Reseivor in Taoyuan Sunday amid concerns over the project's environmental and social costs.
In a statement, the WRA, under the Ministry of Economic Affairs, said the project was currently undergoing an environmental impact assessment and that construction would not go ahead without the approval of local residents in Wulai.
The WRA's comments come after environmental groups and members of Wulai's Indigenous community expressed opposition to the project in a report published by the Chinese-language United Daily News.
In the report, the Taiwan Ecological Engineering Development Foundation called on the WRA to cancel plans for the tunnel, saying the project would have a devastating ecological impact on Nanshi Creek and the protected species that inhabit it.
Meanwhile, a local Atayal resident said he feared construction work could force members of Wulai's Indigenous community off their land, or trigger devastating landslides similar to those that killed at least 471 people in the mountain village of Siaolin (小林) in Kaohsiung during 2009's Typhoon Morakot.
Speculation emerged in the wake of the disaster in Siaolin over the role played by the ongoing construction of a tunnel diverting water from Cishan River (旗山溪) and Laonong River (荖濃溪) into Zengwen Reservoir (曾文水庫).
However, the WRA denied that the impact of the landslide had been exacerbated by construction work on the tunnel, which has been suspended since Typhoon Morakot.
The WRA said that construction of the tunnel would have a minimal impact on local ecology in Wulai and would also have a limited effect on the water supply of the Greater Taipei region.
As part of what it calls "cross-regional water resource dispatch," the WRA said it chose Nanshi Creek as it was more than likely to have sufficient rainfall to send to other parts of northern Taiwan, including Taoyuan and Hsinchu, to relieve water shortages there aside from meeting the existing needs of the Greater Taipei region.
The construction of the tunnel is expected to cost NT$18.6 billion (US$613 million) over a span of 4.5 years, according to the WRA proposal.
Related News
Aug. 27: Water pressure to be lowered in Keelung, Xizhi from Sept. 3 amid dry spell
Aug. 26: Lack of typhoons leads to 15-year low for rainfall in July