CORONAVIRUS
/
Border opening dependent on BA.5 COVID cases: CECC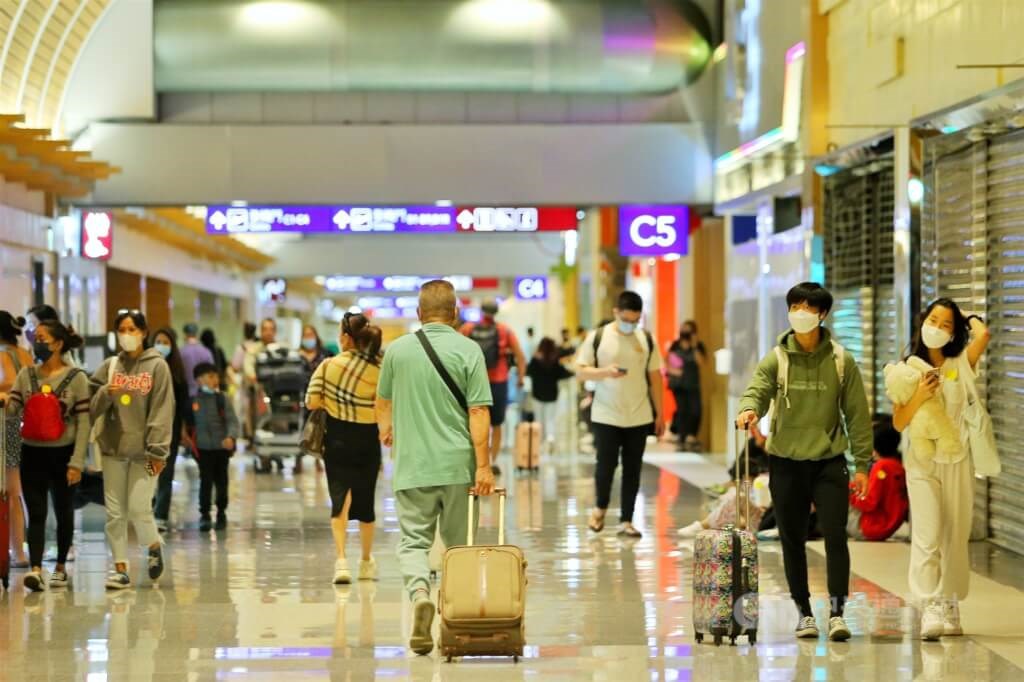 Taipei, Aug. 19 (CNA) The Central Epidemic Command Center (CECC) on Friday said the time frame for implementing a draft plan submitted by the Tourism Bureau for easing COVID-19 border restrictions would depend on a possible surge of new BA.5 cases.
The bureau's draft plan is just part of the government's preparation for lifting current controls and reopening for tourists, CECC head Victor Wang (王必勝) told a press briefing Friday.
However, Wang said the time frame for easing restrictions would depend on the course of an expected surge in new BA.5 Omicron subvariant cases in the coming weeks.
With community BA.5 infections on the rise in Taiwan, current modeling suggests that daily new cases of the subvariant are likely to peak around late September or early October, according to Wang.
"We will take a steady approach to opening the border," Wang said, adding that the CECC's goal was to strike a balance between disease prevention, the economy, and tourism in a bid for people to live a normal life again.
Meanwhile, the CECC plans to take steps such as relaxing quarantine protocols for people arriving in Taiwan, raising the cap on the number of weekly arrivals, and allowing tour groups, before fully opening Taiwan's borders again.
Earlier Friday at the opening of the Taipei Tourism Exposition, President Tsai Ing-wen (蔡英文) said she has instructed the Cabinet to look into a timeline and measures to gradually allow entry of tourists.
Taiwan first tightened border controls amid the initial global outbreak of COVID-19 in March 2020 but has since allowed entry of students, business travelers, and from July 25, foreigners who obtain a working holiday visa, as well as interns and volunteers.
The country also relaxed COVID-19 protocols for people traveling to Taiwan, cutting the quarantine period from 14 days to three days, raising the weekly cap of arrivals from 25,000 to 40,000, and removing a requirement that arrivals provide a negative pre-flight COVID-19 PCR (polymerase chain reaction) test.
Related News
Sept. 8: Taiwan introduces extra entry slots for overseas students
Sept. 1: Taiwan's new COVID-19 policies taking effect Sept. 1
Aug. 22: Taiwan raises weekly arrivals cap
Aug. 19: Taiwan gets 1st delivery of Pfizer-BNT vaccines for young children
Aug. 17: BA. 5 COVID subvariant outbreaks expected to increase: CECC
Aug. 1: Taiwan grants EUA to Pfizer-BNT COVID-19 vaccine for children under 5
July 26: Revision of border rules depends on vaccination rate among kids: CECC
June 17: Taiwan grants EUA to Moderna COVID-19 vaccine for children under 6
Taiwan's eased border controls in 2022
● Taiwan to ease rules for last four days of arrival COVID-19 protocol
● Taiwan lifts pre-flight PCR test requirement for all arriving travelers
● Taiwan reopens borders to some foreign students on Aug. 1: MOE
★ Taiwan allows entry of 6 groups of foreign nationals on July 25
● Taiwan raises weekly arrivals cap, loosens pre-entry PCR requirement on July 7
★ Taiwan introduces '3+4' quarantine policy for arriving travelers on June 15
● Taiwan further relaxes border restrictions on family visits on April 12
★ Taiwan still plans to open up gradually, despite case spike: Premier (April 1)
● Taiwan shortens quarantine, grant entry to business travelers from March 7
● Taiwan to expand entry permission to professionals from March 7
● Taiwan reopens for foreign national fertility treatment from March 1
● Taiwan opens to non-scholarship language students
★ Taiwan begins March with economy-minded eased COVID-19 protocol
● Ban on migrant workers from Philippines, Vietnam lifted on Feb. 15
View All