CORONAVIRUS
/
Taiwan reports 23,425 new COVID-19 cases, 34 deaths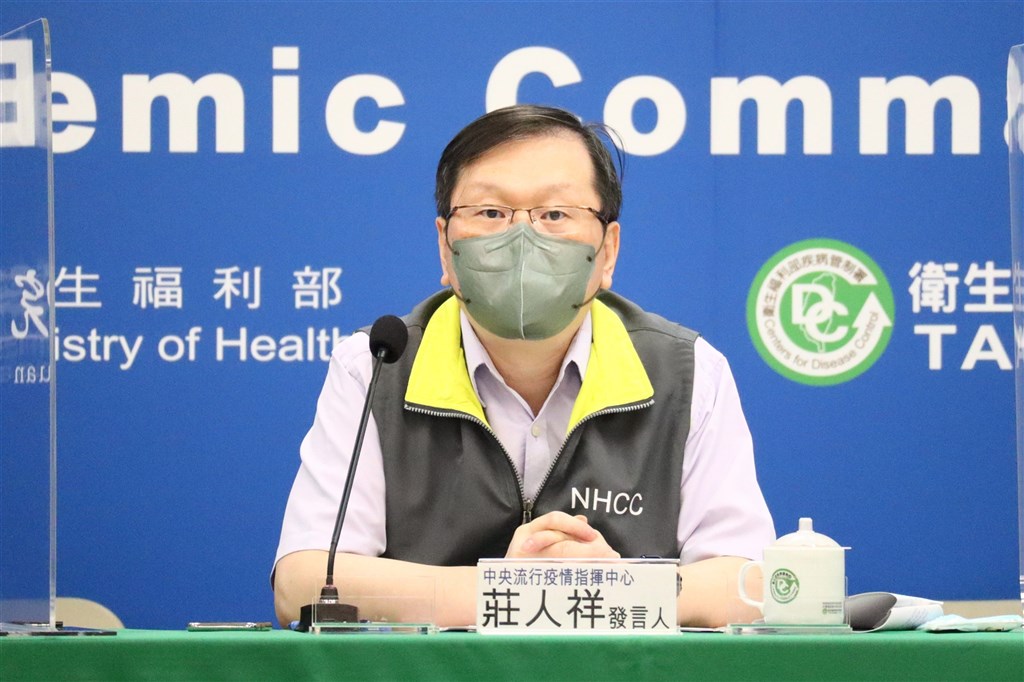 Taipei, Aug. 18 (CNA) Taiwan on Thursday reported 23,425 new cases of COVID-19, all but 337 of which were domestic infections, and 34 deaths from the disease, according to the Central Epidemic Command Center (CECC).
The deceased ranged in age from their 40s to their 90s. All suffered from chronic illnesses or other severe diseases, and 15 had not been fully vaccinated against COVID-19, the CECC said.
Also on Thursday, the CECC reported 33 severe COVID-19 cases and 78 moderate infections.
Among the severe cases were two young children aged below 5 who were diagnosed with multisystem inflammatory syndrome in children (MIS-C).
The CECC said that both children were now recovering in hospital.
Of the 4,913,931 domestic cases recorded in Taiwan this year, 10,082 have been classified as severe infections and 12,541 as moderate, accounting for 0.21 percent and 0.25 percent of the total, respectively, according to CECC data as of Aug. 17.
Regional breakdown
Regionally, New Taipei reported the highest number of new cases on Thursday, with 4,729, followed by Taipei with 2,808 and Taichung with 2,748.
Taoyuan had 2,582 new cases, Kaohsiung 1,799, Tainan 1,522, Changhua 963, Hsinchu County 693, Miaoli 663, Hsinchu City 603, Pingtung 562, Yilan 544, Yunlin 532, and Hualien 447.
Keelung reported 423 cases, Chiayi 386, Nantou 370, Chiayi City 251, Taitung 221, Penghu 131, Kinmen 114, and the Matsu Islands seven, the CECC said.
To date, Taiwan has recorded 4,975,970 COVID-19 cases since the pandemic began in early 2020, including 4,951,596 domestic infections.
With the 34 deaths reported Thursday, the number of COVID-19 fatalities in the country rose to 9,538.
Also on Thursday
Aug. 18: Taiwan confirms first domestic cluster of COVID-19 BA.4 subvariant
Related News
Aug. 17: Pfizer-BioNTech vaccine for young children set to arrive Friday: CECC
Aug. 17: BA. 5 COVID subvariant outbreaks expected to increase: CECC
Aug. 15: Taiwan to ease rules for last four days of arrival COVID-19 protocol
Aug. 10: Taiwan to lift pre-flight PCR test requirement for all arriving travelers
Aug. 1: Taiwan grants EUA to Pfizer-BNT COVID-19 vaccine for children under 5
July 26: Revision of border rules depends on vaccination rate among kids: CECC
Recent cases
Aug. 17: Taiwan reports 24,873 new COVID-19 cases, 33 deaths
Aug. 16: Taiwan reports 23,172 new COVID-19 cases, 16 deaths
Aug. 15: Taiwan reports 15,792 new COVID-19 cases, 22 deaths
Aug. 14: Taiwan reports 21,092 new COVID-19 cases, 22 deaths
Aug. 13: Taiwan reports 21,289 new COVID-19 cases, 40 deaths
View All