CORONAVIRUS
/
Taiwan reports 15,412 new COVID-19 cases, 26 deaths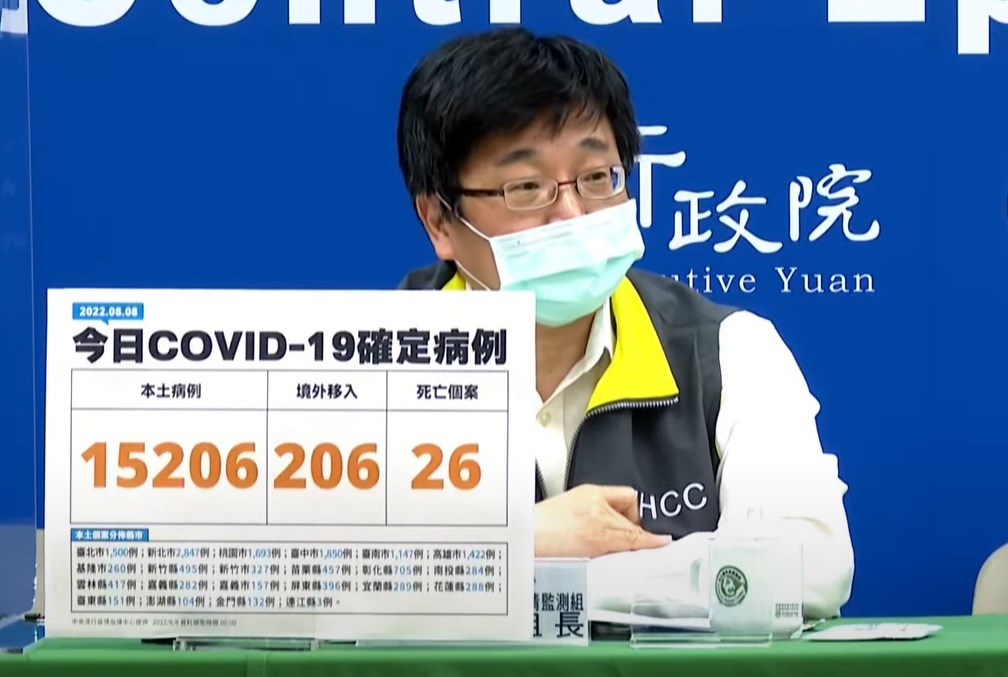 Taipei, Aug. 8 (CNA) Taiwan on Monday reported 15,412 new cases of COVID-19, all but 206 of which were domestic infections, and 26 deaths from the disease, according to the Central Epidemic Command Center (CECC).
The new case total was Taiwan's lowest since April 30, while the number of new moderate and severe COVID-19 infections, 45, was the lowest since May 15, CECC official Chou Jih-haw (周志浩) said at a press briefing.
The deceased ranged in age from their 50s to their 90s. All suffered from chronic illnesses or other severe diseases and 13 were unvaccinated against COVID-19, the CECC said.
Severe, moderate cases
Also on Monday, the CECC reported 19 new severe COVID-19 cases and 26 moderate infections.
Of the 4,702,448 domestic cases reported in Taiwan this year, 9,744 have been classified as severe infections and 12,056 as moderate, accounting for 0.21 percent and 0.26 percent of the total, respectively, according to CECC data as of Aug. 7.
In all other cases, the infected persons were either asymptomatic or had mild symptoms, the CECC said.
Regional breakdown
Regionally, New Taipei recorded the highest number of new cases on Monday, with 2,847, followed by Taichung with 1,850 and Taoyuan with 1,693.
Taipei reported 1,500 new cases, Kaohsiung 1,422, Tainan 1,147, Changhua 705, Hsinchu County 495, Miaoli 457, Yunlin 417, Pingtung 396, Hsinchu City 327, Yilan 289 and Hualien 288.
Nantou reported 284 cases, Chiayi County 282, Keelung 260, Chiayi City 157, Taitung 151, Kinmen 132, Penghu 104, and the Matsu Island three cases, the CECC said.
To date, Taiwan has recorded 4,754,268 COVID-19 cases since the pandemic began in early 2020, including 4,732,254 domestic infections.
With the 26 deaths reported Monday, the number of confirmed COVID-19 fatalities in the country rose to 9,255.
Related News
Aug. 8: Taiwan eases COVID-19 rules for transit passengers at Taoyuan airport
Aug. 4: CECC to ease two policies before lifting quarantine for arrivals
Aug. 1: Japan tour operators visit Taiwan for the first time in 2 years
Aug. 1: Taiwan grants EUA to Pfizer-BNT COVID-19 vaccine for children under 5
July 26: Revision of border rules depends on vaccination rate among kids: CECC
Recent cases
Aug. 7: Taiwan reports 22,044 new COVID-19 cases, 42 deaths
Aug. 6: Taiwan reports 19,965 new COVID-19 cases, 51 deaths
Aug. 5: Taiwan reports 21,869 new COVID-19 cases, 54 deaths
Aug. 4: Taiwan reports 22,959 new COVID-19 cases, 56 deaths
View All