CORONAVIRUS
/
Taiwan to allow entry of 6 groups of foreign nationals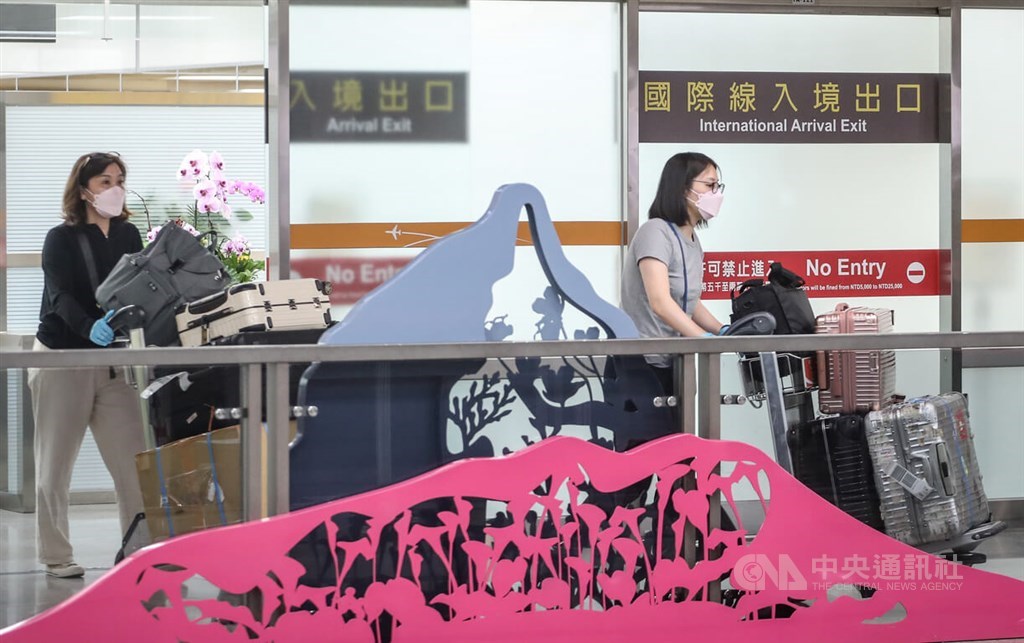 Taipei, July 19 (CNA) Six categories of foreign nationals, including interns and volunteers, will be allowed to enter Taiwan, starting next week, but the mandatory three-day quarantine for all arriving travelers will remain in place, government officials said Tuesday.
With effect from July 25, foreign volunteers, missionaries and interns, as well as people visiting Taiwan for language or religious seminars, international exchanges, and working holidays, will be allowed entry, said Chou Chung-hsiung (周中興), deputy director-general of the Bureau of Consular Affairs (BOCA).
Foreign nationals in those six categories who wish to visit Taiwan, however, must first apply at a Taiwan representative office abroad for a special entry permit, Chou said.
Exceptions
Taiwan's partial reopening to foreign visitors will not extend to people from China, Hong Kong, or Macau, he said.
In May 2021, Taiwan closed its borders to all non-resident foreign nationals, with a few exceptions, amid a spike in domestic COVID-19 cases, but in the past few months, it has been easing its entry restrictions for some categories of travelers, including businesspeople and students admitted to Taiwan schools.
Foreign arrivals in the six listed categories that will now be admitted totaled 10,000 in 2019, prior to the COVID-19 pandemic, according to Chou.
With effect from July 25, foreign nationals entering Taiwan under the "international exchange" category will include those participating in events such as religious processions, road races, and hot air balloon festivals, which have an element of international or cultural exchange, BOCA said.
Further opening?
Meanwhile, the government will move gradually in the direction of opening the borders to other visitors, raising the cap of weekly arrivals, and ending the quarantine requirement, according to Victor Wang (王必勝), head of the Central Epidemic Command Center (CECC).
He declined to give a timeline for those decisions, however, saying only that the deciding factors will be the domestic and international COVID-19 situation and Taiwan's medical resources.
Specifically, the quarantine rule for all arrivals will remain in place throughout August, mandating three days of quarantine followed by four days of self-initiated epidemic prevention, according to Wang.
Update
Sept. 29: Taiwan's new COVID-19 protocols for arriving passengers taking effect Sept. 29
Sept. 1: Taiwan's new COVID-19 policies taking effect Sept. 1
Aug. 22: Taiwan raises weekly arrivals cap
Aug. 15: Taiwan to ease rules for last four days of arrival COVID-19 protocol
Aug. 10: Taiwan to lift pre-flight PCR test requirement for all arriving travelers
Related News
July 8: COVID-positive travelers urged to delay return by 1 week
July 6: Taiwan reports first domestic BA.5 subvariant cases
June 13: Omicron subvariants BA.4, BA.5 detected in Taiwan for first time
June 3: Taiwan plans easing border rules for arrivals, excluding tourists
May 28: Border control easing depends on health system capacity: CECC
Taiwan's eased border controls in 2022
● Taiwan to reopen borders to some foreign students on Aug. 1: MOE
● Taiwan raises weekly arrivals cap, loosens pre-entry PCR requirement on July 7
● Taiwan introduces '3+4' quarantine policy for arriving travelers on June 15
● Taiwan further relaxes border restrictions on family visits on April 12
● Taiwan still plans to open up gradually, despite case spike: Premier (April 1)
● Taiwan shortens quarantine, grant entry to business travelers from March 7
● Taiwan to expand entry permission to professionals from March 7
● Taiwan reopens for foreign national fertility treatment from March 1
● Taiwan opens to non-scholarship language students
● Taiwan begins March with economy-minded eased COVID-19 protocol
● Ban on migrant workers from Philippines, Vietnam lifted on Feb. 15
View All