CORONAVIRUS
/
Taiwan reports 35,800 new COVID-19 cases, 121 deaths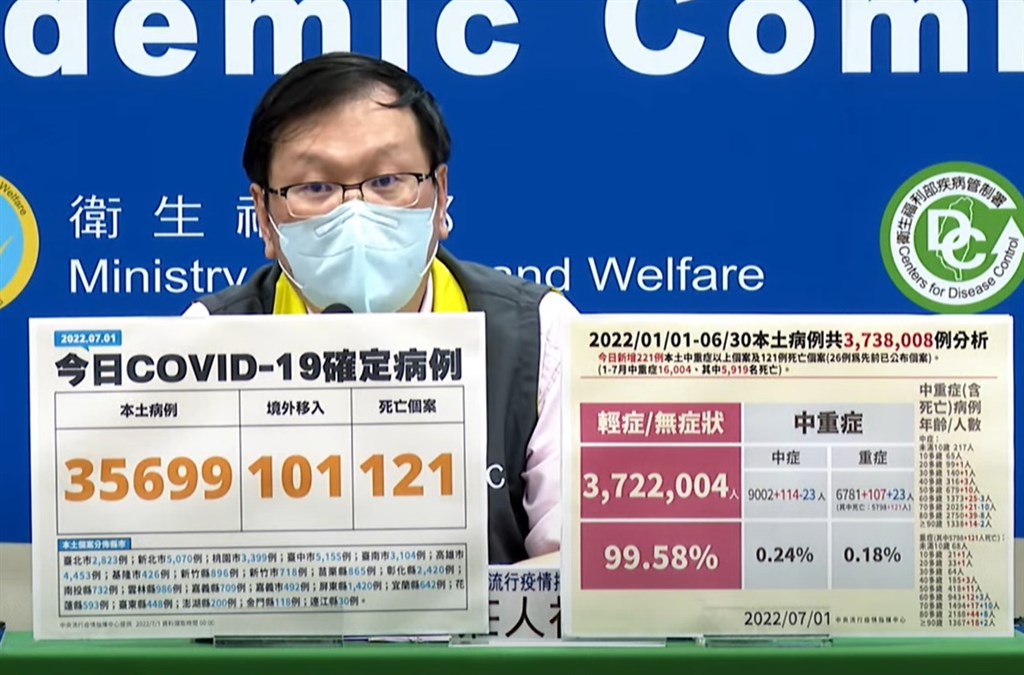 Taipei, July 1 (CNA) Taiwan reported 35,800 new COVID-19 cases on Friday, with all but 101 being domestic infections, and 121 deaths from the disease, according to the Central Epidemic Command Center (CECC).
The patients whose deaths were reported Friday ranged in age from 18 to over 90. They included 116 individuals who had chronic illnesses or other severe diseases and 55 who had not received any doses of a COVID-19 vaccine, the CECC said.
Among those not vaccinated with any doses of a COVID-19 vaccine was an 18-year-old woman, who was mainly restricted to her bed because of a prior existing nervous system disease, Lo Yi-chun (羅一鈞), deputy head of the CECC's medical response division, said at a daily press briefing.
She developed a fever on June 13 and was sent to an emergency room and admitted to hospital, Lo said, adding that she was found to have pneumonia.
While in hospital, she passed away on June 28 due to pneumonia and respiratory failure, Lo said.
Taiwan has now recorded a total of nine severe cases of COVID-19 involving those in the 13-18 age group, Lo said, adding that four have died.
Severe, moderate infections
The CECC also said that 107 previously reported COVID-19 cases had become severe, while 114 other individuals had developed moderate symptoms.
Of the 3,738,008 domestic cases reported in Taiwan this year, 6,911 have been classified as severe infections and 9,093 as moderate, accounting for 0.18 percent and 0.24 percent of the total, respectively, according to CECC data as of June 30.
In all other cases, the infected individuals were either asymptomatic or had mild symptoms, the CECC said.
Regional breakdown
On Friday, Taichung reported the highest number of domestic cases, with 5,155, followed by New Taipei with 5,070, and Kaohsiung with 4,453.
Taoyuan recorded 3,399 cases, Tainan 3,104, Taipei 2,823, Changhua County 2,420, Pingtung County 1,420, Yunlin County 986, Hsinchu County 896, Miaoli County 865, Nantou County 732, Hsinchu City 718, and Chiayi County 709.
Yilan County reported 642 cases, Hualien County 593, Chiayi City 492, Taitung County 448, Keelung 426, Penghu County 200, Kinmen County 118, and the Matsu Islands 30.
To date, Taiwan has recorded 3,803,049 COVID-19 cases since the pandemic began in early 2020, including 3,788,274 domestic infections.
With the 121 deaths reported Friday, the number of confirmed COVID-19 fatalities in the country rose to 6,772.
Taiwan reported over 100 deaths every day in June, with the exception of June 27 and June 29, with 91 and 85 deaths, respectively.
Recent cases
June 30: Taiwan reports 38,942 new COVID-19 cases, 118 deaths
June 29: Taiwan reports 42,204 new COVID-19 cases, 85 deaths
June 28: Taiwan reports 44,428 new COVID-19 cases, 103 deaths
June 27: Taiwan reports 28,580 new COVID-19 cases, 91 deaths
June 26: Taiwan reports 39,646 new COVID-19 cases, 134 deaths
View All