CORONAVIRUS
/
Taiwan reports over 100 COVID-19 deaths for 25th consecutive day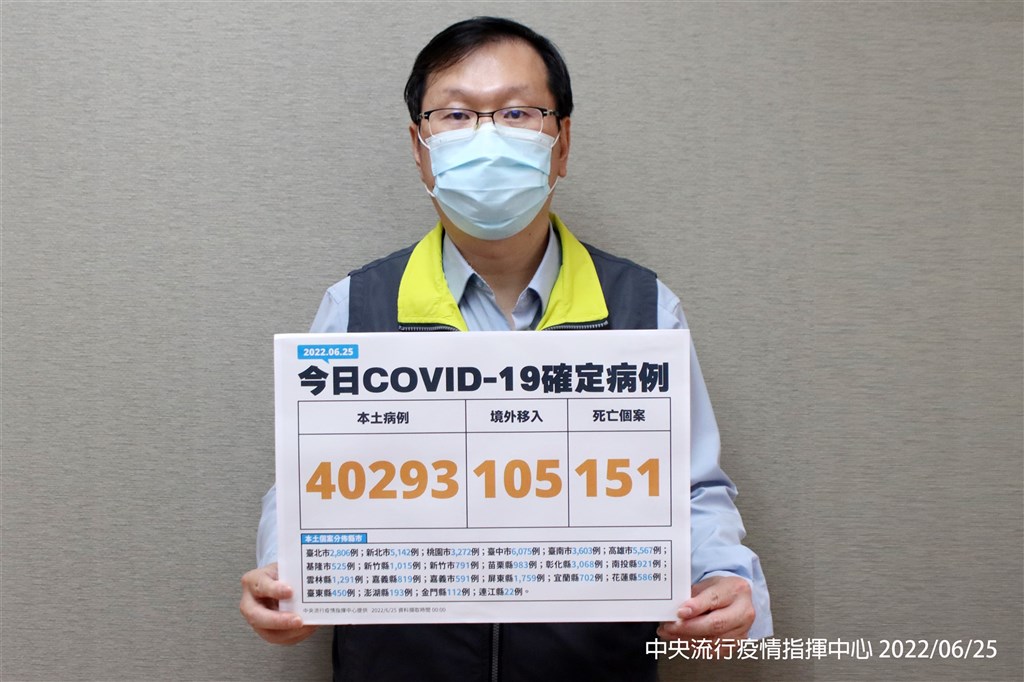 Taipei, June 25 (CNA) Taiwan on Saturday reported 40,398 new COVID-19 infections and 151 deaths from the disease, the 25th day in a row that it has had over 100 deaths in the ongoing outbreak, according to the Central Epidemic Command Center (CECC).
Taiwan has been recording over 100 COVID-19 deaths every day during the month of June. With the 151 deaths reported on Saturday, the number of confirmed COVID-19 fatalities in the country rose to 6,120.
The people whose deaths were reported on Saturday ranged in age from their 30s to 90s, including 140 individuals with chronic illnesses or other severe diseases and 63 who had not been vaccinated with any dose of a COVID-19 vaccine, the CECC said.
Among those who passed away and have not received any dose of a COVID-19 vaccine was a 35-year-old cancer patient, according to CECC data. The woman was confirmed to be positive for COVID-19 on June 5 and died on June 12.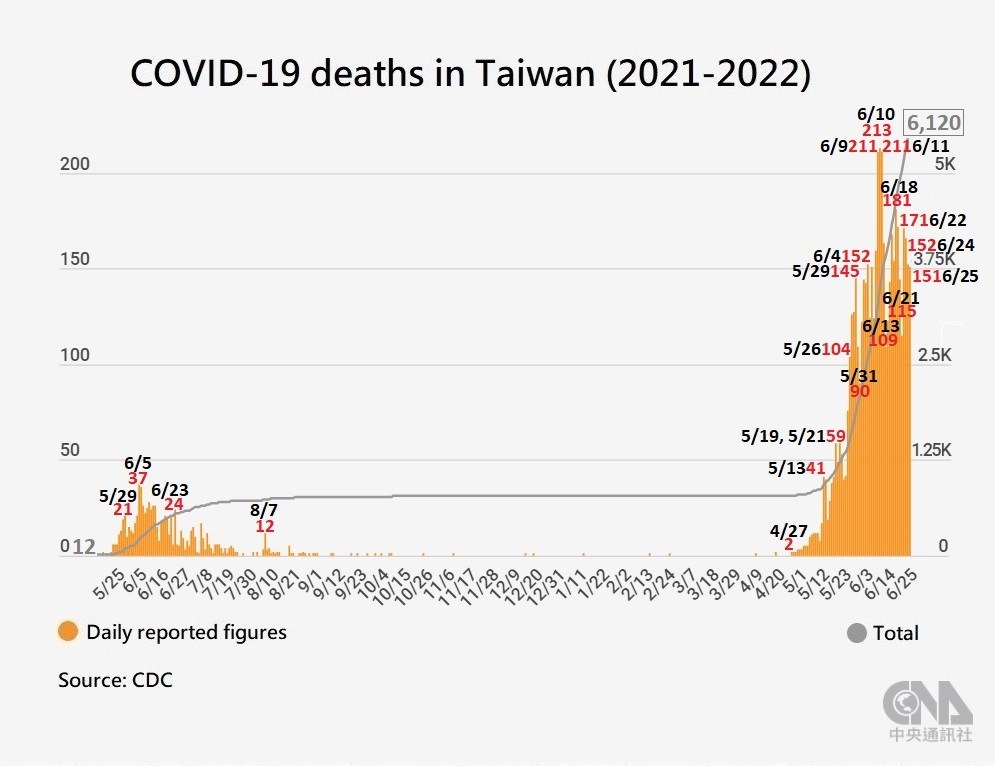 Out of the 40,398 new COVID-19 cases reported on Saturday, only 105 were imported, according to the CECC.
It also said 144 previously reported COVID-19 cases developed severe infections, and another 181 developed moderate symptoms of the disease.
Of the 3,504,558 domestic cases reported in Taiwan this year, 6,157 have been classified as severe infections, and 8,365 as moderate, accounting for 0.18 percent and 0.24 percent of the total, respectively, according to CECC data as of June 24.
In all other cases, the patients were either asymptomatic or had mild infections, the CECC said.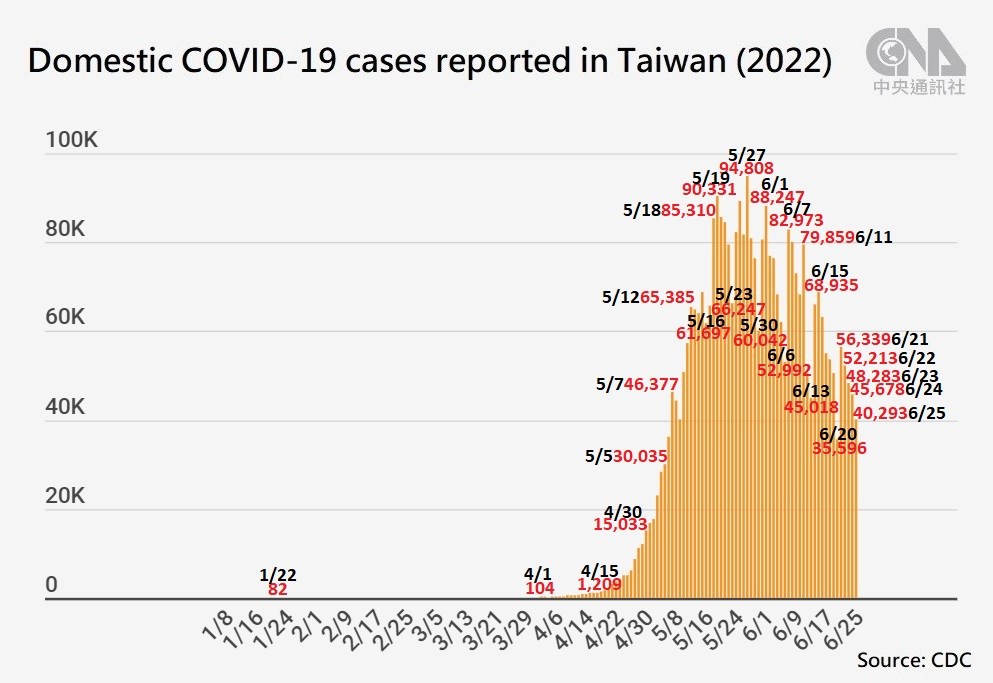 Of the domestic cases reported on Saturday, Taichung reported the highest number, with 6,075, followed by Kaohsiung with 5,567, and New Taipei with 5,142.
Tainan recorded 3,603 cases, Taoyuan 3,272, Changhua County 3,068, Taipei 2,806, Pingtung County 1,759, Yunlin County 1,291, Hsinchu County 1,015, Miaoli County 983, Nantou County 921, and Chiayi County 819.
Hsinchu City reported 791 cases, Yilan County 702, Chiayi City 591, Hualien County 586, Keelung 525, Taitung County 450, Penghu County 193, Kinmen County 112, and the Matsu Islands 22.
To date, Taiwan has recorded 3,573,703 COVID-19 cases since the pandemic began in early 2020, including 3,559,424 domestic infections.
Recent cases
June 24: Taiwan reports 45,767 new COVID-19 cases, 152 deaths
June 23: Taiwan reports 48,356 new COVID-19 cases, 166 deaths
June 22 Taiwan reports 52,246 new COVID-19 cases, 171 deaths
June 21: Taiwan reports 56,404 new COVID-19 cases, 115 deaths
June 20: Taiwan reports 35,632 new COVID-19 cases, 144 deaths
View All