CORONAVIRUS
/
Taiwan reports 56,404 new COVID-19 cases, 115 deaths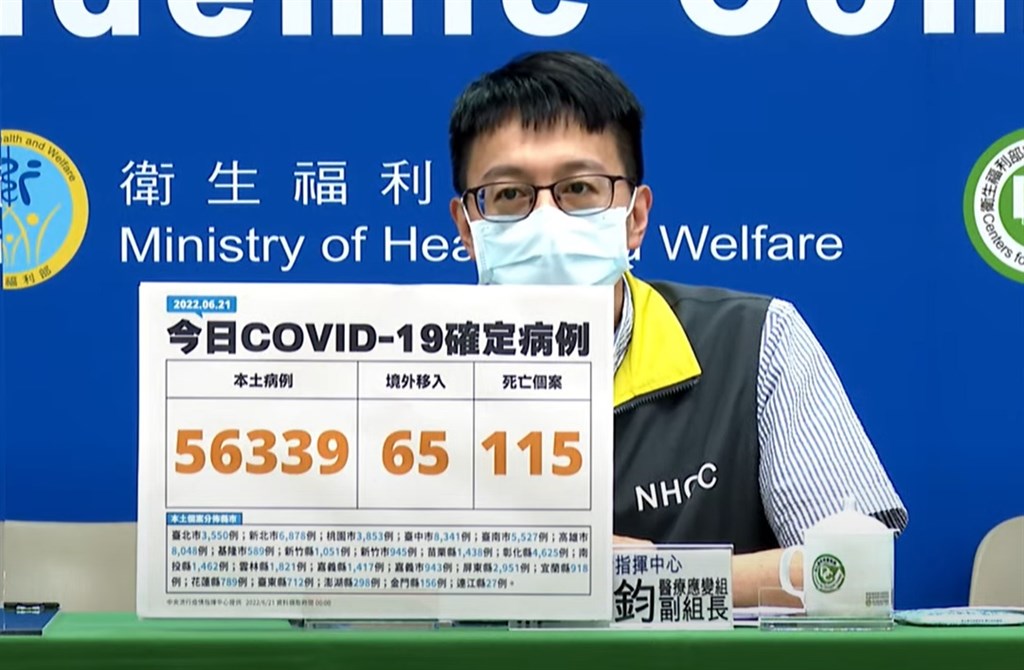 Taipei, June 21 (CNA) Taiwan reported 56,404 new COVID-19 cases on Tuesday, including 65 imported, and 115 deaths from the disease, according to the Central Epidemic Command Center (CECC).
The deceased ranged in age from their 30s to their 90s and included 107 individuals who had chronic illnesses or other severe diseases. A total of 48 were unvaccinated, the CECC said.
The CECC also said that 141 previously reported COVID-19 cases had become severe, while 68 other individuals had developed moderate symptoms.
Among the new severe infections are two boys, one 4 months old and one 2 years old, the CECC said.
The 4-month-old boy has congenital heart disease. He tested positive for COVID-19 on May 31, after being taken to the hospital due to fatigue and diarrhea, according to the CECC.
Doctors found that he had low oxygen levels, low blood pressure, a low body temperature, and that his skin had turned purple. He was diagnosed with pneumonia after an x-ray exam, and he is still receiving treatment in an intensive care unit (ICU).
The 2-year-old boy, meanwhile, has a neurological disorder and epilepsy. He developed a fever and fatigue on June 17, and began to vomit, have abnormal breathing sounds, and had a seizure the next day and was taken to an emergency room.
He was diagnosed with pneumonia and is still in an ICU, the CECC said.
To date, 65 children aged 12 years old or younger have developed severe COVID-19 infections, of whom 18 have passed away.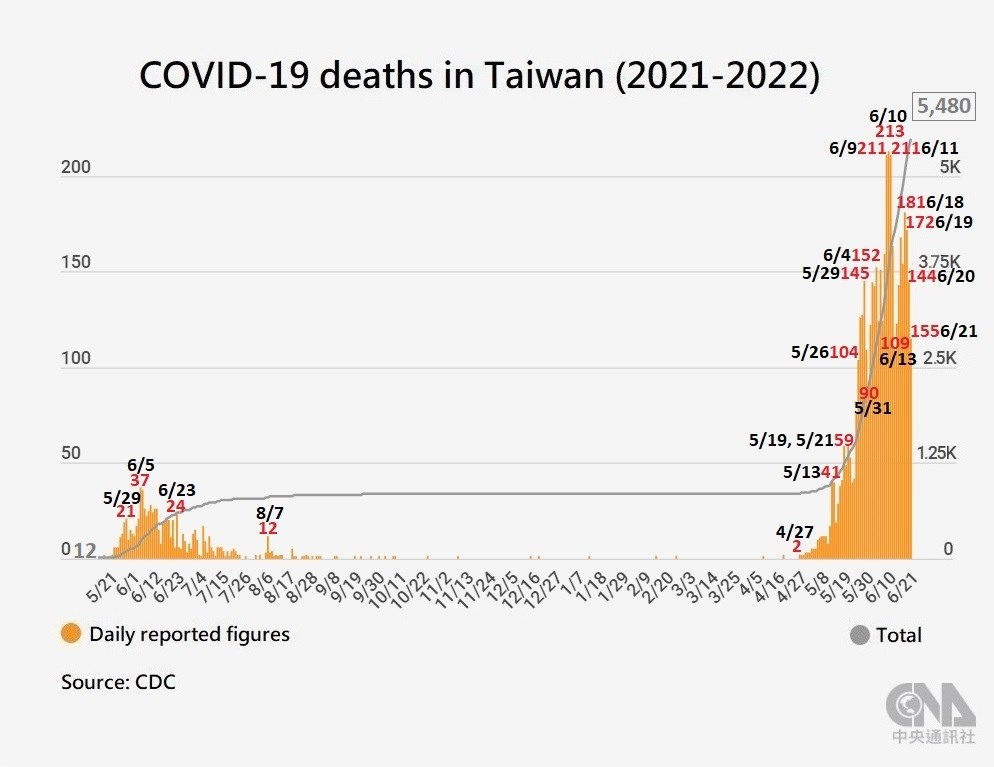 Of the 3,302,179 domestic cases reported in Taiwan this year, 5,433 have been classified as severe infections and 7,696 as moderate, accounting for 0.16 percent and 0.23 percent of the total, respectively, according to CECC data as of June 20.
In all other cases, the infected individuals were either asymptomatic or had mild symptoms, the CECC said.
Of the domestic cases Tuesday, Taichung reported the highest number, with 8,341, followed by Kaohsiung with 8,048 and New Taipei with 6,878.
Tainan recorded 5,527 cases, Changhua County 4,625, Taoyuan 3,853, Taipei 3,550, Pingtung County 2,951, Yunlin County 1,821, Nantou County 1,426, Miaoli County 1,462, Chiayi County 1,417, and Hsinchu County 1,051.
Hsinchu City recorded 945 cases, Chiayi City 943, Yilan County 918, Hualien County 789, Taitung County 712, Keelung 589, Penghu County 298, Kinmen County 156, and the Matsu Islands 27.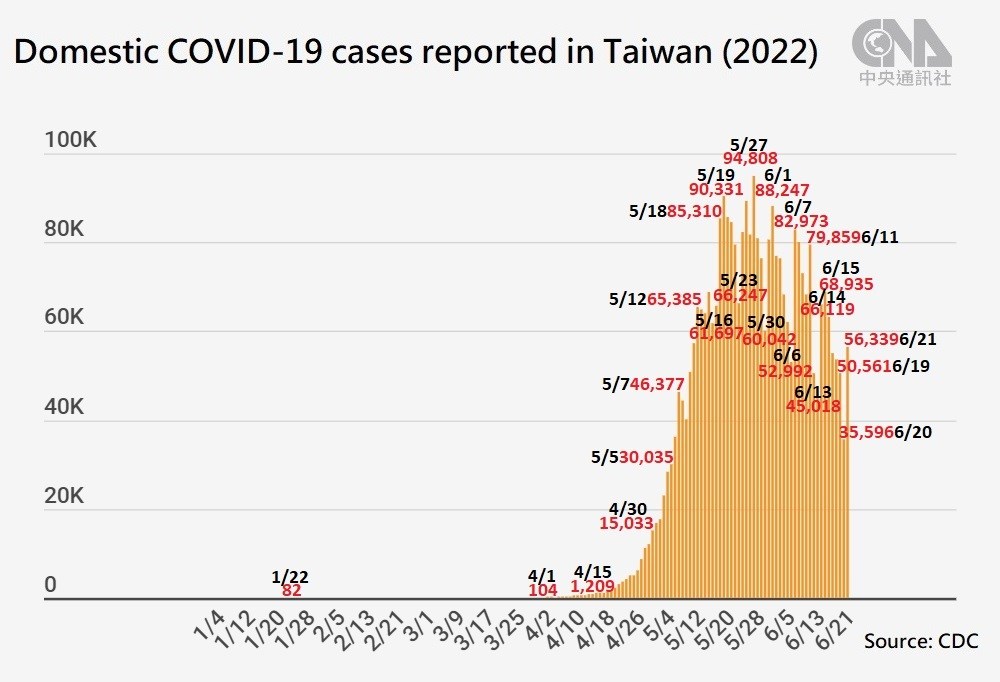 To date, Taiwan has recorded 3,387,061 COVID-19 cases since the pandemic began in early 2020, including 3,373,083 domestic infections.
With the 115 deaths reported Tuesday, the number of confirmed COVID-19 fatalities in the country rose to 5,480, CECC data showed.
Also on Tuesday
June 21: Weekly travelers cap of 25,000 likely through month's end: minister
June 21: Local gov'ts to receive children's Pfizer-BNT vaccines on 6/22
Related News
June 20: Taiwan reports 17 new cases of BA.4, BA.5 subvariants
June 20: Taiwan lifts vaccination requirement for local tour groups
June 20: Taiwan in talks to buy Pfizer-BioNTech vaccines for kids under 5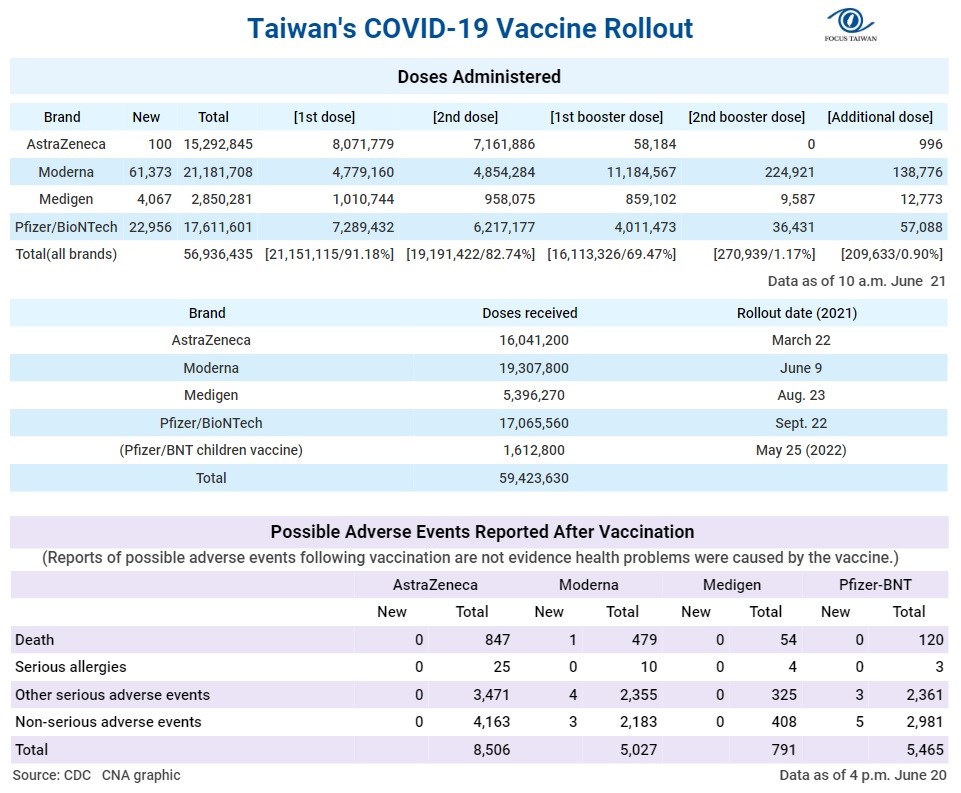 Recent cases
June 20: Taiwan reports 35,632 new COVID-19 cases, 144 deaths
June 19: Taiwan reports 50,636 new COVID-19 cases, 172 deaths
June 18: Taiwan reports 53,707 new COVID-19 cases, 181 deaths
June 17: Taiwan reports over 100 COVID-19 deaths for 17th consecutive day
June 16: Taiwan reports 63,221 new COVID-19 cases, 168 deaths
View All