CORONAVIRUS
/
Taiwan FDA approves Novavax emergency use authorization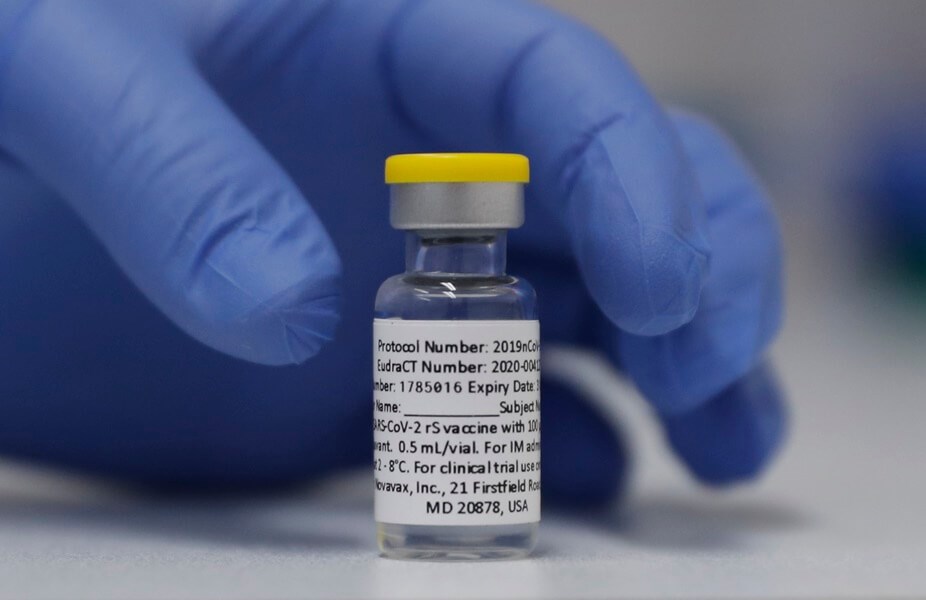 Taipei, June 17 (CNA) The Taiwan Food and Drug Administration (FDA) has granted emergency use authorization (EUA) for the Novavax COVID-19 vaccine for adults after it held an expert meeting on Friday.
The vaccine will be for people aged 18 and above with a regimen of two 0.5-mL doses given three weeks apart, the FDA said in a statement after reviewing the quality, safety, and efficacy data of the Novavax vaccine.
Based on an overall assessment and taking into consideration urgent domestic public health needs, experts at the meeting came to an agreement on approving the import of Novavax vaccines in accordance with Taiwan's pharmaceutical laws, the FDA said.
In clinical trials involving people aged 18 and above, the most common adverse reactions were tenderness or pain at the injection site, fatigue, myalgia, headache, general weakness, arthralgia, and nausea or vomiting, with severity ranging from mild to moderate, the FDA said.
The FDA said it would continue to monitor domestic and overseas vaccination safety alerts, while analyzing and evaluating data related to adverse vaccine events, and implement a safety monitoring mechanism to ensure the safety of the vaccination for the public.
Taiwan's Minister of Health and Welfare Chen Shih-chung (陳時中) said in April that Taiwan would receive about 2 million doses of the Novavax COVID-19 vaccine through the global vaccine sharing initiative COVAX.
FDA Director-General Wu Shou-mei (吳秀梅) then said in May that Taiwan had already received the American drugmaker's recent request for EUA in Taiwan.
She said that the EUA request from Novavax actually came several months ago, but the data provided at the time had been insufficient, containing only the processing information of the vaccine.
The company then made up for the missing information by providing data about the vaccine's clinical trials, pharmacology, and toxicology, Wu said, adding that health experts would assess the EUA request after the completion of its review.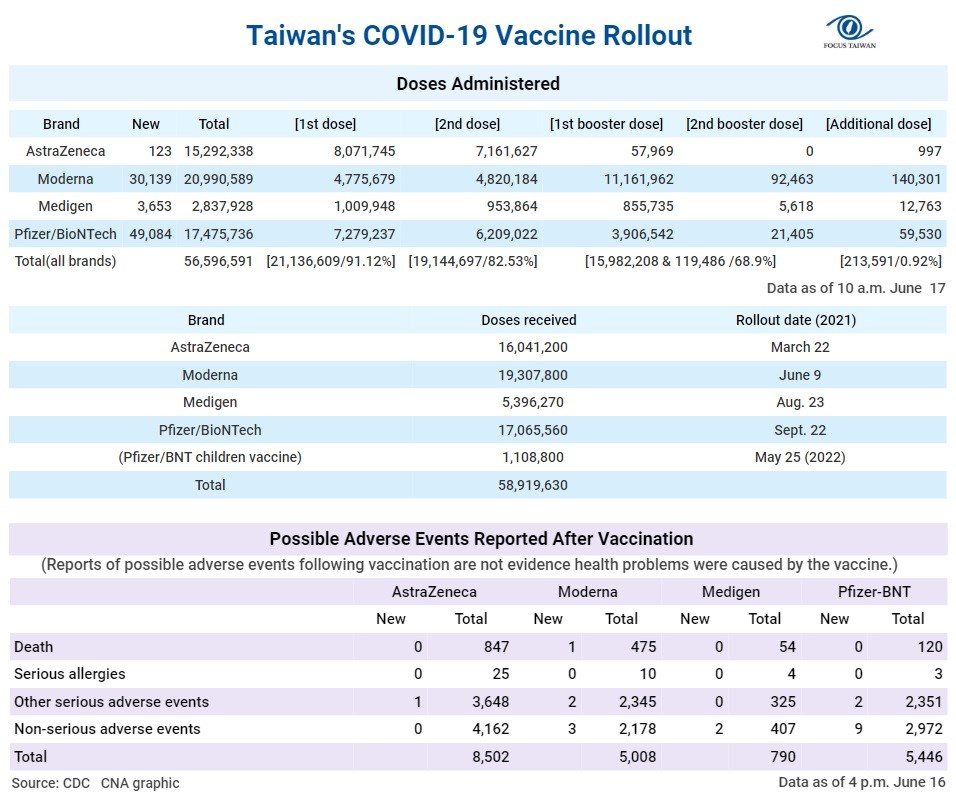 To date, 91.12 percent of Taiwan's population of over 23 million has received at least one COVID-19 shot, while 82.53 percent has gotten two doses, according to the Central Epidemic Command Center (CECC).
Since Taiwan began providing third doses in December 2021, 68.9 percent of the population has received a booster shot and 0.92 percent has been given an additional dose, which is a third shot administered to immuno-compromised people, according to CECC data.
Related News
June 17: Taiwan reports over 100 COVID-19 deaths for 17th consecutive day
June 17: Taiwan grants EUA to Moderna COVID-19 vaccine for children under 6
March 24: Taiwan to receive 2 million Novavax vaccine doses from COVAX
View All