CORONAVIRUS
/
Taiwan reports 76,564 COVID-19 cases, 142 deaths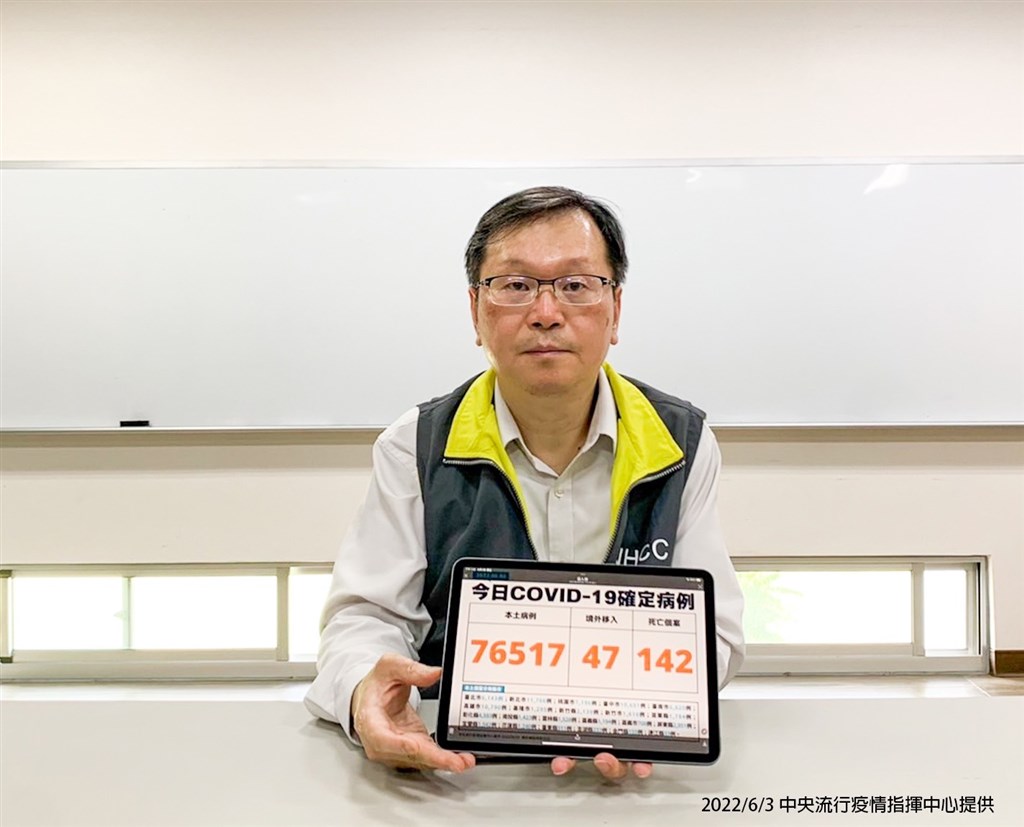 Taipei, June 3 (CNA) Taiwan reported 76,564 new COVID-19 cases -- 76,517 domestically transmitted and 47 imported cases -- and 142 deaths from the disease on Friday, according to the Central Epidemic Command Center (CECC).
The death toll was slightly lower than the current single-day high of 145 deaths reported on May 29.
The 142 patients reported Friday to have died of COVID-19 complications ranged in age from their 20s to 90s. Of these patients, 67 were unvaccinated, and 134 had chronic illnesses or other severe diseases.
The youngest person who died was a man in his 20s, who had a prior immune system disease and had not been vaccinated with any dose of a COVID-19 vaccine, according to CECC data.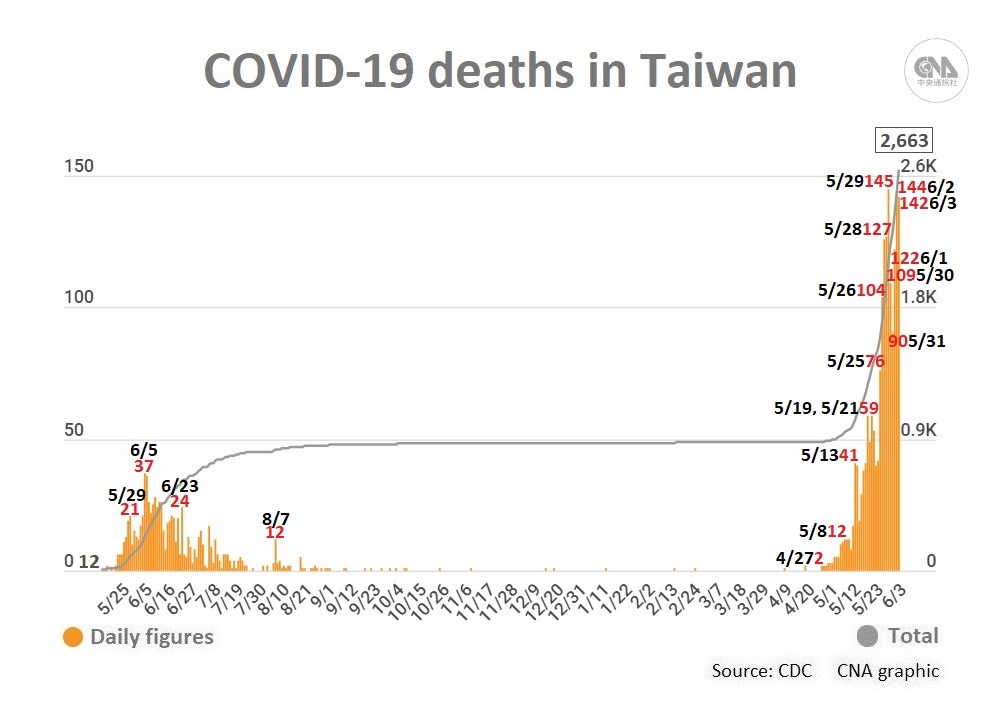 The CECC also said Friday that 140 previously reported COVID-19 cases had since become severe infections, while 269 other patients had developed moderate symptoms of the disease.
Of the 2,170,453 domestic cases recorded in Taiwan this year, 2,144 have been classified as severe infections and 4,393 as moderate, accounting for 0.10 percent and 0.20 percent of the total, respectively, according to CECC data as of June 2.
In all other cases, patients were either asymptomatic or had mild infections, the CECC said.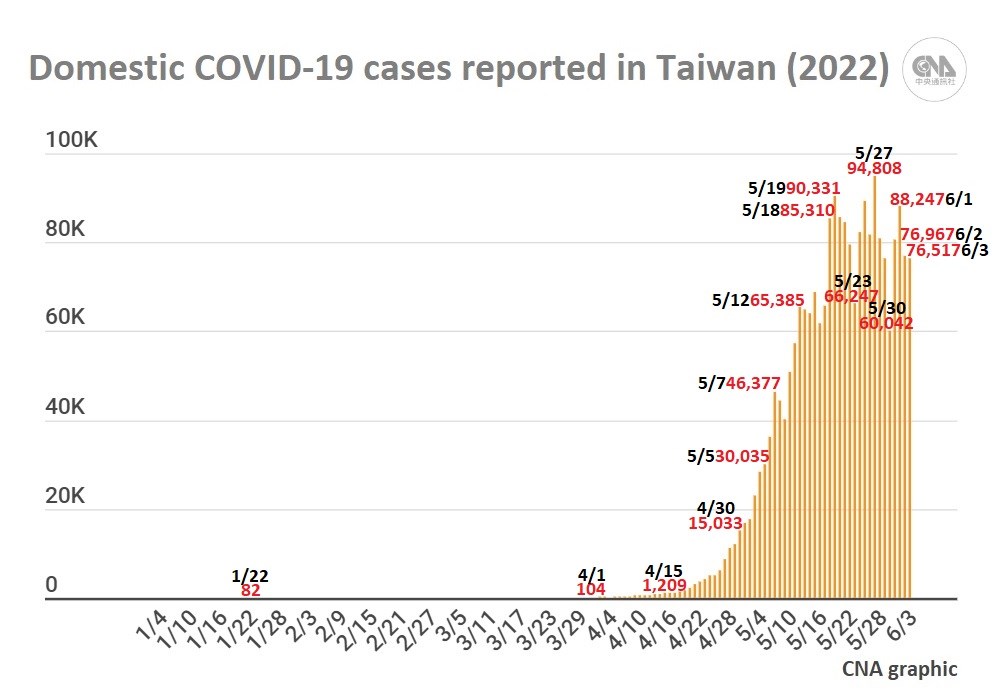 Of the domestic cases reported Friday, New Taipei recorded the highest number with 11,766 cases, followed by Kaohsiung with 10,790, and Taichung with 10,651.
Taoyuan reported 7,196 cases, Tainan 6,620, Taipei 6,143, Changhua County 4,593, Pingtung County 2,951, Hsinchu County 2,139, Miaoli County 1,784, Hsinchu City 1,616, Yilan County 1,542, and Yunlin County 1,528.
Nantou County reported 1,423 cases, Keelung 1,295, Hualien County 1,246, Chiayi County 1,194, Taitung County 911, Chiayi City 708, Penghu County 233, Kinmen County 155, and Matsu Islands 33.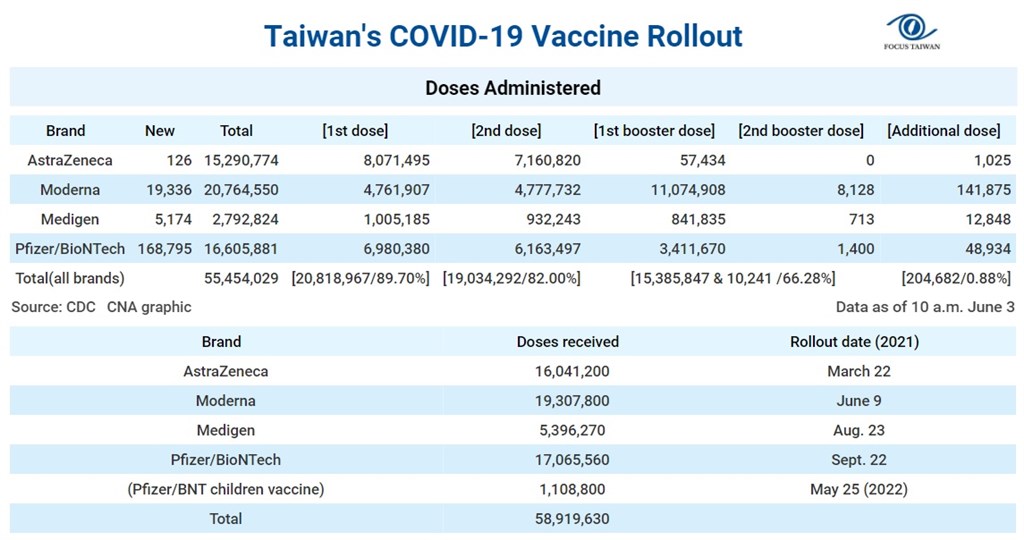 To date, Taiwan has recorded 2,274,666 COVID-19 cases since the pandemic began in early 2020, including 2,261,514 domestic infections.
With the 142 deaths reported Friday, the number of confirmed COVID-19 fatalities in the country rose to 2,663, CECC data showed.
Also on Friday
● Taiwan COVID-19 News Briefs: June 3
June 3: Students to be given 4 free COVID rapid tests from June 6
June 3: Taiwan mulls easing border rules for arrivals, excluding tourists
Recent cases
June 2: Taiwan reports 76,986 new COVID-19 cases, 144 deaths
June 1: Taiwan reports 88,293 new COVID-19 cases, 122 deaths
May 31: Taiwan reports 80,705 new COVID-19 cases, 90 deaths
May 30: Taiwan reports 60,103 new COVID-19 cases, 109 deaths
May 29: Taiwan reports 76,605 new COVID-19 cases, 145 deaths
View All