CORONAVIRUS
/
Taiwan to set up 6 COVID-19 vaccination sites for children aged 5-11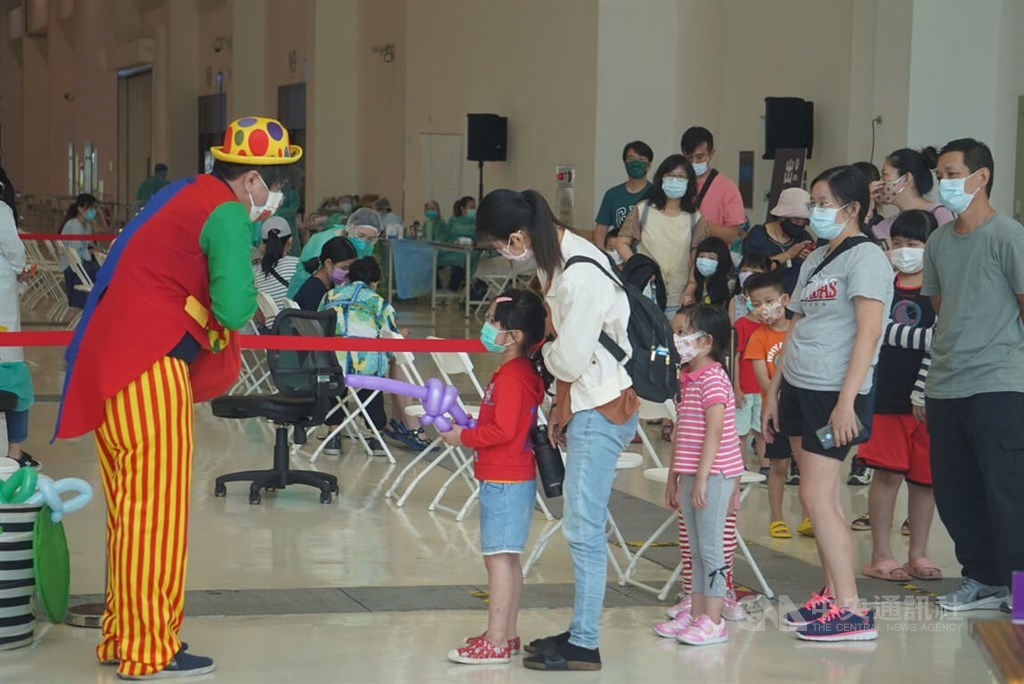 Taipei, May 30 (CNA) Taiwan's six special municipalities will each set up a large-scale walk-in vaccination site where COVID-19 vaccine shots for children aged 5-11 will be administered starting June 1, the Central Epidemic Command Center (CECC) said Monday.
In order to ensure children acquire immunity against COVID-19 as soon as possible, the CECC has worked together with the municipal governments of Taipei, New Taipei, Taoyuan, Taichung, Tainan, and Kaohsiung to set up walk-in vaccination sites for children.
The sites are located at Taipei Liberty Square (June 1-5), New Taipei Banqiao Station (June 1-5), Taoyuan Arena (Taoyuan's vaccine booking site), Taichung National Museum of Natural Science, Tainan Public Library (Tainan's vaccine booking site), and Kaohsiung Exhibition Center (Kaohsiung's veccine booking site), according to the CECC.
The main COVID-19 vaccine to be administered for children 5 through 11 years of age at the six walk-in vaccination stations is the Pfizer-BioNTech (BNT) vaccine, the CECC said.
In addition, in an effort to promote COVID-19 vaccination among young children, cities and counties are arranging for contracted medical institutions and elementary schools to conduct mass vaccination events for eligible children, according to the CECC.
Parents with children in the age group can choose which walk-in site they want their kids to be vaccinated, the CECC said.
It added that parents are advised to accompany their children to get the shot after signing a pre-vaccination checklist and a consent form indicating their willingness to vaccinate their children after an assessment by an on-site doctor.
If a young child contracts COVID-19, he or she can only be vaccinated 3 months after recovering, the CECC added.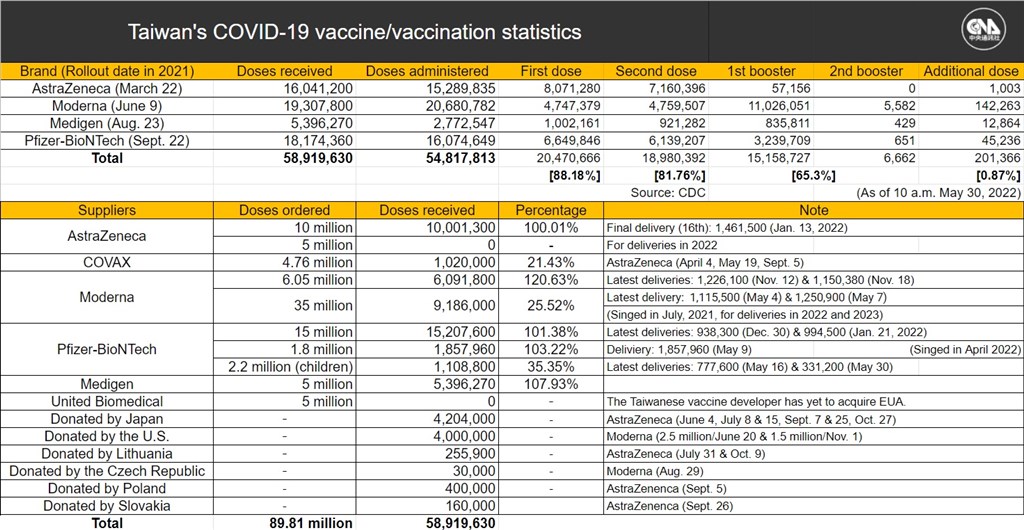 As of May 28, 455,000 children in the age group had received a COVID-19 vaccine, or about 30 percent of the group, according to the CECC.
In terms of the supply of COVID-19 vaccines for children, a shipment of the Pfizer-BNT COVID-19 vaccine, containing 331,200 doses, arrived in Taiwan on Monday morning, Minister of Health and Welfare Chen Shih-chung (陳時中), who heads the center, said at a daily news briefing.
The vaccine doses have been transported to a cold storage warehouse, where they will be inspected before being administered to children aged 5 to 11 as their first dose of a COVID-19 vaccine, Chen said.
The doses expire on Sept. 30, according to Chen.
Taiwan has received a total of 1.1088 million doses of the Pfizer-BNT COVID-19 vaccine for children.
On May 16, it took delivery of the first shipment of 777,600 doses.
The doses are part of a deal Taiwan signed on April 28 to procure 2.2 million doses of the Pfizer-BNT vaccine for children and about 1.8 million doses for adults.
View All