CORONAVIRUS
/
Taiwan reports 89,389 new COVID-19 cases, 76 deaths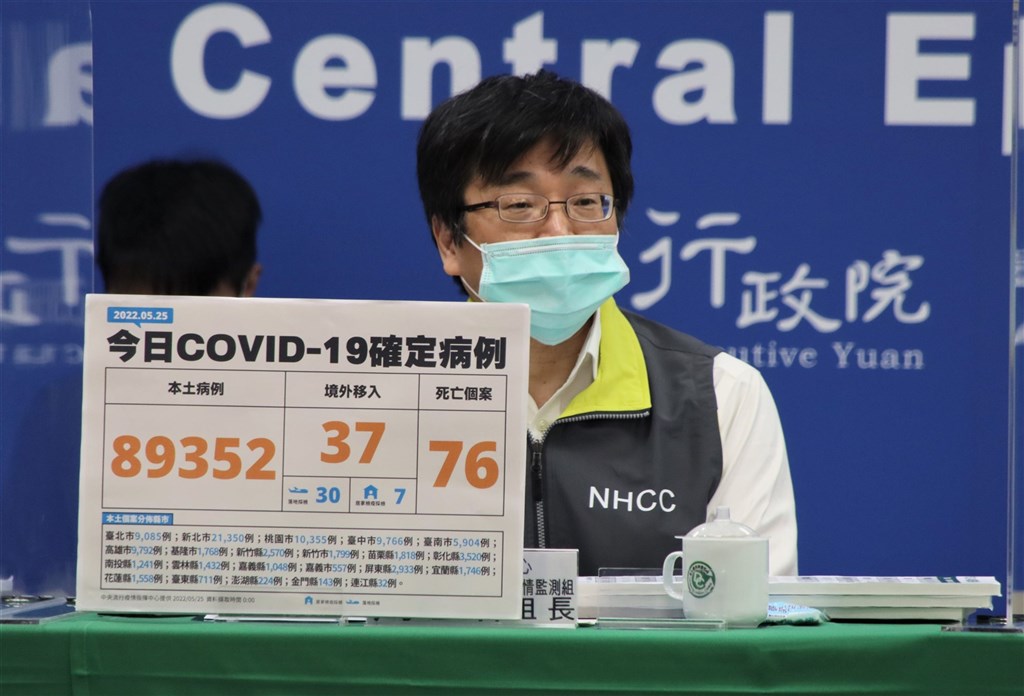 Taipei, May 25 (CNA) Taiwan recorded 89,389 new COVID-19 cases on Wednesday and a single-day high of 76 deaths from the disease, according to the Central Epidemic Command Center (CECC).
The previous single-day high COVID-19 death toll since the pandemic began was 59, hit twice earlier this month.
The 76 people reported Wednesday to have died from COVID-19 complications were in their 30s to 90s and all but three had chronic illnesses or suffered from other severe diseases, such as cancer, the CECC said.
Two of the 76 were people in their 30s. One was a woman with cardiovascular disease who developed pneumonia and septic shock after contracting COVID-19, the CECC said. She had gotten one vaccine dose.
The other person, a man who was unvaccinated, also developed pneumonia and died from respiratory failure and the worsening of his cancer condition, the CECC said.
The CECC also said Wednesday that 69 people who had been previously reported as COVID-19 cases had developed severe infections, while 122 others had developed moderate symptoms of the disease.
One of the patients with a severe infection was a six-year-old boy, who was taken to the emergency room by his family after he developed a fever of over 39 degrees Celsius and had other symptoms such as chills, vomiting, and a seizure.
He had a fever of 42.7 degrees when he arrived at the hospital and was admitted to an intensive care unit (ICU), where he is currently receiving treatment, the CECC said.
The boy has been found to have encephalitis, or inflammation of the brain, and pneumonia. His case brings the number of children under the age of 10 who have developed severe infections to 15, of whom five have passed away.
Of the 1,441,731 domestic cases recorded in Taiwan from Jan. 1 to May 24, 881 have been classified as severe infections and 2,474 as moderate, accounting for 0.06 percent and 0.17 percent of the total, respectively, according to CECC data.
In all other cases, the patients were either asymptomatic or had mild infections, the CECC said.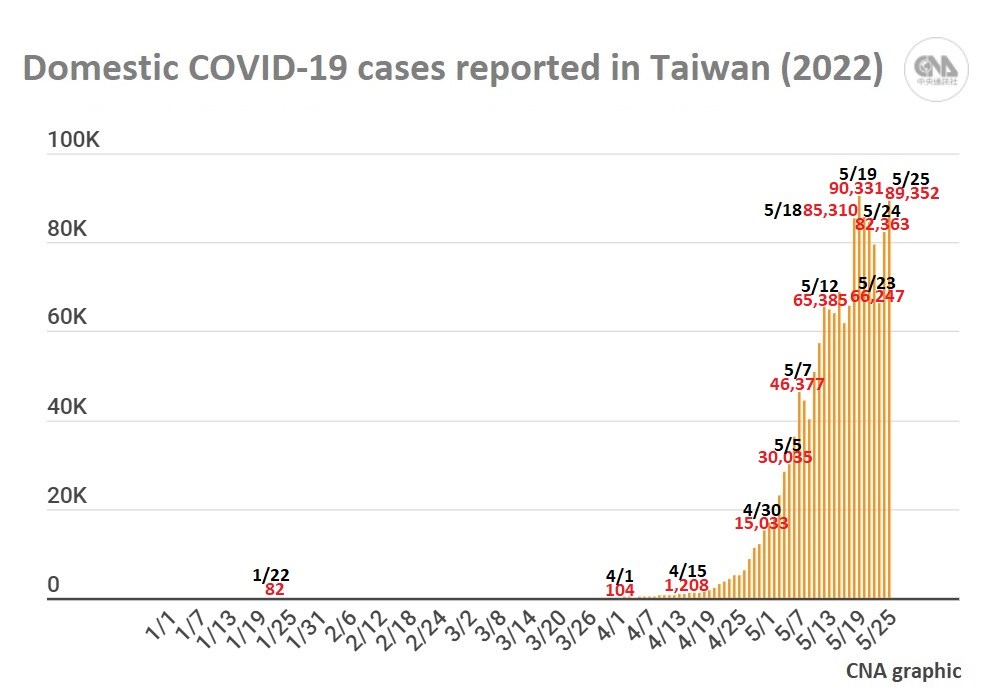 New Taipei recorded the highest number of domestic cases Wednesday, with 21,350, followed by Taoyuan with 10,355, Kaohsiung with 9,792, and Taichung with 9,766.
It was the third consecutive day the number of cases reported in Kaohsiung, the largest city in southern Taiwan, ranked in the top three, reflecting the disease's spread to central and southern Taiwan after being initially concentrated in the north.
Taipei reported 9,085 cases, Tainan 5,904, Changhua County 3,520, Pingtung County 2,933, Hsinchu County 2,570, Miaoli County 1,818, Hsinchu City 1,799, Keelung City 1,768, and Yilan County 1,746.
Hualien County recorded 1,558 cases, Yunlin County 1,432, Nantou County 1,241, Chiayi County 1,048, Taitung County 711, Chiayi City 557, Penghu County 224, Kinmen County 143, and Matsu Islands 32.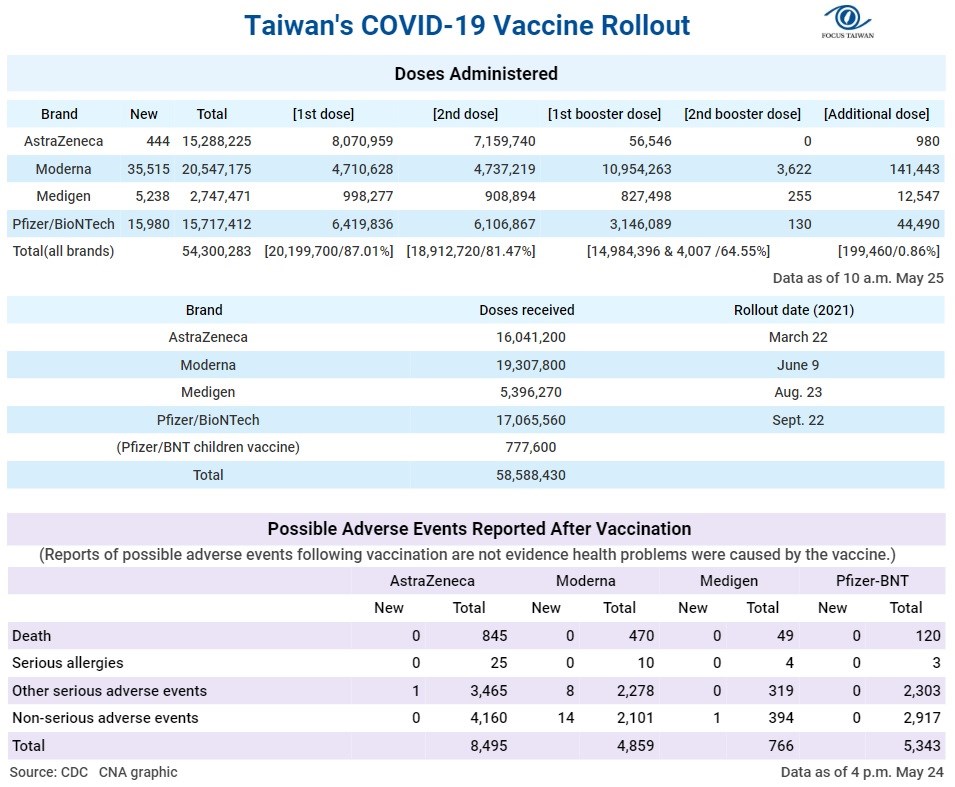 To date, Taiwan has confirmed 1,558,380 COVID-19 cases since the pandemic began in early 2020, with all but 12,722 of them domestically transmitted.
With 76 deaths reported Wednesday, the number of confirmed COVID-19 fatalities in the country rose to 1,554, with 701 recorded this year.
Also on Wednesday
● Taiwan COVID-19 News Briefs: May 25
May 25: Rapid test positives to be counted as COVID-19 cases from May 26
May 25: Taiwan reviewing Moderna COVID vaccine EUA request for kids under 6
Recent cases
May 24: Taiwan reports 82,435 new COVID-19 cases, 42 deaths
May 23: Taiwan reports 66,283 new COVID-19 cases, 40 deaths
May 22: Taiwan reports 79,487 new COVID-19 cases, 53 deaths
May 21: Taiwan reports 84,639 new COVID-19 cases, 59 deaths
View All