CORONAVIRUS
/
Taiwan reports 66,283 new COVID-19 cases, 40 deaths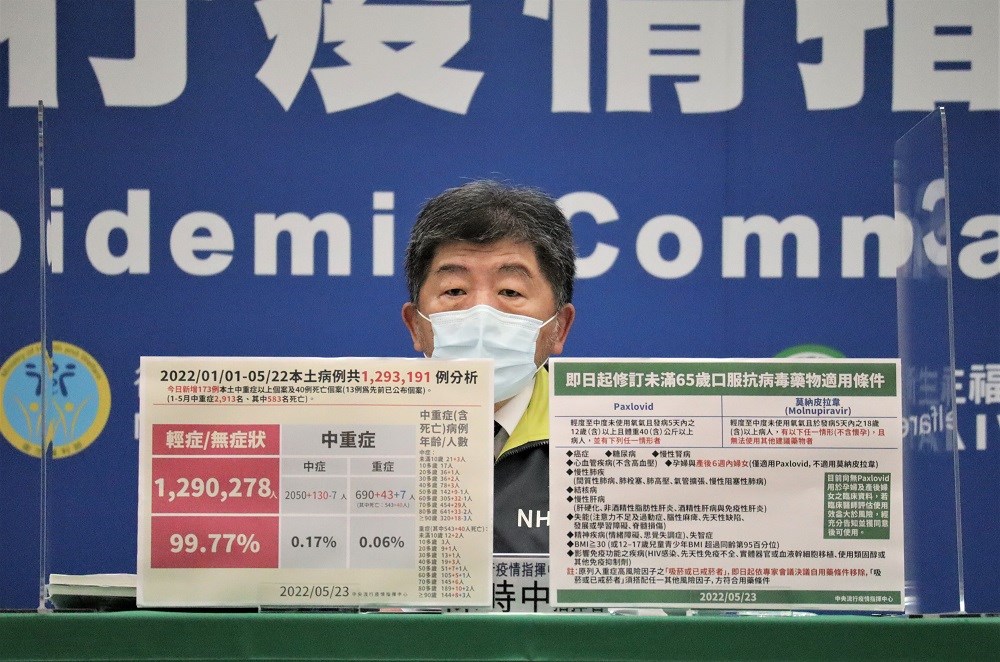 Taipei, May 23 (CNA) Taiwan recorded 66,283 new COVID-19 cases and 40 deaths Monday, when the daily number edged below 70,000 for the first time in six days, according to the Central Epidemic Command Center (CECC).
The 40 people who died were 1 to over-90 years old, and 37 of them had suffered from chronic illnesses or severe diseases such as cancer, according to CECC data.
Fifteen of the 40 people had not been vaccinated against COVID-19, while 13 had received three vaccine shots, four had received two jabs, and eight had received one shot, the CECC said.
The data showed that 38 of the deaths were among people over the age of 30, while the other two were young boys -- ages 1 and 3 years -- who had no known underlying conditions.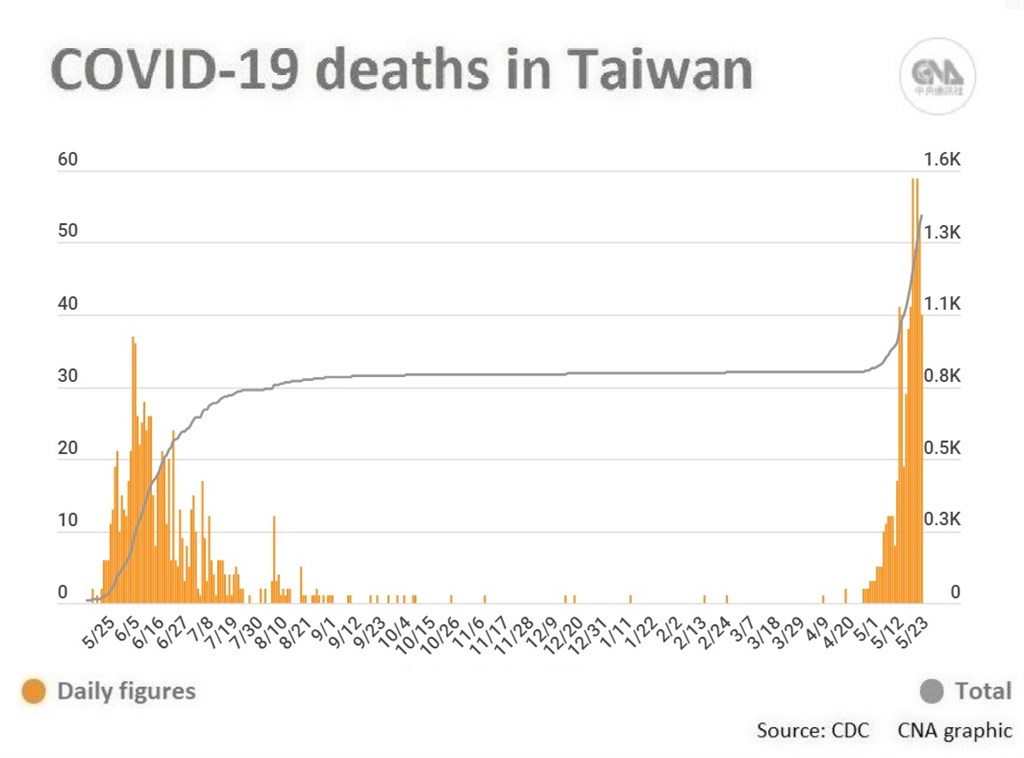 The 1-year-old was the youngest person in Taiwan to die of a domestic COVID-19 infection, to date, Lo Yi-chun (羅一鈞), deputy head of the CECC's medical response division, said at a press briefing.
With those two deaths, the number of children in Taiwan under the age of 10 years who have died of COVID-19 increased to four, Lo said, adding that three them had developed encephalitis as a result of the COVID-19 infection.
To date, 14 of the severe cases of COVID-19 recorded in Taiwan have been among children, according to Lo.
The CECC on Monday also reported another 43 severe COVID-19 infections and 130 moderate cases.
Of the 1,293,191 domestic cases recorded in Taiwan so far this year, 740 have been classified as severe infections and 2,173 as moderate, accounting for 0.06 percent and 0.17 percent of the total, respectively, according to CECC data valid as of May 22.
In all the other cases, the patients were either asymptomatic or had only mild symptoms, the CECC said.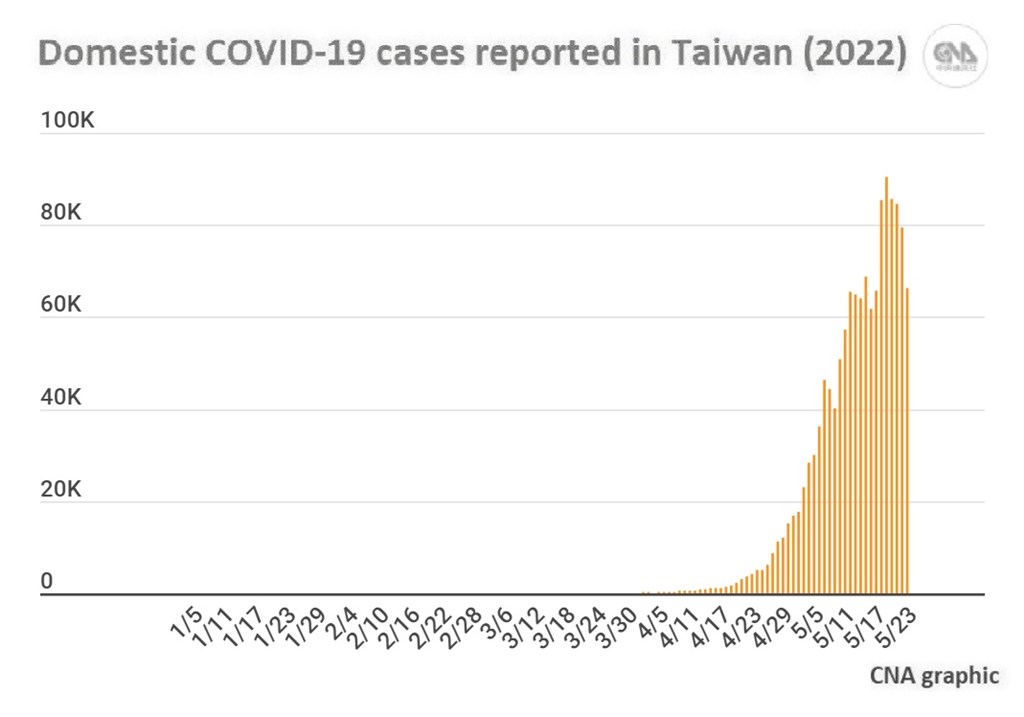 On Monday, New Taipei reported the highest number of domestic cases -- 15,708 -- followed by Taoyuan with 8,636, Kaohsiung with 7,286, Taipei with 7,185, Taichung with 7,140.
Tainan reported 4,501 cases, Changhua County 1,979, Pingtung County 1,973, Hsinchu County 1,927, Keelung 1,478, Yilan County 1,473, Hsinchu City 1,300, Miaoli County 1,130, Hualien County 1,033, Yunlin County 906, Nantou County 843, Chiayi County 568, Taitung County 549, and Chiayi City 317.
Penghu County reported 159 cases, Kinmen County 119, and the Matsu Islands 37.
Meanwhile, of Monday's 66,283 new COVID-19 cases, 36 were imported, including 29 travelers who tested positive on arrival in Taiwan, according to the CECC.
Taiwan has confirmed 1,386,640 COVID-19 cases since the pandemic began in early 2020, with 1,374,027 of them being domestic infections. With the 40 deaths reported Monday, the number of confirmed COVID-19 fatalities in the country rose to 1,436, with 583 recorded this year.
Also on Monday
● Taiwan COVID-19 News Briefs: May 23
May 23: Paxlovid treatment now eligible for postpartum women with COVID-19
May 23: Pfizer-BNT COVID-19 vaccine for children to be rolled out on May 25
May 23: 1-year-old boy Taiwan's youngest COVID-19 fatality
May 23: COVID insurance claims may exceed NT$41 billion: financial regulator
Related News
May 22: CECC lists signs of serious COVID-19 infections to watch out for
May 21: Five-year-old, 9-month-old reported as severe COVID-19 cases: CECC
May 19: COVID-19 outbreak in 'mass spread' stage, to peak in late May: MOHW
May 17: CECC further tightens COVID-19 hospital admissions policy
Recent cases
May 22: Taiwan reports 79,487 new COVID-19 cases, 53 deaths
May 21: Taiwan reports 84,639 new COVID-19 cases, 59 deaths
May 20: Taiwan reports 85,761 new COVID-19 cases, 49 deaths
May 19: Taiwan's daily COVID-19 cases top 90,000; total number exceeds 1 million
May 18: Taiwan's daily COVID-19 cases top 80,000 for first time
View All