CORONAVIRUS
/
Taiwan reports 44,361 new COVID-19 cases, 12 deaths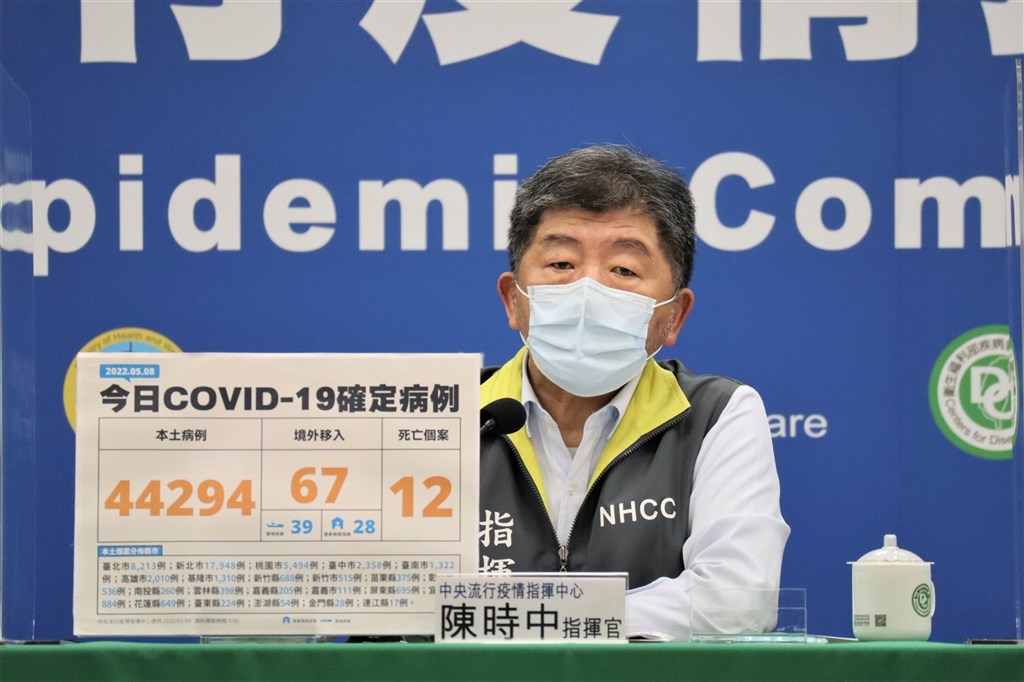 Taipei, May 8 (CNA) Taiwan saw its single-day COVID-19 case numbers surpass 40,000 for the second straight day on Sunday, with 44,361 new cases and 12 deaths from the disease, according to the Central Epidemic Command Center (CECC).
The new cases consisted of 44,294 domestically transmitted infections and 67 cases that were contracted abroad, the CECC said.
The daily total represented a slight drop from the 46,377 domestic cases reported Saturday, which Health and Welfare Minister Chen Shih-chung (陳時中) said was likely due to the fact that fewer people get tested at weekends.
The 12 deaths reported Sunday involved individuals between the ages of 60 and 100. Six of them had been unvaccinated, two had gotten one vaccine dose, one had gotten two doses, and three had gotten three vaccine doses.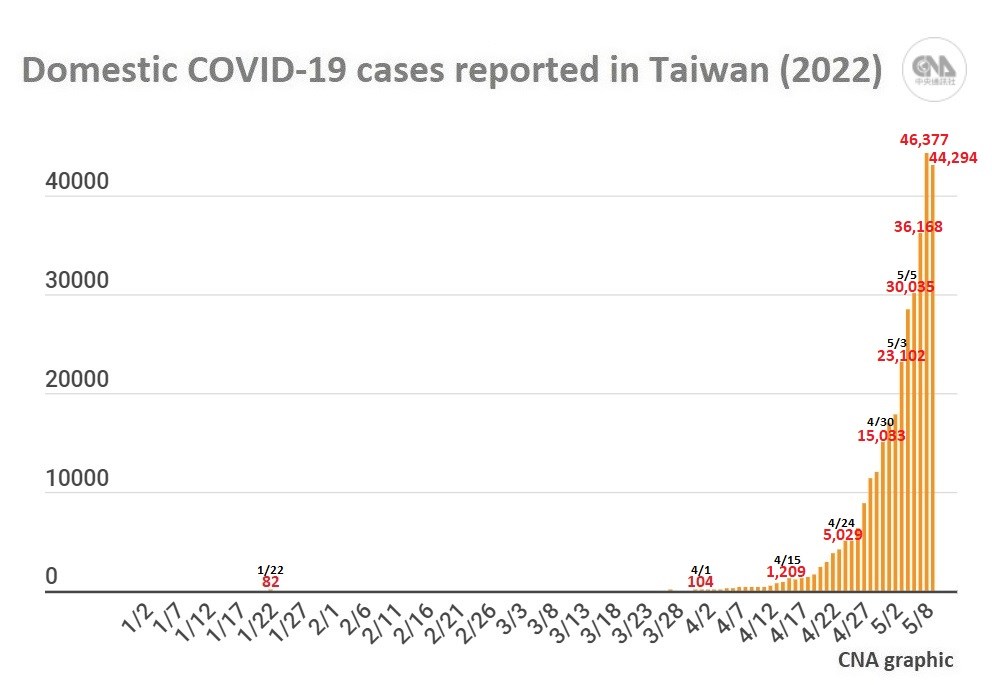 The CECC also reported that 106 patients had developed moderate symptoms and that 12 had developed severe symptoms.
Of the 288,515 domestic cases recorded in Taiwan from Jan. 1 to May 7, 606 have been classified as moderate infections and 101 as severe, accounting for 0.21 percent and 0.04 percent of the total, respectively.
All other cases have involved individuals with only mild symptoms or those who were asymptomatic, according to the CECC.
Sunday's new cases
Of Sunday's domestic cases, New Taipei reported the highest number with 17,948, followed by Taipei with 8,213, and Taoyuan with 5,494.
Taichung reported 2,358 cases, Kaohsiung 2,010, Tainan 1,322, Keelung 1,310, Yilan County 884, Pingtung County 695, Hsinchu County 688, Hualien County 649, Changhua County 536, and Hsinchu City 515.
Yunlin County reported 398 cases, Miaoli County 375, Nantou County 260, Taitung County 224, Chiayi County 205, Chiayi City 111, Penghu County 54, Kinmen County 28, and the Matsu Islands 17.
Meanwhile, of the 67 new imported cases, 39 were travelers who tested positive on arrival in Taiwan, according to the CECC.
To date, Taiwan has confirmed 357,271 COVID-19 cases since the pandemic began in early 2020, including 345,345 domestically transmitted infections.
With 12 deaths reported Sunday, the number of confirmed COVID-19 fatalities in the country reached 919. Of these, 66 have been recorded this year.
Also on Sunday
May 8: Retailers to start selling COVID-19 rapid tests again Monday
May 8: CECC adjusts positive test policy for COVID contacts in nursing homes
Related News
May 8: Q&A/What to do if you or your contacts get COVID-19
May 7: Quarantine cut to 7 days for mild, asymptomatic COVID-19 cases: CECC
May 7: Taiwan rolls back quarantine rules for contacts of COVID-19 patients
May 7: Taiwan receives 8th shipment of Moderna COVID-19 vaccine this year
May 5: Rapid test positives to be counted as confirmed COVID cases from May 12
May 4: Taiwan adjusts hospital policy for COVID-19 patients
May 3: Taiwan to shorten quarantine for arriving travelers from 10 to 7 days
Recent cases
May 7: Taiwan reports 46,536 new COVID-19 cases, 11 deaths
May 6: Taiwan reports 36,213 new COVID-19 cases, 10 deaths
May 5: Taiwan reports 30,106 new COVID-19 cases, 5 deaths
May 4: Taiwan reports 28,487 new COVID-19 cases, five deaths
May 3: Taiwan reports 23,139 new COVID-19 cases, five deaths
View All