CORONAVIRUS
/
Taiwan reports 36,213 new COVID-19 cases, 10 deaths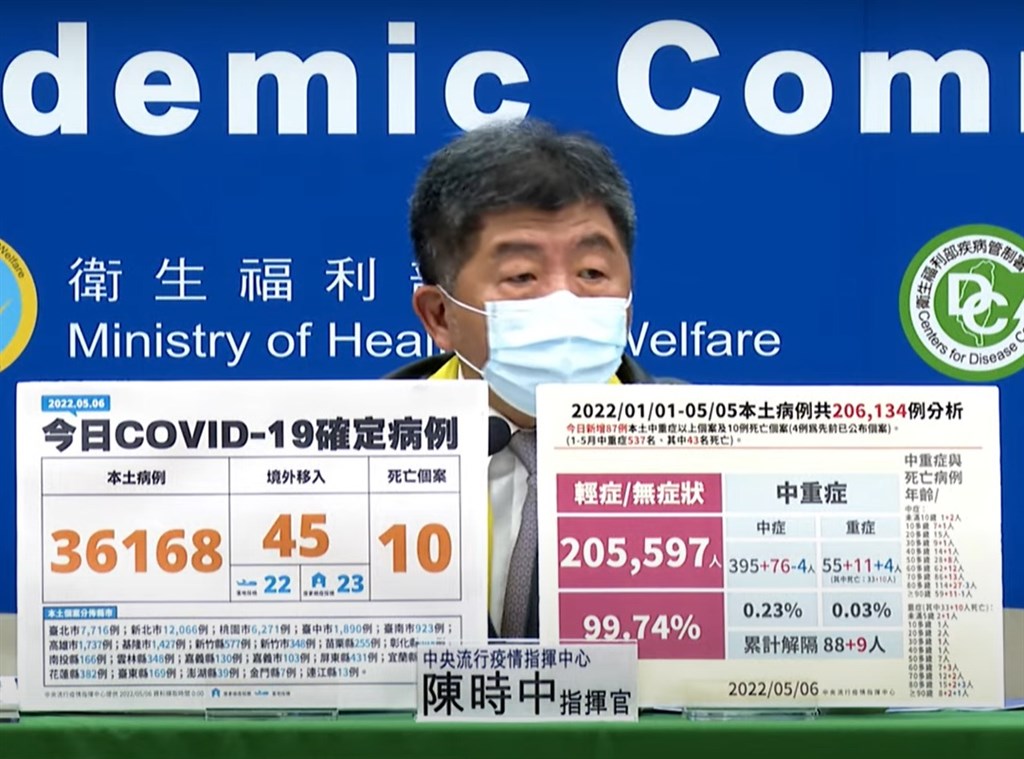 Taipei, May 6 (CNA) Taiwan on Friday reported 36,213 new COVID-19 cases, a single-day high, and 10 deaths from the disease, according to the Central Epidemic Command Center (CECC).
The new cases, which were 20 percent higher than a day earlier, consisted of 36,168 domestically transmitted infections and 45 cases that were contracted abroad.
The 10 deaths from COVID-19 complications involved four men and six women in their 30s to 90s. They tested positive between April 21 and May 3, and passed away between April 29 and May 2, according to CECC data.
In three of the cases, positive test results did not come back until a day after the individuals had died.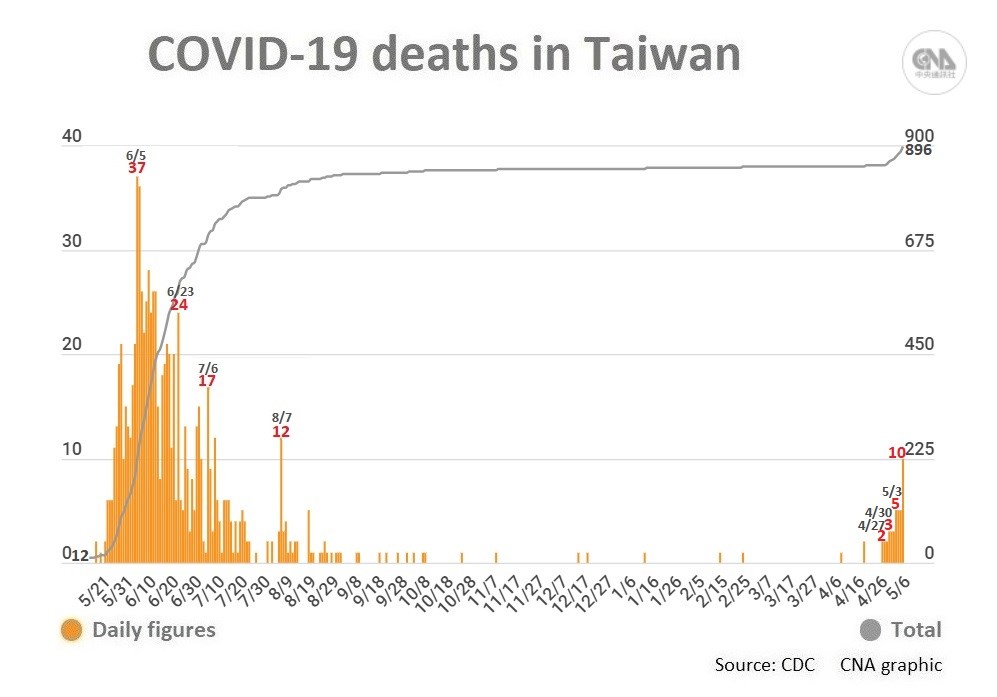 The youngest of the 10 was a man in his 30s who was unvaccinated and had a history of urinary tract stones, while the other nine were all above 60 years old and had underlying medical conditions, including cardiovascular disease, high blood pressure, diabetes, coronary artery disease, or stroke, according to CECC data.
The CECC also reported that the list of COVID-19 infected people with moderate symptoms rose by 76 and the number with severe symptoms rose by 11.
Of the 206,134 domestic cases recorded in Taiwan from Jan. 1 to May 5, 467 have been classified as moderate infections and 70 as severe, accounting for 0.23 percent and 0.03 percent of the total, respectively.
All other cases have involved only mild symptoms or the individuals who were asymptomatic, according to the CECC.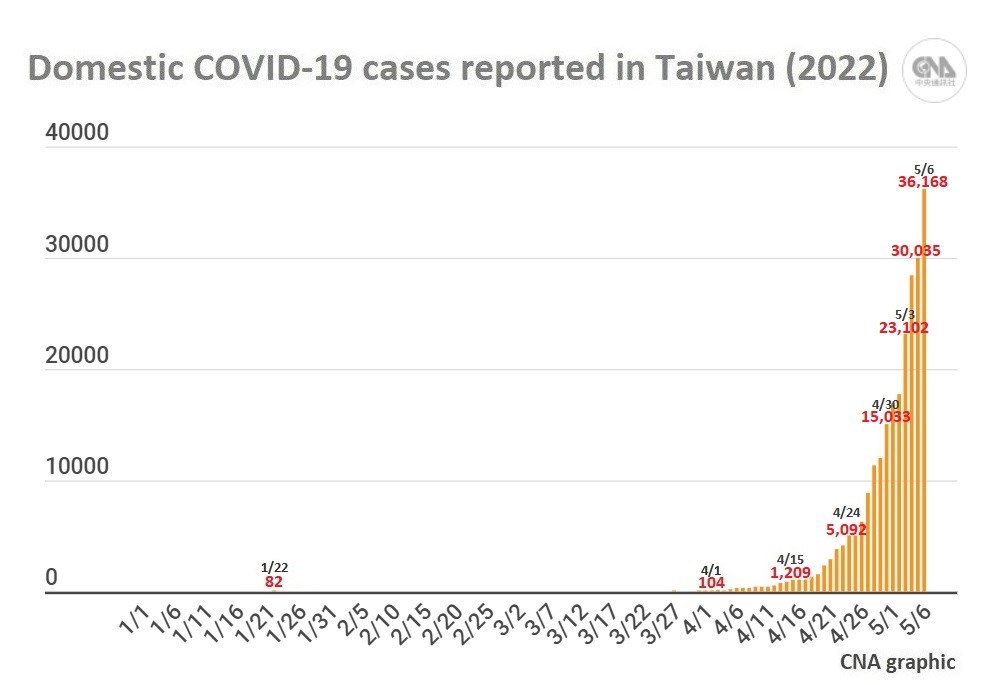 Of the domestic cases Friday, New Taipei reported the highest number, with 12,066, followed by Taipei with 7,716, and Taoyuan with 6,271.
Taichung reported 1,890 cases, Kaohsiung 1,737, Keelung 1,427, Tainan 923, Yilan County 686, Hsinchu County 577, Changhua County 448, Pingtung County 431, Yunlin County 384, Hualien County 382, Hsinchu City 348, Miaoli County 255, Taitung County 169, Nantou County 166, Chiayi County 130, and Chiayi City 103.
Penghu County reported 39, the Matsu Islands 13, and Kinmen County seven.
Meanwhile, of the 45 new imported cases, 22 were travelers who tested positive on arrival in Taiwan, according to the CECC.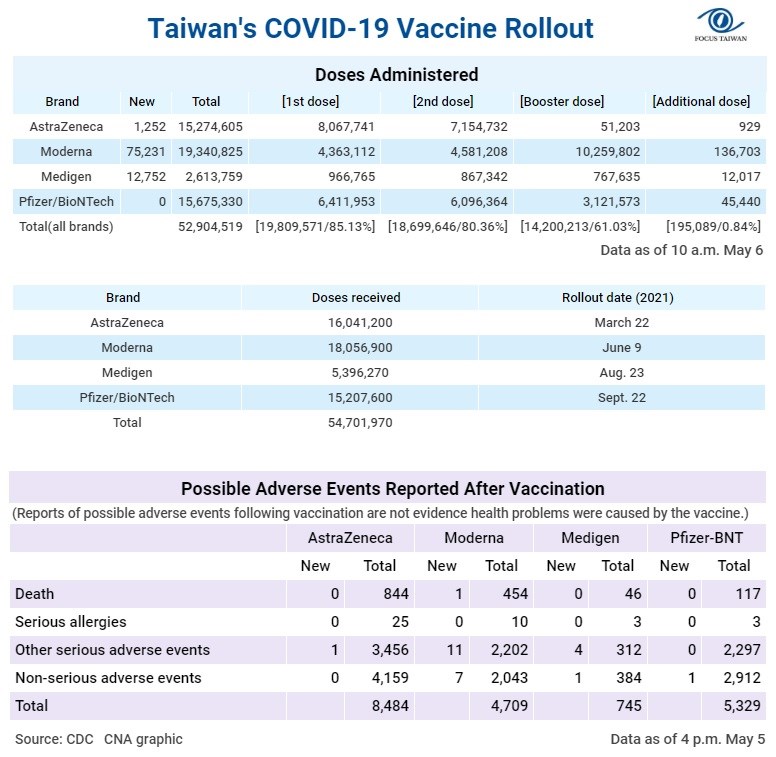 To date, Taiwan has confirmed 268,569 COVID-19 cases since the pandemic began in early 2020, including 256,859 domestically transmitted infections.
With 10 deaths reported Friday, the number of confirmed COVID-19 fatalities in the country reached 896, of which 43 have been recorded this year.
Also on Friday
May 6: 190 medical clinics to offer COVID-19 PCR testing: CECC
May 6: Locations for COVID-19 PCR testing in Taipei and New Taipei
Related News
May 5: Rapid test positives to be counted as confirmed COVID cases from May 12
May 4: Taiwan adjusts hospital policy for COVID-19 patients
May 3: Taiwan to shorten quarantine for arriving travelers from 10 to 7 days
May 2: Symptomless people to face restrictions in getting PCR test
May 1: Taiwan's COVID wave to peak in second half of May: health minister
April 28: Taiwan inks new Pfizer-BioNTech vaccine deal, approves use for children
April 27: Taiwan to maintain current mask mandate through May
Recent cases
May 5: Taiwan reports 30,106 new COVID-19 cases, 5 deaths
May 4: Taiwan reports 28,487 new COVID-19 cases, five deaths
May 3: Taiwan reports 23,139 new COVID-19 cases, five deaths
May 2: Taiwan reports 17,858 new COVID-19 cases, 3 deaths
May 1: Taiwan reports 17,085 new COVID-19 cases, three deaths
View All