CORONAVIRUS
/
Taiwan records first death of someone in their 20s from COVID-19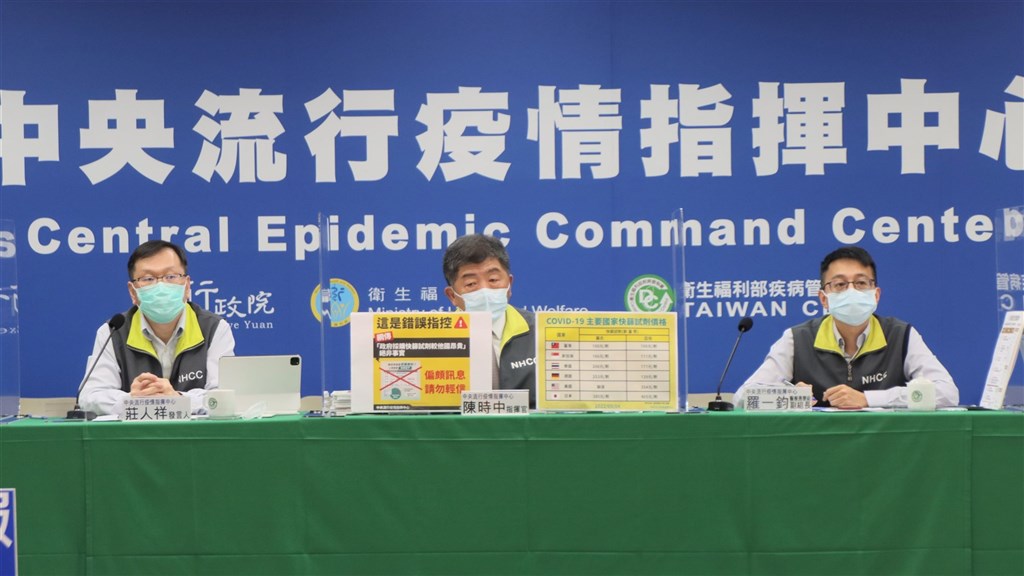 Taipei, May 4 (CNA) A woman in her 20s with no known underlying medical conditions died of COVID-19 this week despite being vaccinated with a booster, according to the Central Epidemic Command Center (CECC) Wednesday.
The woman is the first person in their 20s to die from the disease in Taiwan since the beginning of the pandemic.
Lo Yi-chun (羅一鈞), a CECC official and Centers for Disease Control deputy director-general, said at a daily press briefing that the woman, who had been vaccinated with three doses of a COVID-19 vaccine, first displayed symptoms of fever and diarrhea on April 26.
Her rapid test was positive that day and she took a PCR that evening with the results coming back the next day, confirming her to be positive, Lo said, adding that she then went into home quarantine.
Over the next few days, her diarrhea persisted and she also developed symptoms of stomach ache and vomiting, Lo said.
She was then sent to a hospital emergency room on April 29 where she was then put in the intensive care unit for low blood pressure, dehydration, and shock, Lo said.
The next day, she showed signs of respiratory distress and underwent intubation and was treated with a respirator and medication, including remdesivir, Lo said.
On May 1, she suffered ventricular fibrillation, a type of abnormal heart rhythm, and died after doctors were unable to resuscitate her, Lo said.
"The course of her disease was about six days, from the onset of symptoms on April 26 until her death on May 1," Lo said.
The case showed a faster progression of the disease even though she was not known to have any chronic underlying conditions, Lo said, adding that the idea of cross infections with other diseases had been ruled out, as no other types of bacteria had been found in her blood.
"Her death is still ruled as caused by COVID-19 combined with septic shock and multiple organ failure," Lo said.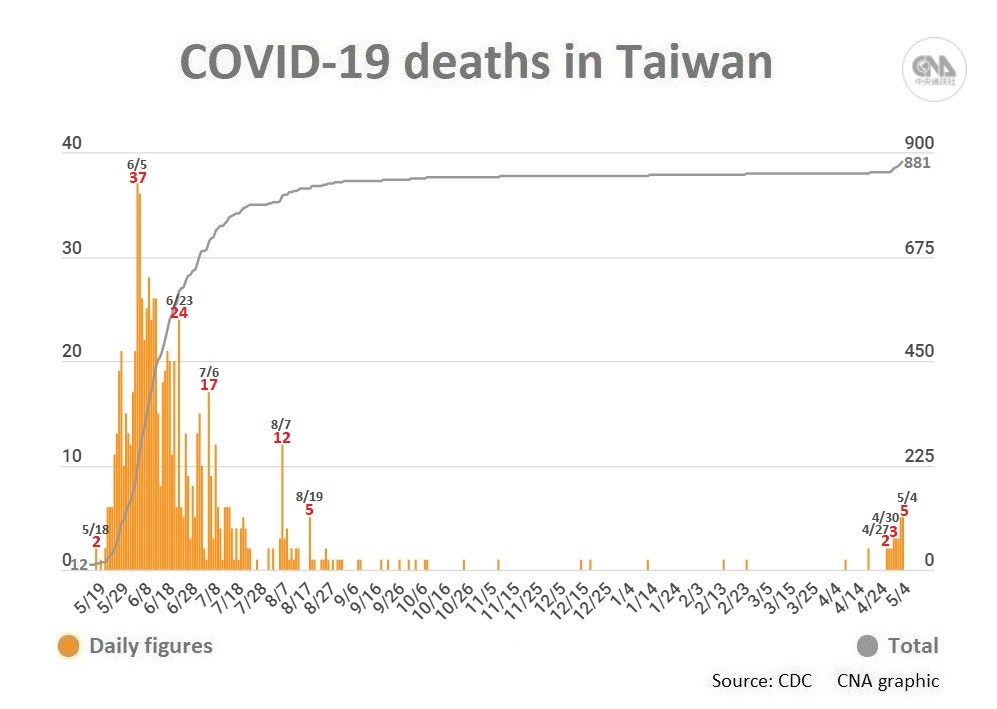 Meanwhile, on Tuesday, Taiwan also recorded four other deaths of two men and two women, aged between 70 and 100, according to CECC data.
Two of the cases involved a man and a woman, both in their 70s, who had received three doses of a COVID-19 vaccine. The man suffered from diabetes, while the woman suffered from nervous system disorders and had also had a stroke.
Another case was of a woman in her 80s, who had not received any vaccination doses and suffered from nervous system disorders, heart arrhythmia, and cancer.
The remaining case involved a man in his 90s, who was also not vaccinated and had no history of chronic illness.
With five deaths reported Wednesday, the number of confirmed COVID-19 fatalities in the country reached 881, of which 28 have been recorded this year, according to CECC data.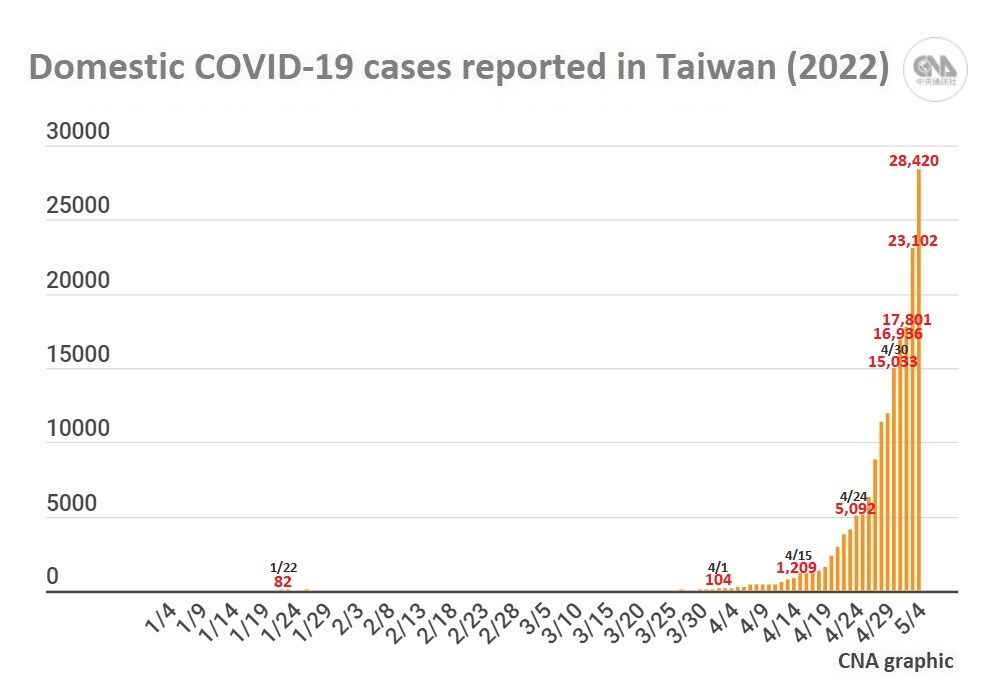 Taiwan on Wednesday also reported 28,487 new COVID-19 cases, a single-day high, alongside five deaths from the disease, according to the CECC.
The new cases consisted of 28,420 domestically transmitted infections and 67 cases that were contracted abroad, the CECC said.
Update (May 7)
●Quarantine cut to 7 days for mild, asymptomatic COVID-19 cases: CECC
●Taiwan rolls back quarantine rules for contacts of COVID-19 patients
Related News
May 4: Taiwan adjusts hospital policy for COVID-19 patients
May 4: Taiwan reports 28,487 new COVID-19 cases, five deaths
May 2: Baby under age 1 becomes Taiwan's youngest patient with severe COVID
April 19: Taiwan sees first death of young child due to COVID-19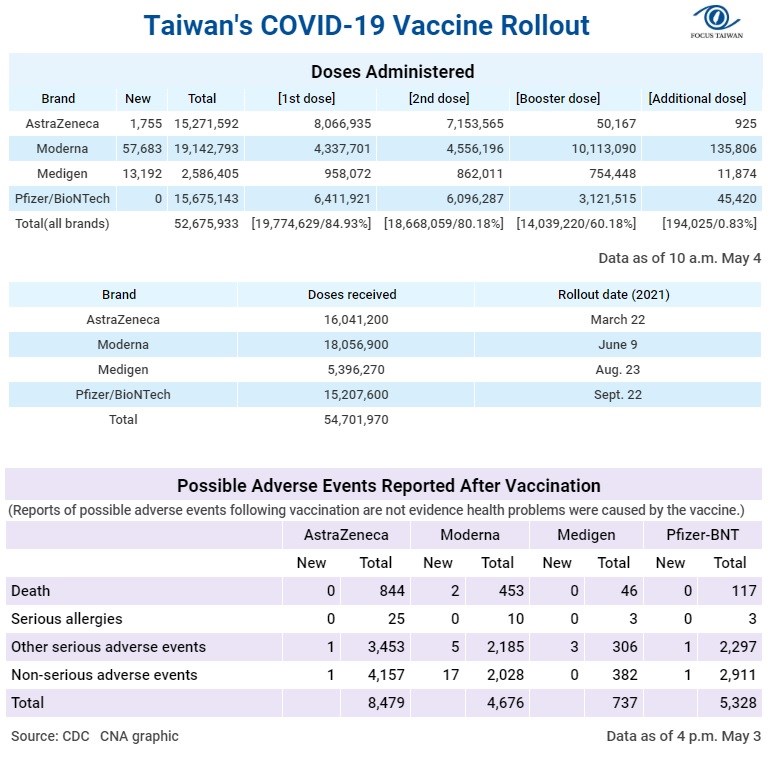 View All