CORONAVIRUS
/
Taiwan reports 28,487 new COVID-19 cases, five deaths
Taipei, May 4 (CNA) Taiwan on Wednesday reported 28,487 new COVID-19 cases, a single-day high, and five deaths from the disease, according to the Central Epidemic Command Center (CECC).
The new cases consisted of 28,420 domestically transmitted infections and 67 cases that were contracted abroad, the CECC said.
The number of domestic cases represented a 22 percent increase compared to a day earlier, according to CECC figures.
The five deaths from COVID-19 complications involved patients aged 20 to 100. They tested positive between April 27 and May 2, and passed away between April 29 and May 2.
Update: Taiwan records first death of someone in their 20s from COVID-19 (May 4)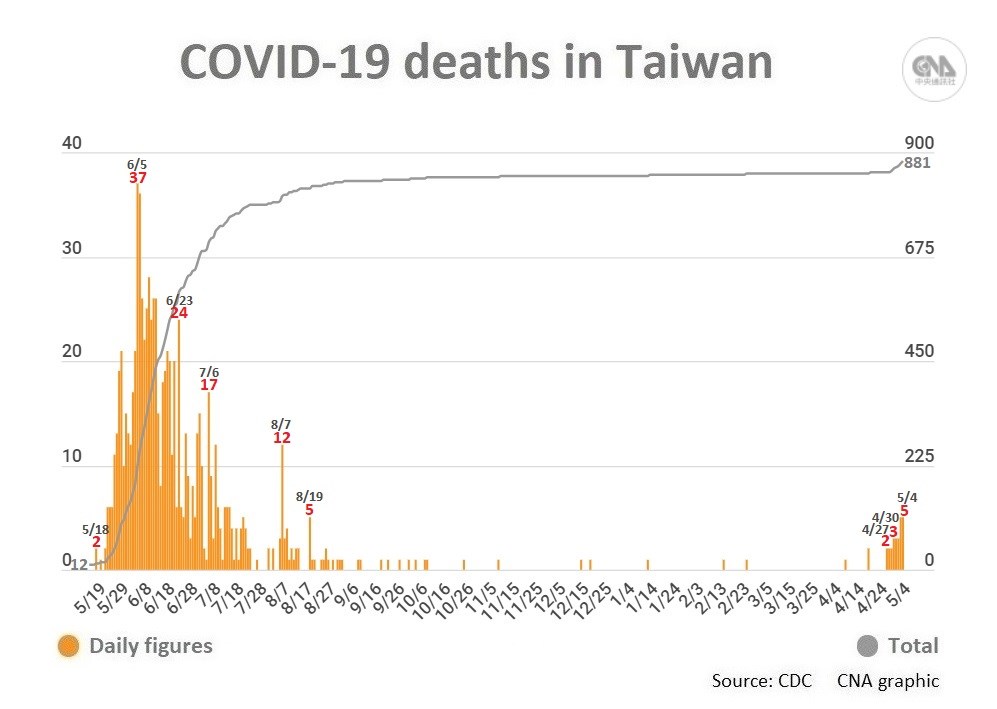 The CECC also reported that 72 patients had developed moderate symptoms and five had developed severe symptoms.
Of the 147,804 domestic cases recorded in Taiwan from Jan. 1 to May 3, 329 have been classified as moderate infections and 48 as severe, accounting for 0.22 percent and 0.03 percent of the total, respectively.
All other cases have involved only mild symptoms or the individuals were asymptomatic, according to the CECC.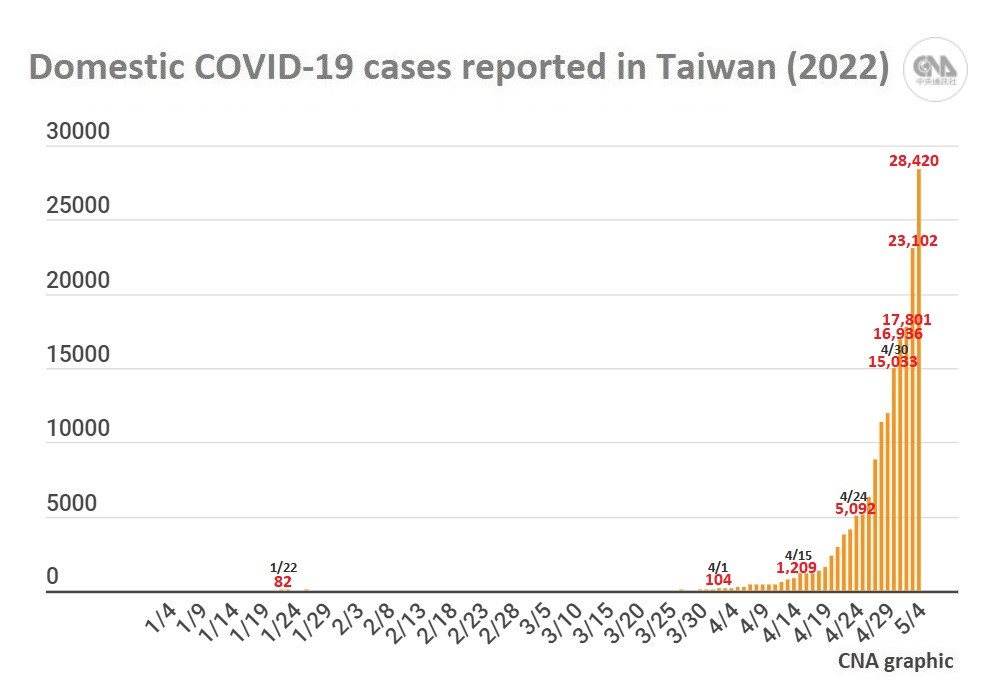 Of the domestic cases Wednesday, New Taipei reported the highest number, with 10,151, followed by Taipei with 5,538, and Taoyuan with 4,814.
Taichung reported 1,680 cases, Kaohsiung 1,021, Keelung 1,003, Tainan 795, Hsinchu County 542, Yilan County 525, Hualien County 450, Pingtung County 428, Changhua County 313, Yunlin County 257, Miaoli County 194, Hsinchu City 182, and Chiayi County 140.
Nantou County reported 138 cases, Taitung County 117, Chiayi City 72, Penghu County 34, Kinmen County 20, and Matsu Islands six.
Imported cases
Meanwhile, of the 67 new imported cases, 20 were travelers who tested positive on arrival in Taiwan, according to the CECC.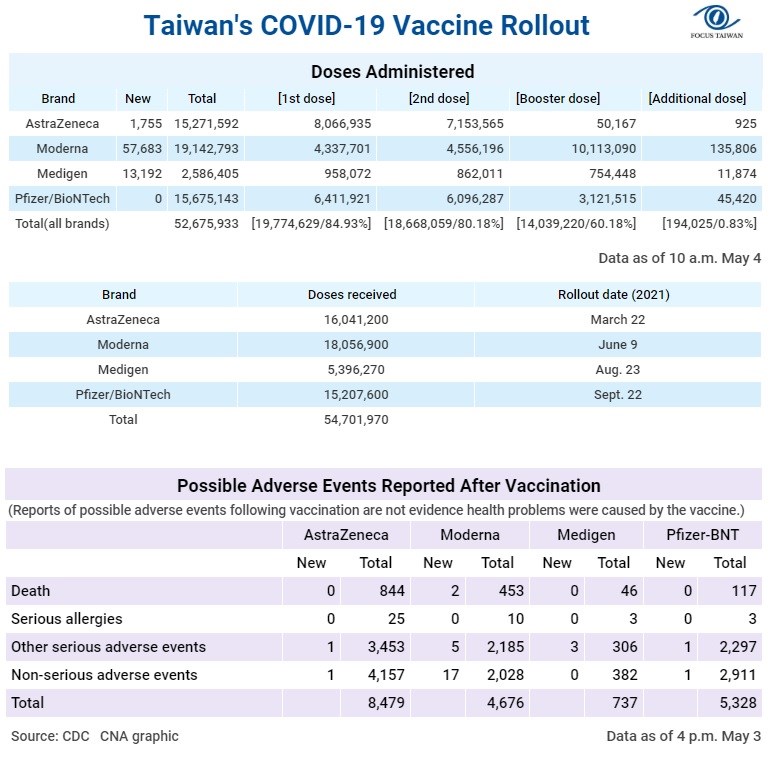 To date, Taiwan has confirmed 202,418 COVID-19 cases since the pandemic began in early 2020, including 190,816 domestically transmitted infections.
With five deaths reported Wednesday, the number of confirmed COVID-19 fatalities in the country reached 881, of which 28 have been recorded this year.
Also on Wednesday
May 4: Taiwan adjusts hospital policy for COVID-19 patients
May 4: Taiwan receives 2,000 Pfizer-BNT child vaccine doses for testing
May 4: 11 COVID-19 outpatient clinics now operating in Taipei
May 4: 10 a.mart stores to sell COVID rapid test kits
May 4: Taiwan may soon count rapid test positives as confirmed COVID-19 cases
May 4: Hon Hai's production in Zhengzhou unaffected by lockdown: MOEA head
Related News
May 3: Taiwan to shorten quarantine for arriving travelers from 10 to 7 days
May 2: Symptomless people to face restrictions in getting PCR test
May 1: Taiwan's COVID wave to peak in second half of May: health minister
April 30: CECC to launch contact tracing website for confirmed COVID cases
April 28: Taiwan inks new Pfizer-BioNTech vaccine deal, approves use for children
April 27: Taiwan to maintain current mask mandate through May
Recent cases
May 3: Taiwan reports 23,139 new COVID-19 cases, five deaths
May 2: Taiwan reports 17,858 new COVID-19 cases, 3 deaths
May 1: Taiwan reports 17,085 new COVID-19 cases, three deaths
April 30: Taiwan ends April with record 15,149 new COVID-19 cases
April 29: Taiwan reports 12,313 new COVID-19 cases, two deaths
View All