CORONAVIRUS
/
Taiwan reports 3,859 new COVID-19 cases, including 3,766 domestic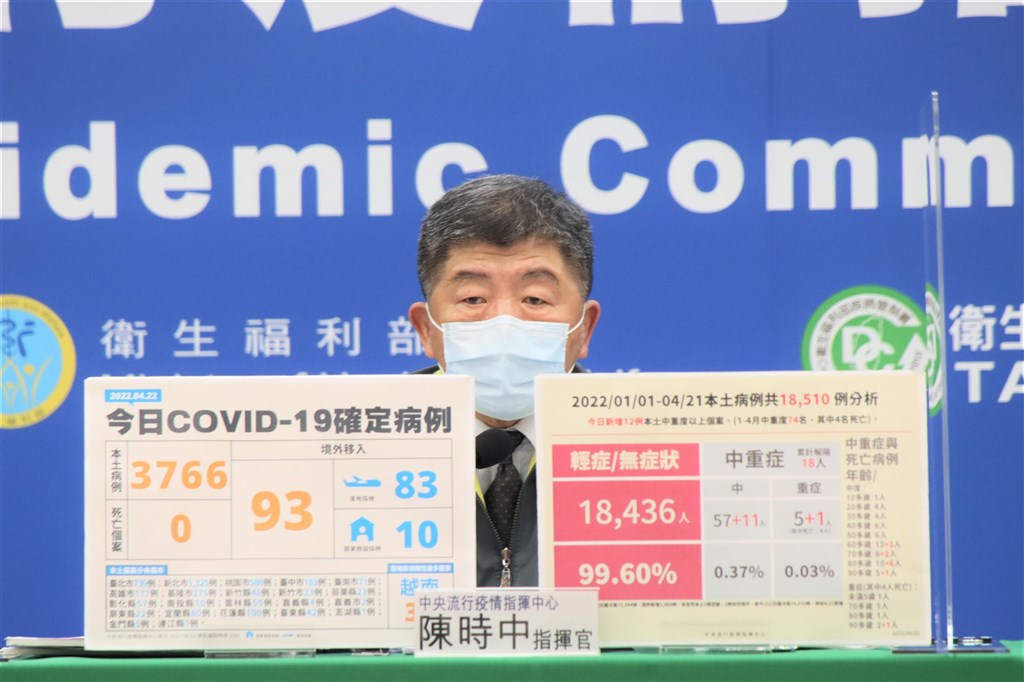 Taipei, April 22 (CNA) A total of 3,859 new COVID-19 cases, including 3,766 domestically transmitted infections, were reported in Taiwan on Friday, according to the Central Epidemic Command Center (CECC).
The number of domestic cases was another single-day high and marked over a week of more than 1,000 daily local cases.
The CECC also said that 11 patients, ranging in age from 60 to 100, had developed moderate infections, while one patient over 90 developed a severe infection.
Five of the 11 patients with moderate infections are unvaccinated, five had received three doses of a COVID-19 vaccine, and one of them had gotten two doses, while the patient with a severe infection is unvaccinated.
Of the 18,510 domestic cases recorded nationwide between Jan. 1 and April 21, six have been classified as severe infections and 68 as moderate, together accounting for 0.40 percent of the total number of cases, while the other cases were either mild or asymptomatic, according to the CECC.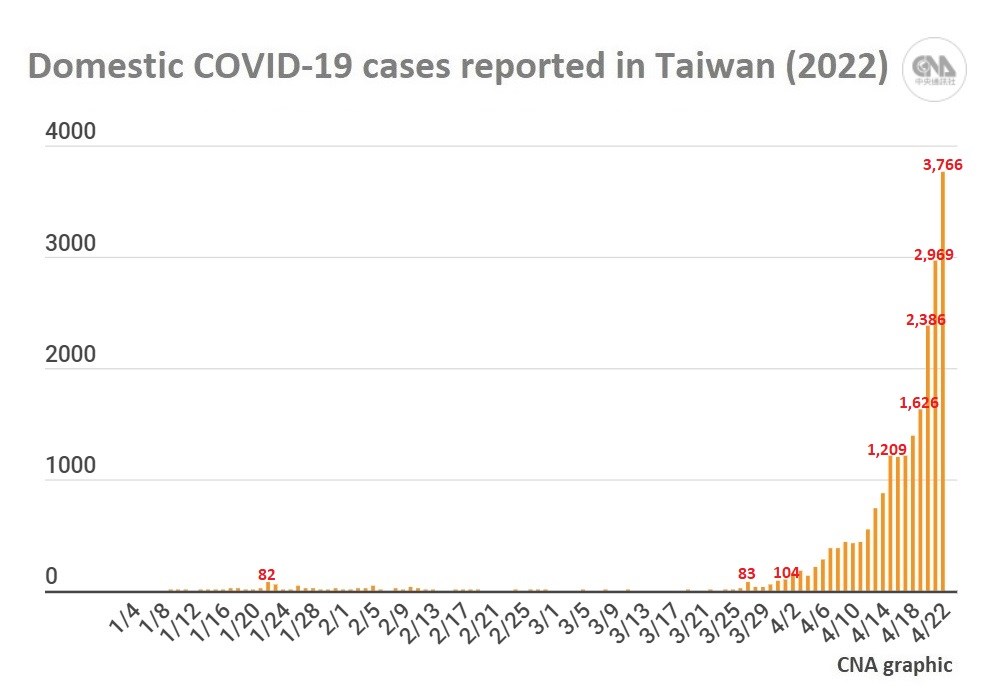 On Friday, New Taipei reported the highest number of domestic cases, with 1,325, followed by Taipei with 739, Taoyuan with 588, and Keelung with 275.
Taichung reported 183 cases, Kaohsiung 117, Hualien County 100, Yilan County 80, Tainan 71, Changhua County 57, Yunlin County 50, Hsinchu County 48, Taitung County 42, Hsinchu City and Miaoli County 23 each, Pingtung County 22, Nantou County 10, and Kinmen County five.
Chiayi County recorded four cases and Chiayi City two, while Penghu County and the Matsu Islands each reported one.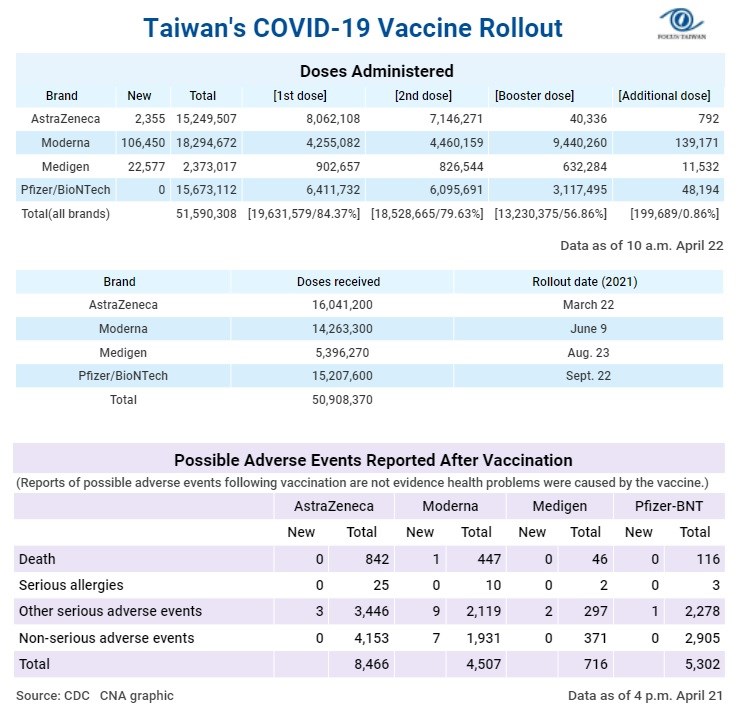 Of the 93 new imported cases, 83 were travelers who tested positive on arrival in Taiwan, according to the CECC.
To date, Taiwan has confirmed 47,100 COVID-19 cases since the pandemic began in early 2020, including 36,859 domestically transmitted infections, CECC data showed.
With no deaths reported Friday, the number of confirmed COVID-19 fatalities in the country remained at 856.
Update
May 4: Taiwan adjusts hospital policy for COVID-19 patients 
Related News
April 22: Taipei to hold distance learning drill for secondary schools next week
April 22: Taiwan to receive rest of COVID drug order by June: health minister
April 22: Inpatient, care home resident visits restricted due to COVID surge
April 21: Rapid testing to replace preventive quarantine: health minister
April 17: Taiwan boosts COVID-19 testing in 4 high-risk areas
April 15: Taiwan mandates 3 COVID shots for high-risk groups, venues
Recent cases
April 21: Taiwan reports 3,058 new COVID-19 cases, including 2,969 domestic
April 20: Taiwan reports 2,481 new COVID-19 cases, including 2,386 domestic
April 19: Taiwan reports 1,727 new COVID-19 cases and two deaths
April 18: Taiwan reports 1,390 new domestic COVID-19 cases, 90 imported
April 17: Taiwan reports 1,390 new domestic COVID-19 cases, 90 imported
View All