CORONAVIRUS
/
Taiwan reports 275 new COVID-19 cases, including 133 domestic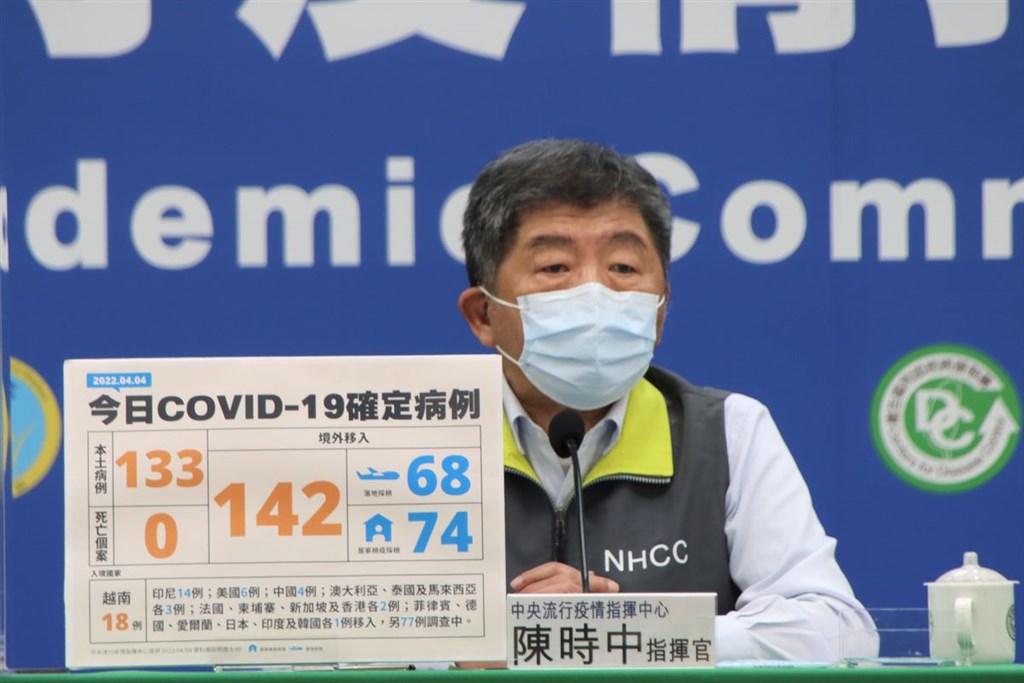 Taipei, April 4 (CNA) Taiwan reported 275 new COVID-19 cases on Monday -- 133 domestically transmitted and 142 that originated abroad -- and no new deaths from the disease, according to the Central Epidemic Command Center (CECC).
The domestic cases were recorded in 11 cities and counties, with New Taipei confirming 46, the highest number, followed by Keelung with 31 and Taipei 23, the CECC said.
Fifteen cases were reported in Taoyuan, six in Yilan County, four in Hsinchu County, three in Hualien County, two in Hsinchu City, and one each in Taichung, Kaohsiung, and Pingtung County, the CECC said.
Taiwan has recorded over 100 domestic cases per day since April 1, with the highest number of 183 reported on April 3.
Of the 1,713 domestic cases recorded between Jan. 1 and April 3, four had moderate to severe symptoms of the disease, while the others were either mild or asymptomatic, according to the CECC.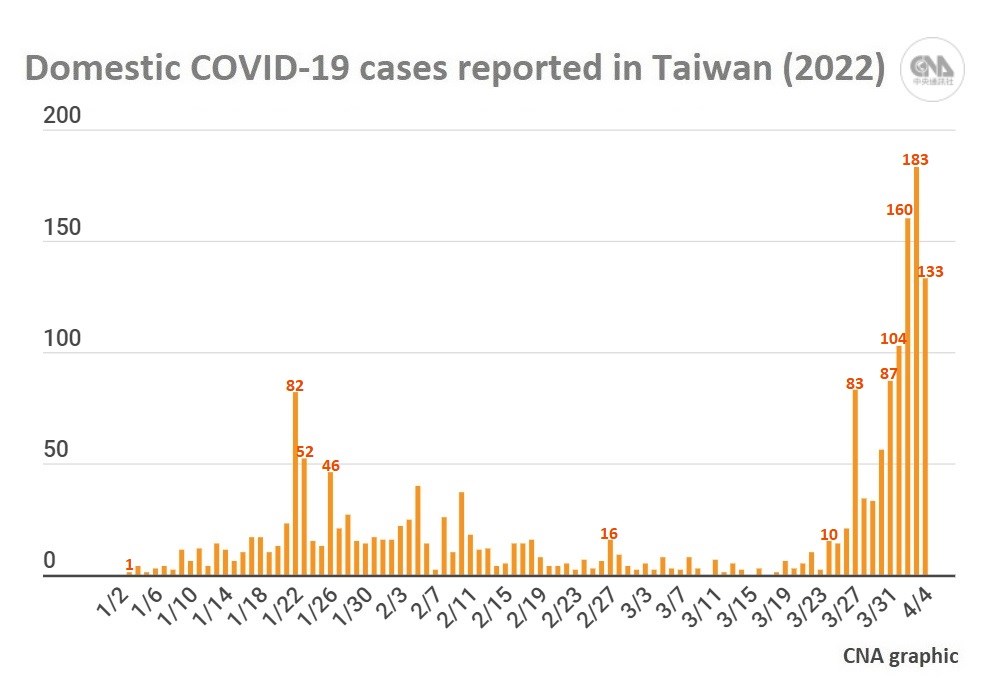 Meanwhile, 142 new imported cases were recorded Monday, and 68 of them were travelers who tested positive on arrival in Taiwan, the CECC said.
To date, Taiwan has confirmed 24,585 COVID-19 cases since the pandemic began in early 2020, including 16,447 domestically transmitted infections.
With no deaths reported Monday, the number of confirmed COVID-19 fatalities in the country remained at 853.
Related News
April 4: Keelung to distribute COVID-19 rapid tests citywide from Tuesday
April 4: Taiwan eases isolation rules for mild, asymptomatic COVID-19 cases
April 4: COVID-19 ward escapee handed 50-day jail sentence
April 2: Taiwan to expand medical capacity as daily COVID cases spike
March 27: Domestic COVID-19 cases spike in Taiwan as clusters grow
Recent cases
Arpil 3: New domestically transmitted COVID-19 cases on the rise
April 2: Taiwan reports 160 new COVID-19 domestic cases, 244 imported
April 1: Taiwan reports 236 COVID-19 cases, including 104 domestic
March 31: Taiwan reports 239 COVID-19 cases, including 87 domestic
March 30: Taiwan reports 163 new COVID-19 cases, including 56 domestic
View All