Three more cases of alleged child abuse found at Taichung daycare center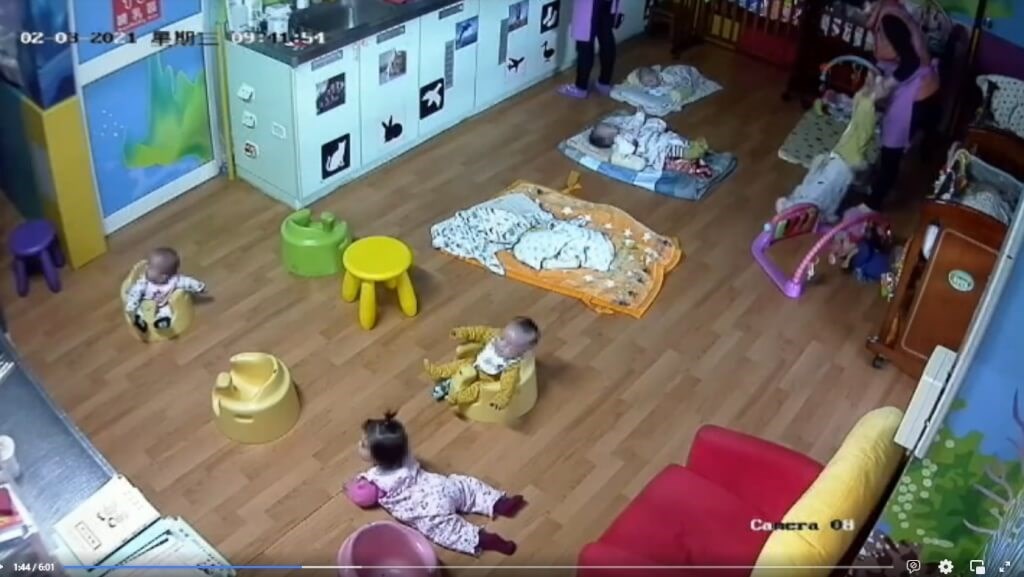 Taipei, Feb. 21 (CNA) An investigation into a now-defunct daycare center in Taichung's Nantun District has uncovered another three cases of alleged child abuse during a 10-day period last year, according to a statement released Monday by the city's Social Affairs Bureau.
A review of surveillance footage taken at Hwa Shin Infant Care Center (華興托嬰中心) on weekdays from Jan. 27 to Feb. 9, 2021 showed three children apparently being abused by two caregivers at the center, the bureau said, noting that two cases of alleged child abuse at the daycare center had previously been reported.
Two caregivers, surnamed Lin (林) and Chien (簡), will be referred to law enforcement, and if they are found guilty, Hwa Shin will be fined NT$60,000 (US$2,156) to NT$600,000, the bureau.
One of the two caregivers, who is currently working at a different care center, will be placed on temporary suspension, the bureau said, adding that it will check the caregiver's work record there.
In March last year, a caregiver at Hwa Shin surnamed Huang (黃) was fined NT$60,000 and banned from working at any daycare center for 10 years, after she was found to have abused a young child there in February.
Hwa Shin was also slapped with a fine of NT$60,000 for negligence and was instructed to rectify its problems. It sought a suspension of operations in August last year, according to the bureau.
On Feb. 8 this year, the bureau received another complaint that a second child at Hwa Shin had suffered abuse in 2021, but the matter was not made public until Feb. 18, when several parents held a press conference to speak about the alleged problem at Hwa Shin.
Presenting video footage recorded in February 2021, the parents said it showed physical abuse of their children by different caregivers at Hwa Shin.
The footage showed a crying child being pulled into a storeroom and left there, and in another instance, a child is seen lying alone on the kitchen floor. Some of the other images showed a child being smacked in the head, and a toddler being held upside down by the feet. 
[Warning: this video contains graphic images that may be disturbing to viewers. Viewer discretion is advised]
After the press briefing, Taichung Mayor Lu Shiow-yen (盧秀燕) apologized and pledged to launch an investigation into Hwa Shin.
In its statement on Monday, the bureau said it had not looked at all of the 10-day surveillance footage it had obtained when the first abuse case at Hwa Shin was reported in February last year. As a result, other instances of child abuse at Hwa Shin were not noticed, the bureau said, adding that it had been negligent in its investigation of the matter.
The bureau said some of its staff members will be referred to an investigative team set up by the city government, with a view to penalizing them for negligence.
In addition, the bureau said, it will step up its inspection of daycare centers in the city, strengthen personnel training, and require daycare centers to hold meetings with parents if there are any incidents of child abuse.
Update
March 1: Taichung care center, caregivers fined NT$750,000 for 'mistreatment'
Feb. 23: Taichung considers stricter penalties for child abuse at care centers