'Our hearts are still with him': father of killed F-16V pilot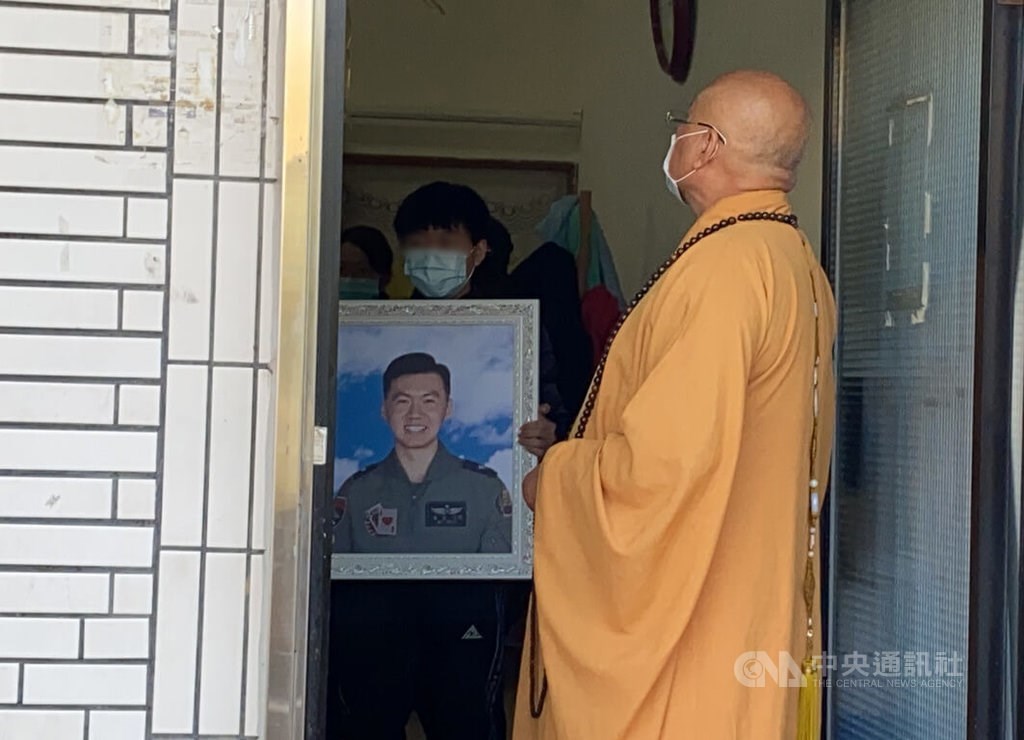 Taipei, Jan. 16 (CNA) "Our hearts are still with him," father of Air Force Captain Chen Yi (陳奕), the F-16V pilot killed during a crash Tuesday, told CNA Sunday after he brought a framed photograph of Chen back to his home in Nantou County earlier in the day as part of a homecoming ritual for the deceased.
"We wanted to bring him back. It is like a homecoming, and all of his relatives are gathering here to see him," the elder Chen said.
"We wanted to make this (ritual) more heartwarming for everyone involved. Even though Chen Yi was no longer with us, our hearts are still with him," he added.
Chen Yi's father made the remarks during a ritual where he brought a framed photograph of Chen back to their residence in the central Taiwan county of Nantou from the crash site in Chaiyi County, southern Taiwan, while performing traditional Taiwanese funeral rites.
The homecoming ceremony was held a day after a "soul summoning" ritual performed at the crash site near the Aogu Wetlands in Dongshi Township on Saturday, two days after Chen's suspected remains were found by search and rescuers on that location.
Tests conducted based on a DNA sample taken from Chen's mother later confirmed that human tissue retrieved from the crash site is that of Chen.
As part of the homecoming ritual Sunday, Chen's framed photograph was placed in the living room of the house, allowing his relatives and friends to come to bid a final farewell.
An hour later, the photograph was taken away from his home under the guidance of a Taoist master as Chen's parents had brought the photograph back to Chiayi to perform the rest of the ritual.
According to Chen's father, the Air Force will be responsible for holding an official memorial service for Chen before placing his memorial tablet at the Air Force Cemetery in New Taipei's Xindian District.
His family, meanwhile, will put his cremated remains at a nearby columbium in Nantou, according to Chen's father.
The F-16V jet piloted by Chen with the serial number 6650, disappeared from radar screens at 3:23 p.m. Tuesday, about 30 minutes after it took off from Chiayi Air Base on a routine training mission with another aircraft.
The aircraft had just completed a series of simulated missile launches, when it abruptly nosedived into the sea near the Aogu Wetlands in Dongshi Township, according to accounts given by the other jet pilot, a ground controller, and eyewitness.
An ad hoc team has since been formed to investigate the cause of the crash, and Taiwan's F-16 fighter jet fleet has been grounded for safety checks, the Air Force said.
Meanwhile, an unnamed military official told CNA that the Air Force is expected to allow the nation's F-16s back to action on Jan. 27 the soonest, after passing required safety inspections.