CORONAVIRUS
/
Taiwan confirms seven new Omicron cases, bringing total to 12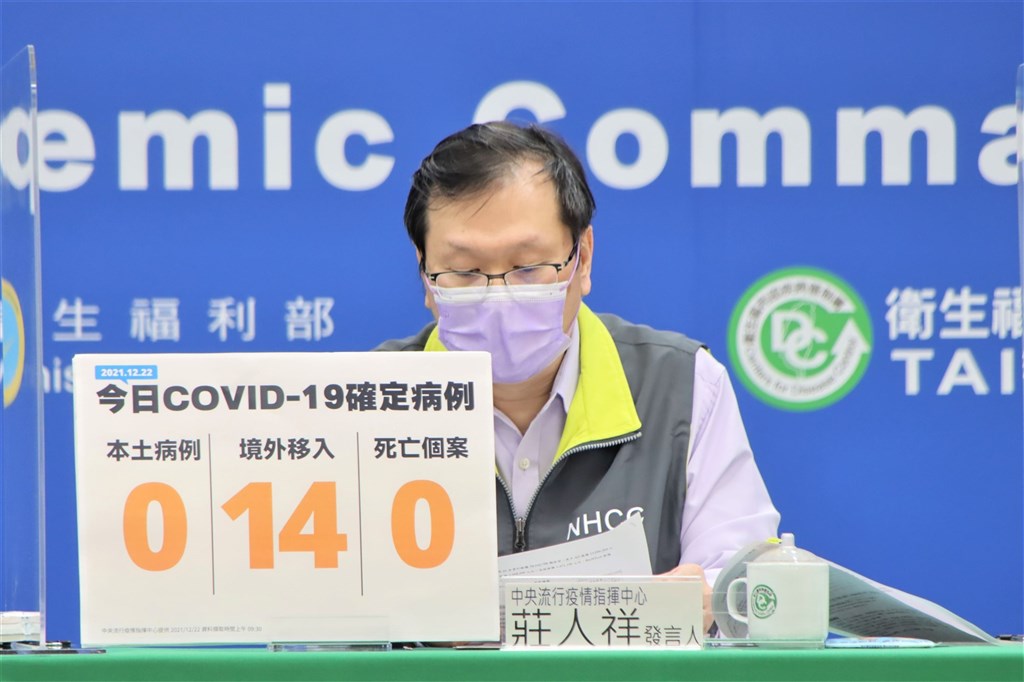 Taipei, Dec. 22 (CNA) Seven imported COVID-19 cases previously reported by the Central Epidemic Command Center (CECC) have been confirmed as Omicron variant infections, the CECC announced Wednesday.
Three of the seven cases traveled to Taiwan from the United States, two from the United Kingdom, one from Canada, and one from Nigeria. They arrived between Dec. 14 and Dec. 18 and tested positive for COVID-19 upon entry, CECC official Lo Yi-chun (羅一鈞) said at the daily COVID-19 press briefing.
Passengers who sat near these individuals on their flights to Taiwan have all tested negative for COVID-19, Lo said.
Taiwan reported its first case of the Omicron variant on Dec. 11 and the seven cases confirmed Wednesday bring the total in the country to 12.
All 12 individuals have been fully vaccinated against COVID-19 and the cases are classified as breakthrough infections. On average, they were infected with the disease five months after their second vaccine dose, Lo said.
Seven have experienced mild symptoms -- such as a cough, nasal congestion, sore throat, headache, fatigue, and fever -- and five have been asymptomatic so far, Lo said.
The World Health Organization (WHO) designated Omicron as a variant of concern on Nov. 26 and the variant has since been identified in over 80 countries.
In a statement on Dec. 17, the WHO said that it is currently unclear whether Omicron's rapid spread is caused by its ability to evade the human immune system, intrinsic increased transmissibility, or a combination of both factors.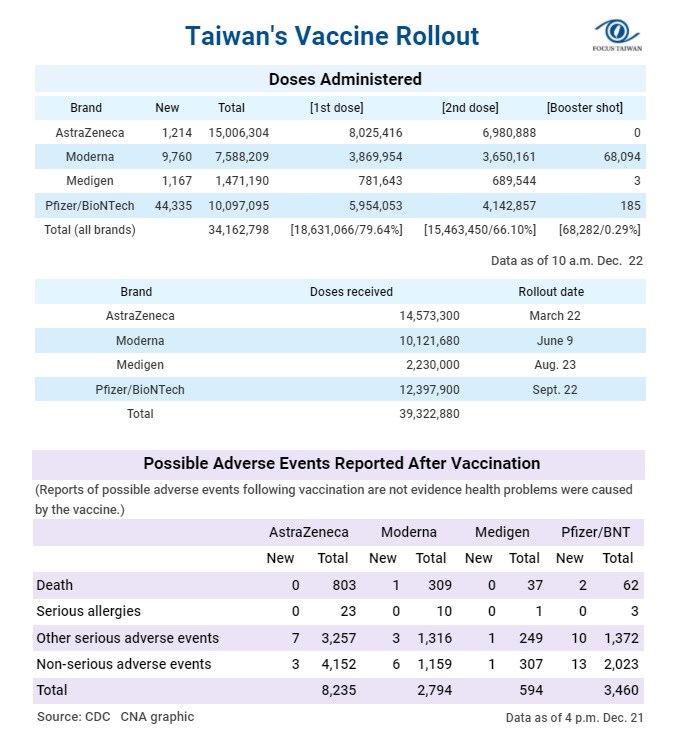 In addition to confirming seven previous COVID-19 cases as the Omicron variant, the CECC also reported 14 new cases of COVID-19 on Wednesday, all imported.
The cases are nine Taiwanese and five foreign nationals, who traveled to Taiwan from the U.S., Italy, Indonesia, Poland, the U.K., Cambodia and Vietnam, the CECC said.
To date, Taiwan has confirmed a total of 16,840 COVID-19 cases since the pandemic began in early 2020, of which 14,435 are domestic infections reported since May 15, 2021, when the country first recorded more than 100 cases in a single day.
Daily domestic case numbers have fallen to mostly single digits or zero since Aug. 15. Nine such cases have been reported in December so far, including seven linked to cluster infections at quarantine hotels in Taipei and Taoyuan.
With no new deaths reported Wednesday, the number of confirmed COVID-19 deaths in the country remains at 850, with all but 12 recorded since May 15. Taiwan last reported a COVID-19-related death on Dec. 19, according to the CECC.
Recent cases
Dec. 21: Taiwan reports 10 new imported COVID-19 cases, no deaths
Dec. 20: Taiwan reports 11 new COVID-19 cases, zero deaths
Dec. 19: Taiwan reports six new imported COVID-19 cases, one death
Dec. 18: Taiwan reports 13 new COVID-19 cases, zero deaths
View All