Joined by KMT supporters, 'Autumn Struggle' demonstration backs referendums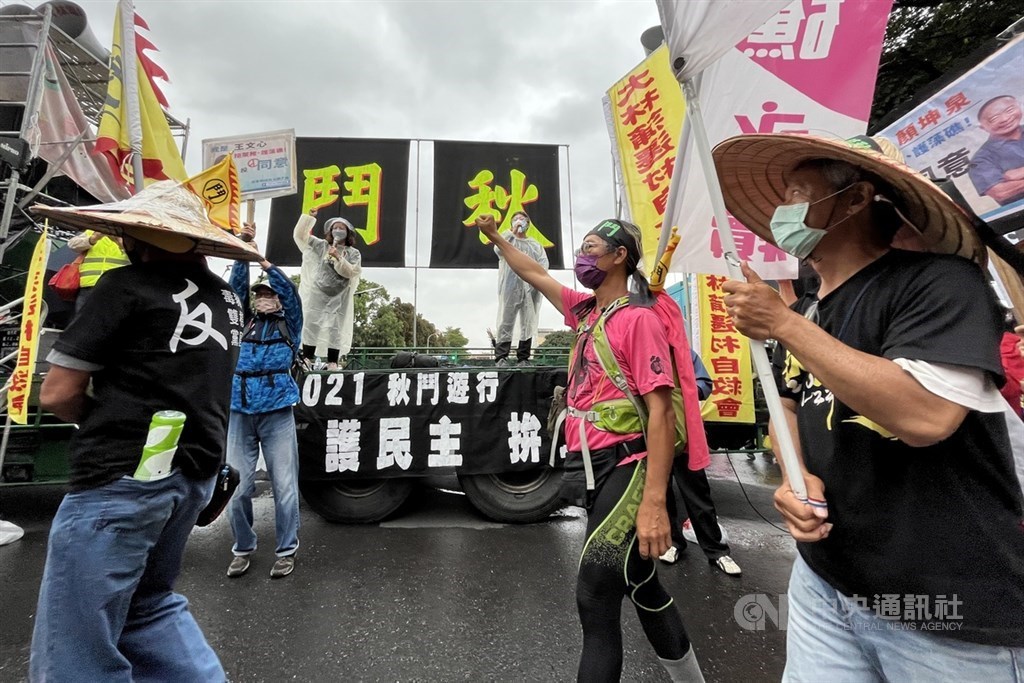 Taipei, Dec. 12 (CNA) The annual "Autumn Struggle" labor demonstration on Sunday focused on encouraging people to vote "yes" in four referendums scheduled for Dec. 18, especially those centered on environmental and food safety concerns.
The rally on Ketagalan Boulevard in front of the Presidential Office drew around 10,000 people, mainly activists from 32 pro-labor groups, including a team that began their march to Taipei from Pingtung County in southern Taiwan on Nov. 13, according to the organizers.
Also participating were many supporters of the opposition Kuomintang, which led two of the four referendum initiatives to be voted on.
Drumming up support for the four referendums was a main theme of this year's demonstration, the organizers said.
It stressed two initiatives in particular, one asking whether an LNG terminal under construction should be relocated from its current site in Taoyuan to protect an algal reef and the other asking whether the government should prohibit imports of pork containing a controversial and potential harmful feed additive.
Other issues highlighted at the demonstration were directed at what the groups see as the government's monopoly on power and use of social media to stifle opposing views, captured by the slogans "opposition to authoritarianism" and "opposition to cyber army bullying," the organizers said.
Before marching to Ketagalan Boulevard to join the"Autumn Struggle" demonstration, the KMT hosted a separate rally at Liberty Square at Chiang Kai-shek Memorial Hall to promote the passage of the referendum initiatives.
The rally featured incumbent KMT Chairman Eric Chu (朱立倫) and former President Ma Ying-jeou (馬英九), as well as other KMT leaders including seven mayors and county magistrates from the 14 cities and counties governed by the KMT.
However, neither Taichung Mayor Lu Shiow-yen (盧秀燕) nor New Taipei Mayor Hou Yu-ih (侯友宜) attended the rally.
As part of its bid to garner support, the KMT also deployed fleets of advertising vehicles to promote the referendums.
Conversely, the ruling Democratic Progressive Party (DPP) headed south to Tainan to encourage people to vote against the referendums.
President Tsai Ing-wen (蔡英文), Vice President Lai Ching-te (賴清德) and Premier Su Tseng-chang (蘇貞昌) all appeared at a Tainan event with about 30,000 participants.
During the event, Tsai, Lai and Su took turns to take the stage and encouraged the general public to vote against the referendums.
The DPP and the KMT have planned more rallies, with both parties scheduled to host events next to one another between Liberty Square and Ketagalan Boulevard on the evening of Dec. 17.
Update
Dec. 18: Four referendum questions fail to pass on low turnout
Dec. 17: Political parties rally to boost turnout for referendums