Temperature in Taiwan plunges to 9.5 degrees, lowest since September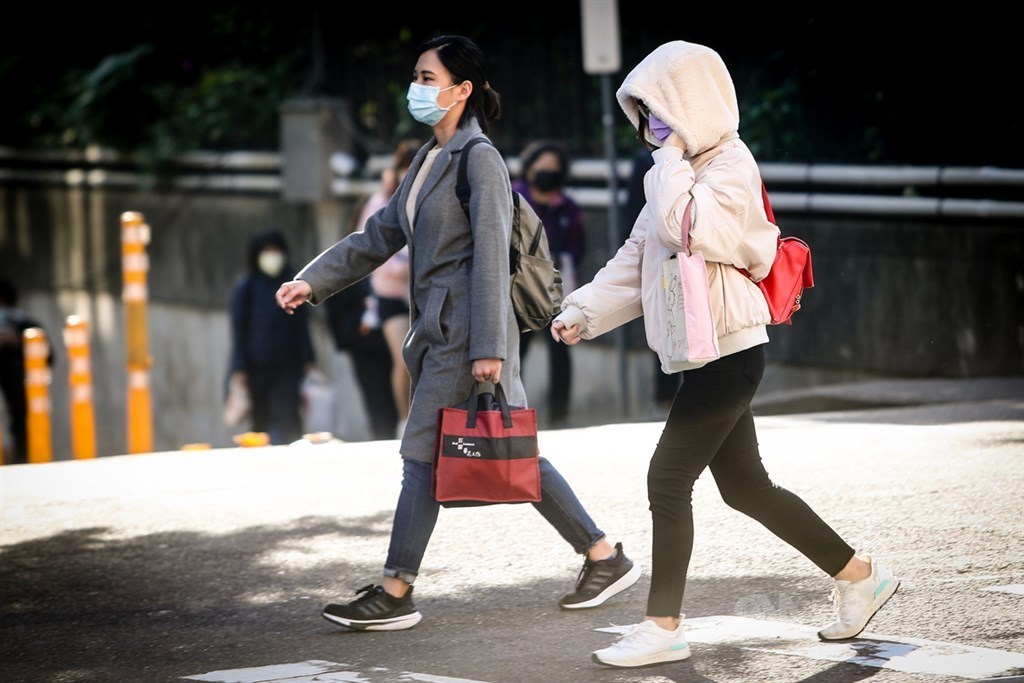 Taipei, Dec. 4 (CNA) A cold northeasterly wind system has caused temperatures to plunge to the lowest level in Taiwan since September - with 9.5 degrees Celsius recorded in Chiayi City early Saturday morning, according to the Central Weather Bureau (CWB).
A weather monitoring station located in Taichung City recorded the second lowest temperature in Taiwan at 10.9 degrees early Saturday morning, followed by 11.6 degrees in Yilan, the CWB said.
The Bureau also cited the strong radiation cooling effects as a cause for the colder weather; it refers to large temperature differentials caused by cooling of the ground under clear skies, light winds, and dry conditions.
A weather monitoring station in Miaoli County even recorded 5.9 degrees early Saturday morning, but the figure will not be listed on the CWB's records since the station is an unmanned monitoring station.
After sunrise, temperatures are expected to quickly warm up as the cold air weakens, the CWB said, forecasting daytime temperatures will range between 20 and 21 degrees in northern Taiwan and 24-25 degrees in central and southern parts of the country on Saturday, up 1-2 degrees from a day earlier.
Despite the warmer daytime temperature, the CWB warned of a wide differential at night around Taiwan, with the mercury expected to fall to as low as 15 degrees.
The CWB said the weather is expected to stay stable with cloudy to sunny skies likely to prevail on Saturday, while sporadic showers are possible on the windward sides in eastern Taiwan.
The CWB also warned of strong winds in areas between Taoyuan and Tainan cities, eastern Taiwan, the southeast, including the Orchid Island and Green Island, the Hengchun Peninsula in the south, as well as outlying Penghu, Kinmen an Matsu islands.
Cold air is expected to continue to weaken on Sunday and Monday, which will raise daytime temperatures to 20-23 degrees in northern Taiwan and 25-26 degrees in central and southern parts of the country, the CWB said.
However, as moisture in the air is expected to increase, windward sides in northeastern Taiwan, Keelung and Yilan are likely to see more precipitation Sunday and Monday, the CWB said.
The CWB said a moderate seasonal northeasterly wind system is expected to arrive next Wednesday, sending the mercury slightly lower around Taiwan.
Citing the European Centre for Medium-Range Weather Forecasts (ECMWF), Wu Der-rong (吳德榮), a meteorologist and adjunct associate professor of atmospheric sciences at National Central University, said Taiwan is unlikely to experience strong cold air over the next 10 days.
Meanwhile, the Environmental Protection Administration (EPA) said northeasterly winds are expected to help northern Taiwan disperse air pollutants Saturday, but southern Taiwan could see otherwise.
According to the EPA, the air quality will stay good to fair in most parts of Taiwan on Saturday, but southern parts such Kaohsiung and Pingtung will face an orange alert, indicating "unhealthy" air for sensitive groups.