CORONAVIRUS
/
Taiwan reports two imported COVID-19 cases, zero local ones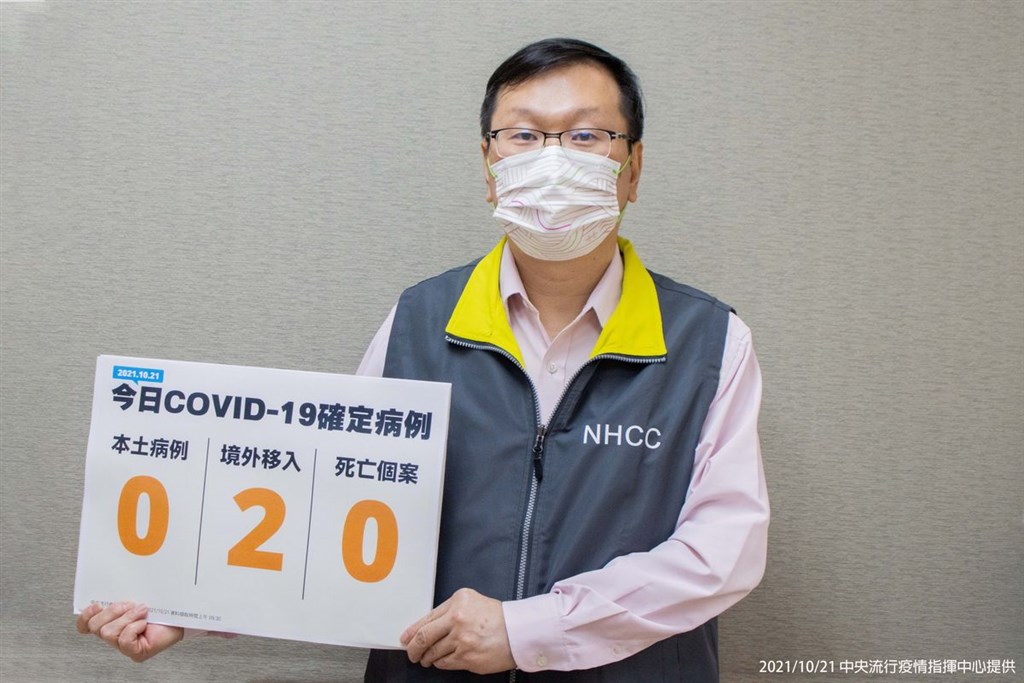 Taipei, Oct. 21 (CNA) The Central Epidemic Command Center (CECC) reported on Thursday two new imported COVID-19 cases and zero local infections and deaths from the disease.
One of the imported cases was a Taiwanese national in her 20s who returned to Taiwan on Oct. 6 from the United States and presented a negative COVID-19 test report issued within three days prior to the flight, the CECC said in a statement.
The woman tested negative for COVID-19 at the airport before checking in at a quarantine hotel. She developed a cough during her quarantine on Oct. 17 and tested positive Thursday before the end of her quarantine.
Another case was a man in his 60s, a resident in Myanmar, who arrived in Taiwan on Sept. 24 before checking in at a group quarantine facility.
He was identified as a contact of a confirmed COVID-19 case on Oct. 7 and was then placed under home isolation. He got tested for the virus on Wednesday and the result came back positive Thursday.
To date, Taiwan has confirmed a total of 16,349 COVID-19 cases since the pandemic began in early 2020, of which 14,585 are domestic infections.
With no new deaths reported Thursday, the number of confirmed COVID-19 fatalities in the country remains at 846, CECC data showed.
Since Taiwan began rolling out COVID-19 vaccines in March, 15.23 million people, or 65 percent of the population, have received their first vaccine shot, while 5.69 million people, or 24.28 percent, have obtained their second dose, according to data compiled by the CECC.
On Thursday morning, the CECC again announced the cancellation of that day's news briefing, saying that center officials who usually front the event were otherwise engaged at that time.
The cancellation came after the CECC called off the daily briefing on Wednesday as center officials were too busy with other work to host the event.
Wednesday marks the first time since mid-May when the COVID-19 alert was raised to Level 3 nationwide that the media briefing was canceled because CECC officials were too busy to host the event rather than other factors such as natural disasters or national holidays.
The daily news briefing had previously only been called off two times since mid-May -- on Sept. 12 due to a land warning issued for Typhoon Chanthu, and on Oct. 10 due to Republic of China (Taiwan) National Day.
Recent cases
Oct. 20: 4 new imported COVID cases Wednesday include 3 breakthrough infections
Oct. 19: Taiwan reports 6 six new COVID-19 cases, one locally transmitted
Oct. 18: Taiwan reports no new COVID-19 cases, deaths for first time in 193 days
Oct. 17: Level 2 alert extended to Nov. 1, one new imported COVID-19 case reported
View All