CORONAVIRUS
/
4 new imported COVID cases Wednesday include 3 breakthrough infections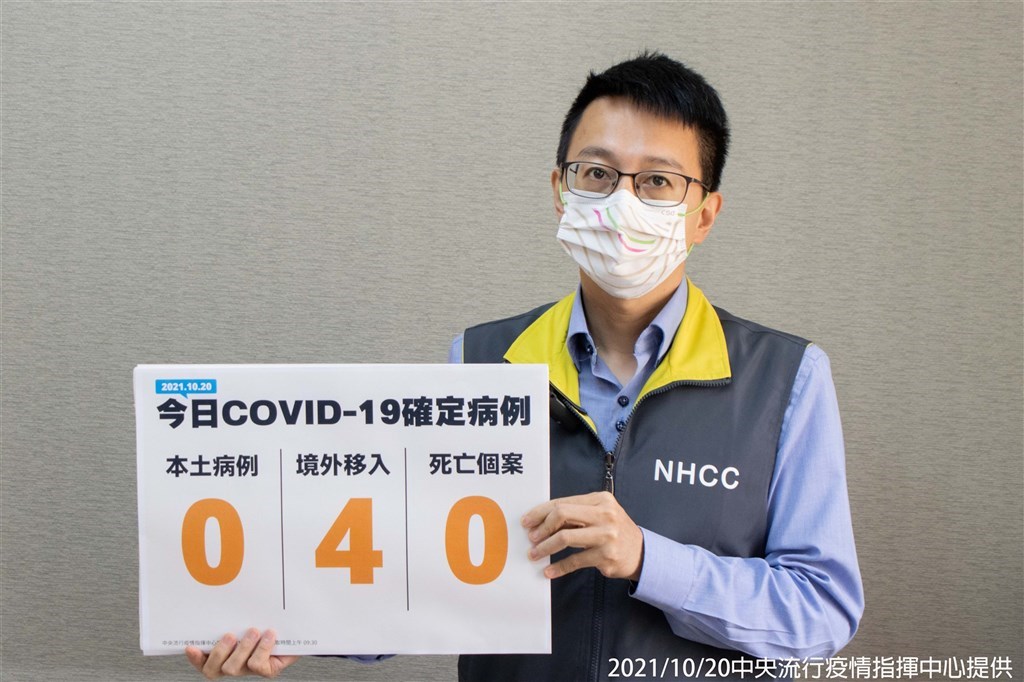 Taipei, Oct. 20 (CNA) Taiwan on Wednesday reported four new cases of COVID-19, all contracted abroad, including three breakthrough infections, and zero deaths from the disease, the Central Epidemic Command Center (CECC) said in a statement.
The four imported cases reported Wednesday were all women aged in their teens and 30s who arrived in Taiwan between Oct. 6 and Oct. 17 from Hungary, the Philippines, Indonesia and the United States, according to the CECC statement.
Among the three new breakthrough infections, two occurred after two individuals received two doses of the Chinese COVID-19 vaccine Sinovac and another involved one who got one shot of the AstraZeneca (AZ) vaccine and one of the Pfizer-BioNTech (BNT) vaccine, CECC Emergency Response Group Deputy Division Director Lo Yi-chun (羅一鈞) said in a pre-recorded audio clip.
In the first 20 days of this month, Taiwan has recorded four domestic cases and 120 imported cases, according to the CECC.
To date, Taiwan has confirmed a total of 16,347 COVID-19 cases since the pandemic began in early 2020, of which 14,585 are domestic infections.
With no new deaths reported Wednesday, the number of confirmed COVID-19 fatalities in the country remained at 846, CECC data showed.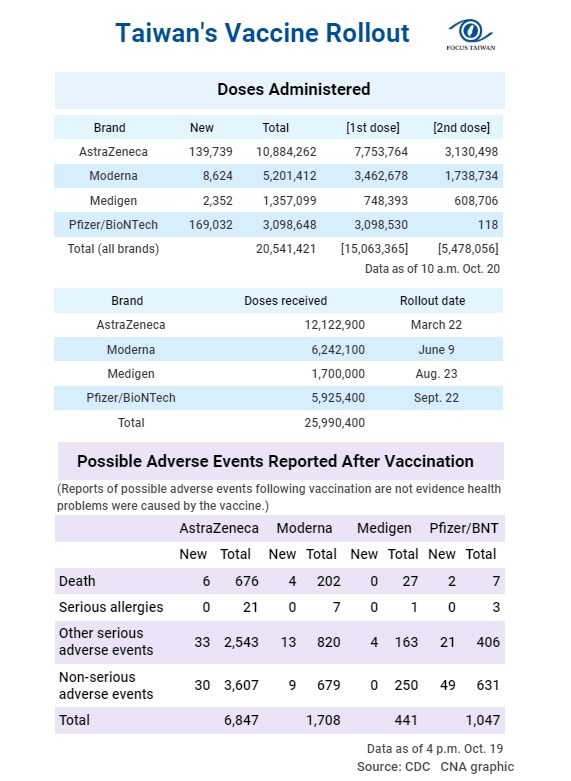 In the early afternoon Wednesday, the CECC announced the cancellation of that day's news briefing, which is typically held at 2 p.m. daily, saying center officials who usually front the event were otherwise engaged at that time.
Wednesday marks the first time since mid-May when the COVID-19 alert was raised to Level 3 nationwide that the media briefing was canceled because CECC officials were too busy to host the event rather than other factors such as natural disasters or national holidays.
The daily news briefing had previously only been called off two times since mid-May-- on Sept. 12 due to a land warning issued for Typhoon Chanthu and on Oct. 10 due to Republic of China (Taiwan) National Day.
Wednesday's briefing was canceled because Health Minister Chen Shih-chung (陳時中), who heads the CECC, and Centers for Disease Control Director-General and CECC official Chou Jih-haw (周志浩) were present at a meeting of the Legislative Yuan's Finance Committee.
Meanwhile, CECC deputy head Chen Tsung-yen (陳宗彥) and CECC spokesman Chuang Jen-hsiang (莊人祥) were also at the Legislative Yuan to answer questions from the Internal Administration Committee.
Lo was also too busy with other work to host the news briefing.
Recent cases
Oct. 19: Taiwan reports 6 six new COVID-19 cases, one locally transmitted
Oct. 18: Taiwan reports no new COVID-19 cases, deaths for first time in 193 days
Oct. 17: Level 2 alert extended to Nov. 1, one new imported COVID-19 case reported
Oct. 16: Taiwan reports 11 new COVID-19 cases, zero deaths
View All