Taiwan issues sea warning for Tropical Storm Kompasu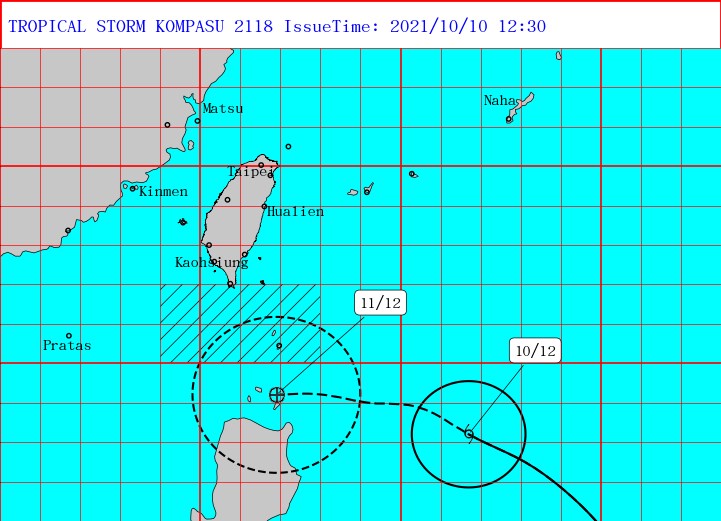 Taipei, Oct. 10 (CNA) The Central Weather Bureau (CWB) issued a sea warning for Tropical Storm Kompasu on Sunday as it continued to increase in intensity and move through the Bashi Channel between Taiwan and the Philippines.
As of 8 p.m. Sunday, Kompasu was located 730 kilometers east-southeast of Eluanbi, the southernmost tip of Taiwan, moving west-northwest at a speed of 21 kilometers per hour, the CWB said.
It was carrying maximum sustained winds of 83 kph with gusts of up to 108 kph, according to the weather bureau.
The tropical storm is expected to reach Luzon, the Philippines on Monday and come closest to Taiwan on Monday and Tuesday, said CWB forecaster Lin Ping-yu (林秉煜).
A land warning is unlikely to be issued for Taiwan based on the tropical storm's current path, according to the CWB.
The outer bands of the storm will begin to bring sporadic rain to the northern and eastern parts of Taiwan from Sunday night, Lin said.
From Monday to Tuesday, eastern Taiwan and mountainous areas in the north are likely to see heavy rain or extremely heavy rain, according to Lin.
In the CWB's advisories, extremely heavy rain is defined as accumulated rainfall of 200 millimeters or more within 24 hours, while heavy rain means accumulated rainfall of 80 mm or more within a 24-hour period or 40 mm or more in an hour.
Meanwhile, strong gusty winds are likely to occur in areas north of Tainan; eastern Taiwan; Orchid Island and Green Island off southeastern Taiwan; Hengchun peninsula in the south; and the offshore islands of Penghu, Kinmen and Matsu. Fishing boats in the coastal areas around Taiwan should also stay alert for strong winds and high waves, Lin added.
On Monday, daytime temperature in areas from south of Changhua to Tainan are expected to hit a high of 36 degrees Celsius, while the mercury in eastern Taiwan will hover at around 27-29 degrees, according to Lin.
According to the CWB, a tropical depression developed into a tropical storm called Namtheun at around 8 a.m. Sunday.
As of 2 p.m., Namtheun was located 4,090 kilometers east of Eluanbi, moving west-northwest at a speed of 65 kilometers per hour, and will have no direct impact on Taiwan, the CWB said.
Another storm, Lionrock, which was located 150 km east-southeast of Hanoi, Vietnam as of 2 p.m. Sunday, was downgraded to a tropical depression at 2 p.m., posing no threat to Taiwan.