CORONAVIRUS
/
Taiwan reports 5 new COVID-19 cases, no deaths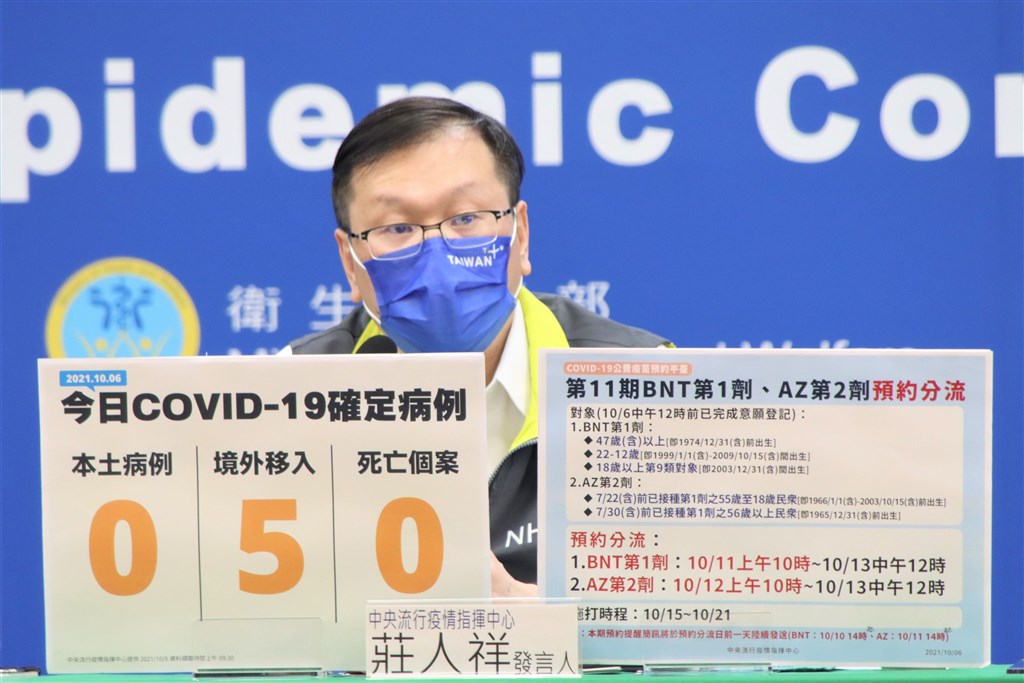 Taipei, Oct. 6 (CNA) The Central Epidemic Command Center (CECC) on Wednesday reported five new COVID-19 cases, all listed as imported, though one of the new cases involved an airline crew member who also spent time in Taiwan during the possible incubation period.
The airline crew member, a woman in her 40s, tested positive on Tuesday after working on a flight to Anchorage on Sept. 23 and the return flight on Sept. 26, and on a same-day return trip to Singapore on Oct. 3, CECC spokesperson Chuang Jen-hsiang (莊人祥) said at a press briefing.
The CECC is still investigating how she contracted the disease, but for the moment it has classified her as an imported case.
Four people, including her two children, have been listed as close contacts and have been placed in quarantine, according to the CECC.
The four other new cases involved three Taiwanese women who returned from the United States on Sept. 22 and a South African man who traveled from his home country to Taiwan on Sept. 14, according to the CECC.
The three Taiwanese women tested positive while in quarantine, while the South African man got a positive result on Tuesday from a test conducted for work purposes, despite testing negative several times after arriving in Taiwan and while being quarantined for 14 days, according to the CECC.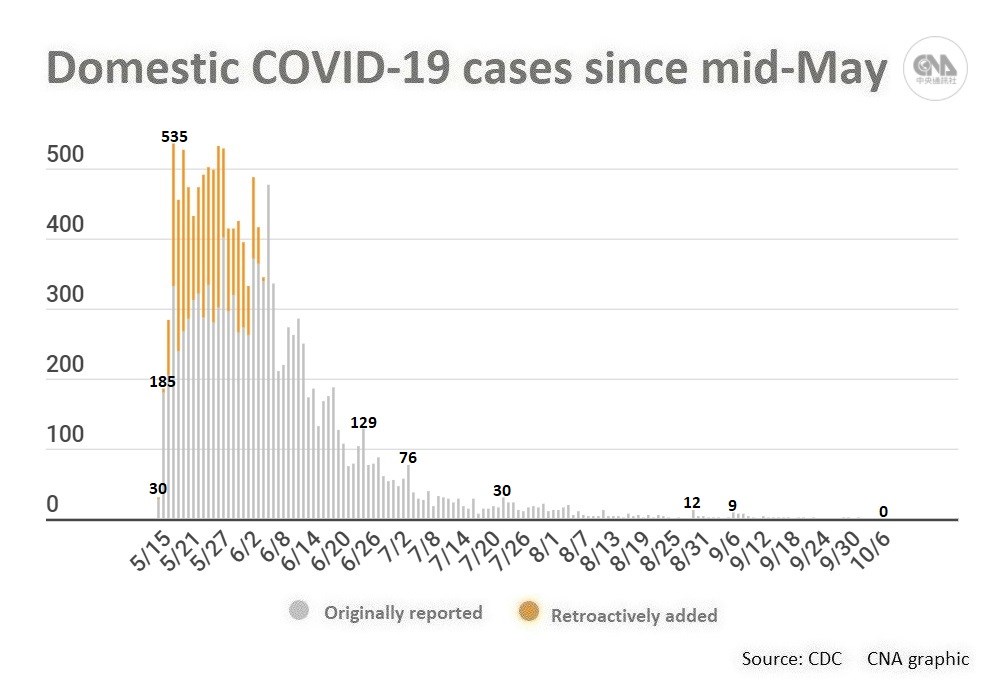 To date, Taiwan has confirmed a total of 16,267 COVID-19 cases, of which 14,417 are domestic infections reported since May 15, when the country first recorded more than 100 cases in a single day.
However, the daily number of domestic cases has fallen to mostly single digits since Aug. 15, totaling 114 since then, according to CECC data.
During the same period, the number of imported cases has risen by 302 to 1,632, including Wednesday's five new cases, CECC data showed.
With no new deaths reported Wednesday, the number of confirmed COVID-19 fatalities in the country remained at 844, with all but 12 recorded since May 15, CECC data showed.
Related News
-New COVID-19 case leads to Taipei elementary school class suspensions
-More Pfizer-BioNTech vaccine doses to arrive this week: Terry Gou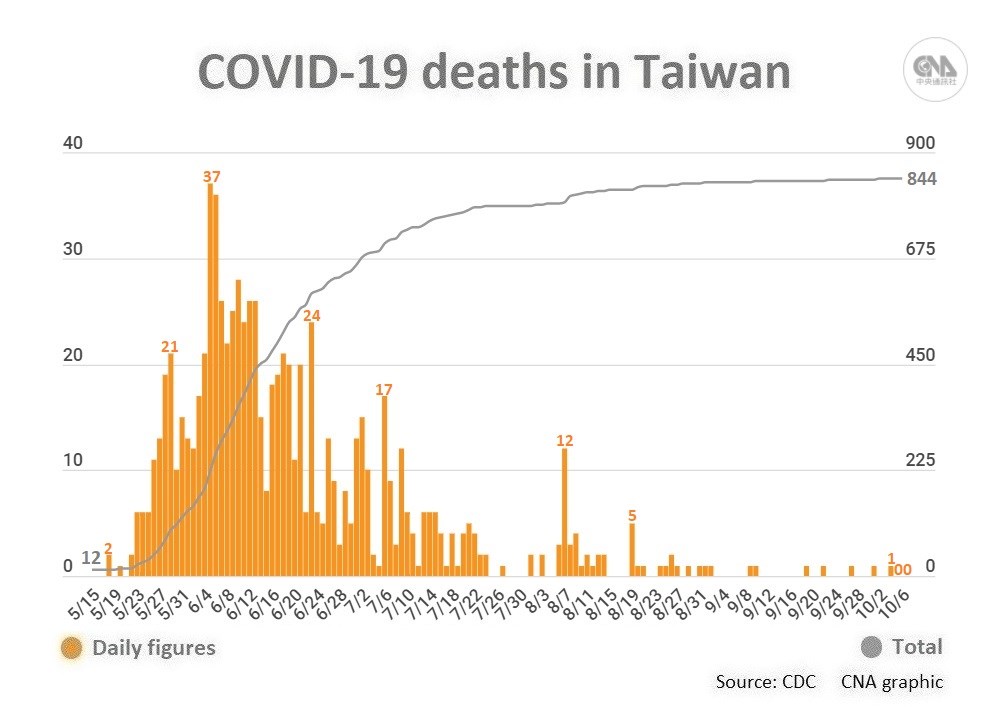 Recent cases
Oct. 5: Taiwan reports no new domestic COVID-19 cases for sixth straight day
Oct. 4: Taiwan extends Level 2 COVID-19 alert two weeks, reports five new cases
Oct. 3: Taiwan reports zero new domestic cases, relaxes mask mandate
Oct. 2: Taiwan reports 10 new COVID-19 cases Saturday
Oct. 1: Taiwan reports 11 new COVID-19 cases, one death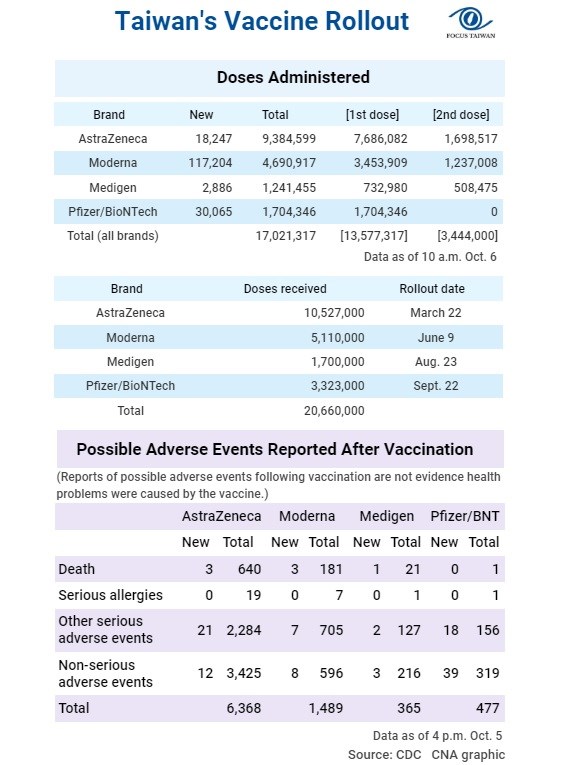 View All