CORONAVIRUS
/
Vaccine rollout just one factor in looking at lowering of COVID alert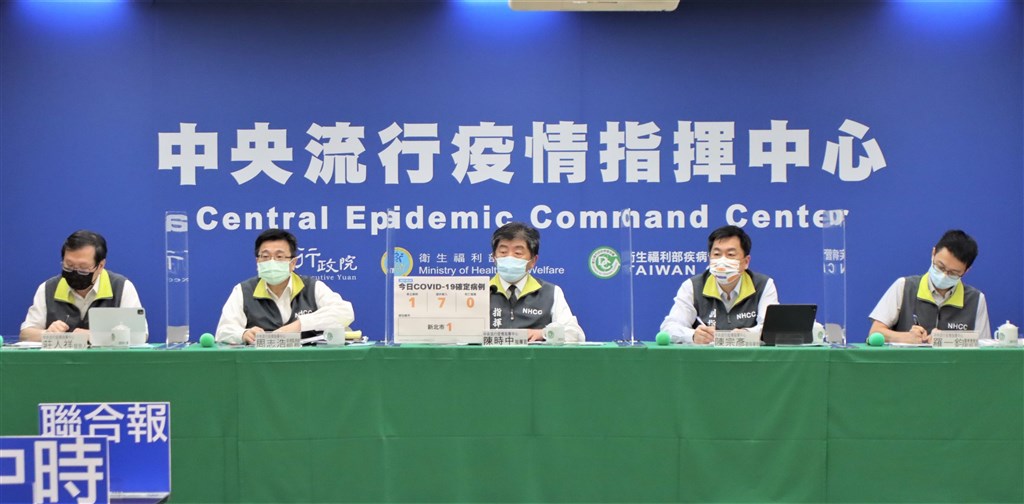 Taipei, Sept. 24 (CNA) The Central Epidemic Command Center (CECC) will ease COVID-19 restrictions depending on the vaccine rollout and other factors, but lowering the current Level 2 alert will require more careful consideration, Health Minister Chen Shih-chung (陳時中) said Friday.
Beyond achieving a first-dose COVID-19 vaccination rate of 60 percent, the CECC will also look at people's compliance with COVID-19 prevention rules and the spread of the disease in Taiwan to gradually ease current restrictions, Chen said at a CECC press briefing.
The CECC will take a more rigorous approach, however, in deciding whether to lower the current Level 2 COVID-19 alert, which has been in place since July 27 and has been extended four times to Oct. 4.
Chen was responding to a suggestion by Taoyuan Mayor Cheng Wen-tsan (鄭文燦) to lower Taiwan's COVID-19 alert to Level 1 because of low number of cases in recent weeks.
Under a Level 2 alert, people need to wear a face mark when outside their residence, the number of people at indoor and outdoor gatherings are capped at 300 and 800 respectively, and certain businesses, such as bars, clubs, and KTV parlors, are not allowed to open.
On Friday, the CECC reported one domestic case, along with seven cases of people who contracted the disease overseas, pushing the number of total cases in Taiwan to 16,176, of which 14,415 are domestic infections reported since May 15, when the country first recorded more than 100 COVID-19 cases in a single day.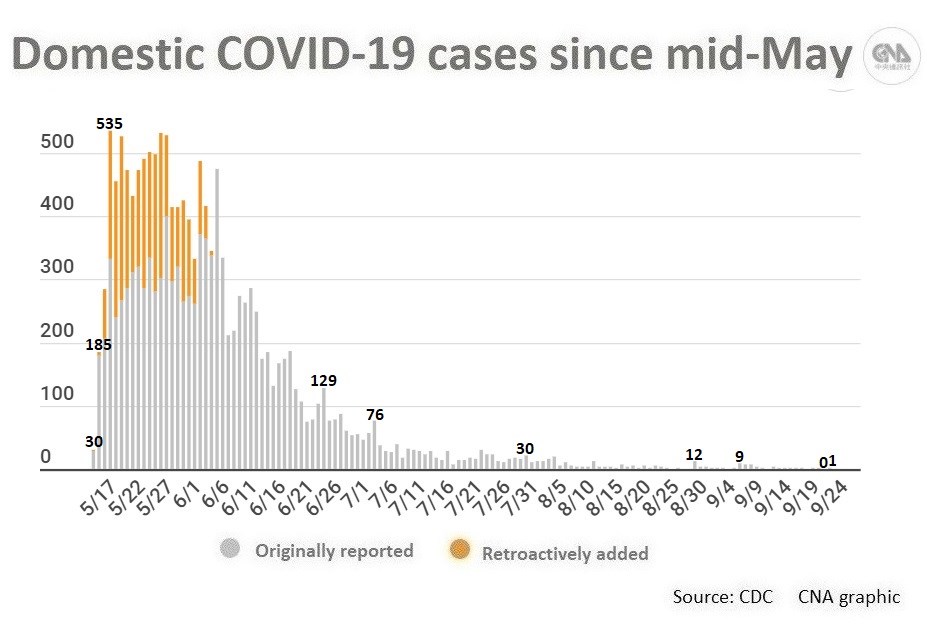 The sole domestic case involved a woman in her 20s, who is an engineer working at Foxconn Interconnect Technology Ltd., a subsidiary of Hon Hai Precision Industry Co., in New Taipei.
According to the CECC, the patient tested negative when she went to see a doctor because of a fever on Sept. 7, but a rapid test she took Wednesday for work and a subsequent rapid polymerase chain reaction (PCR) at a hospital were both positive.
She was initially not deemed as a patient because a follow up traditional PCR test result was negative, but the CECC decided to list her as a confirmed case after positive tests for two types of antigens, according to the CECC.
On Thursday, the patient's company said she and six people who have had close contact with her had been placed in quarantine.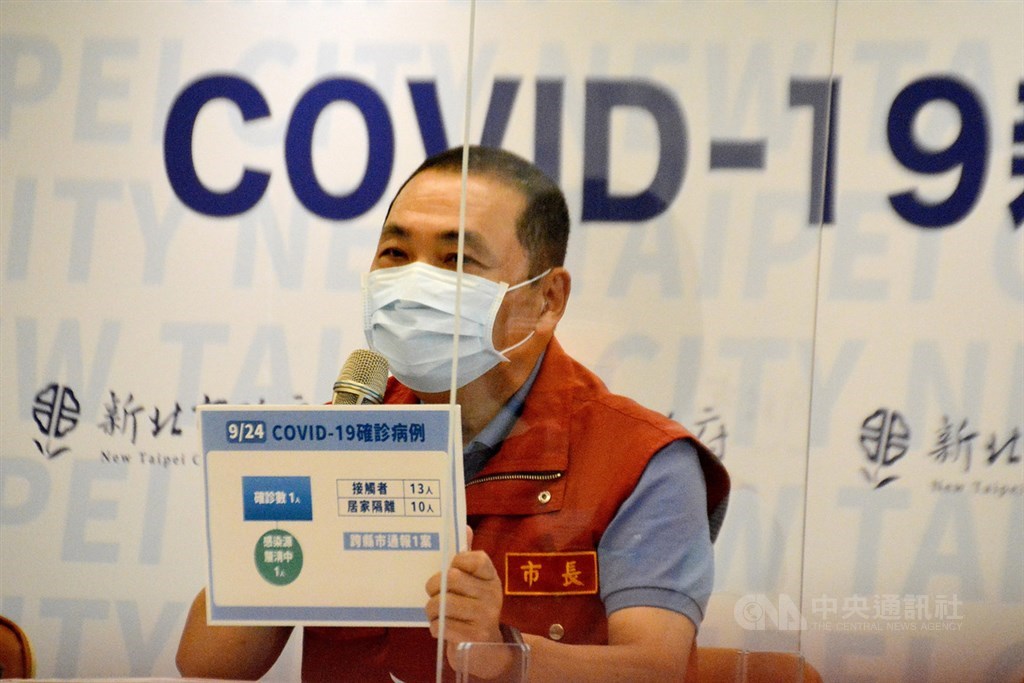 New Taipei Mayor Hou Yu-ih (侯友宜) said in a separate press briefing Friday that the patient, who lives in Banqiao District, had a cycle threshold (CT) value of 34 from the PCR test and is not considered to be infectious.
A higher CT value generally indicates a lower viral load, possibly suggesting that the infection did not occur recently.
The city is still investigating the source of infection, while tests of her family and close contacts have been all negative. A total of 10 people are in quarantine because of Friday's new case, the mayor said.
Meanwhile, CECC data released Friday showed 87,708 people were given their first dose of the Pfizer-BioNTech vaccine a day earlier, up from just more than 8,000 on the first day of the rollout of that brand of the COVID-19 vaccine among high school students Wednesday.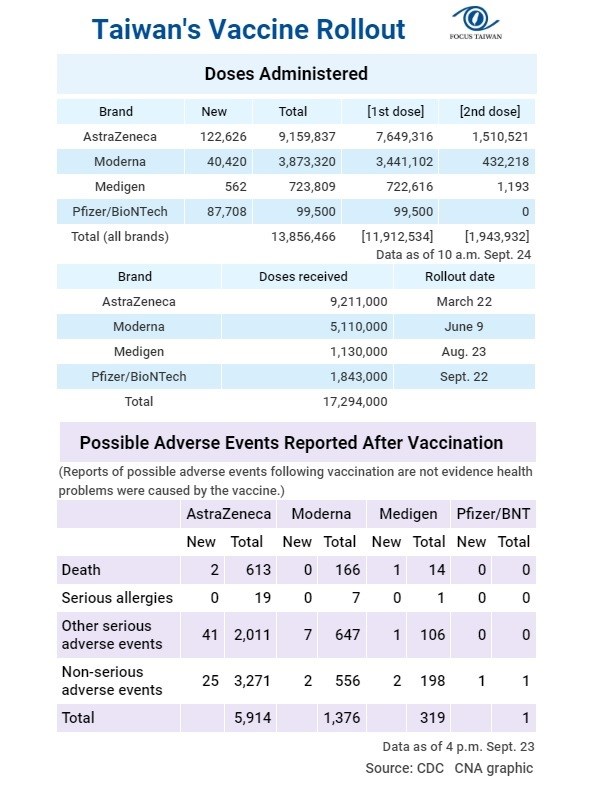 To date, 50.8 percent of Taiwan's 23.5 million population have received at least one dose of a COVID-19 vaccine since the vaccination program was launched March 22, CECC data showed.
However, only 1,943,932 people, or 8.3 percent, have received both doses required to be fully vaccinated, according to CECC data.
With Taiwan set to begin the rollout of the Pfizer-BioNTech vaccine among adults on Saturday, the health minister encouraged people who have not received a shot of any COVID-19 vaccine to register their intention to be given that brand on the government's vaccination program website.
The CECC's plan for upcoming shipments of AstraZenenca and Moderna vaccines will be to give them to people who received their first shot around July, Chen said.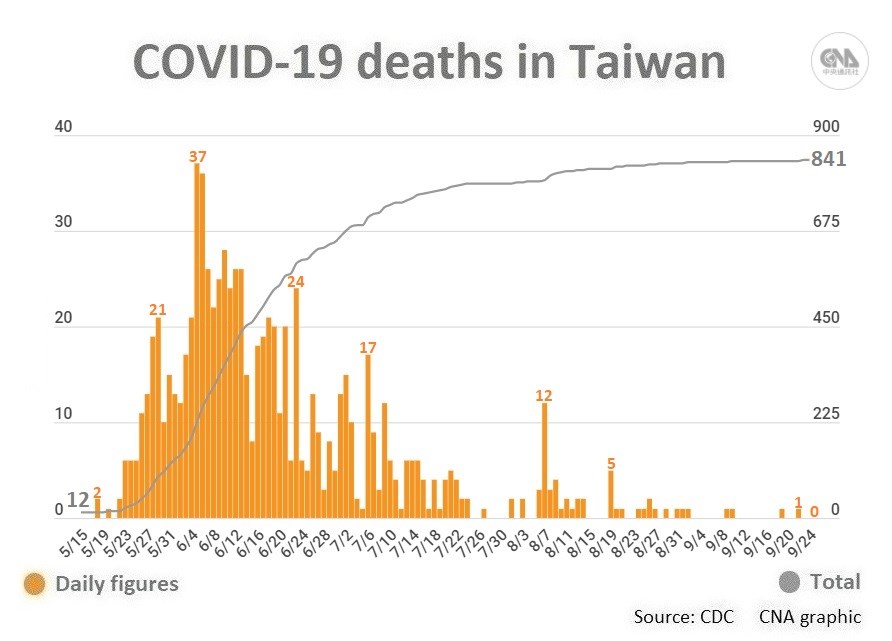 Recent cases
Sept. 23: Taiwan eases quarantine rules for visitors from Peru, Bangladesh and Brazil
Sept. 22: Taiwan reports seven new COVID-19 cases, third Delta variant death
Sept: 21:  Taiwan records 5 new COVID-19 cases, lowers age for 2nd Moderna jab
Sept. 20: Taiwan reports six new COVID-19 cases; some department stores closed
View All