CORONAVIRUS
/
People vaccinated against COVID-19 can apply for 'Yellow Card'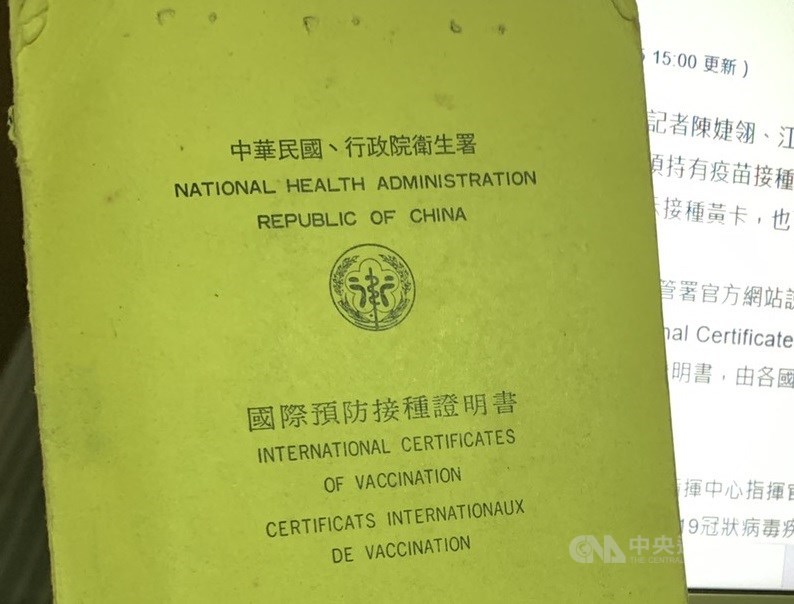 Taipei, Aug. 5 (CNA) People in Taiwan vaccinated against COVID-19 with immediate plans to travel abroad should consider applying for an International Certificate of Vaccination or Prophylaxis (ICVP), also known as the "Yellow Card," in case some countries require it at immigration, the Central Epidemic Command Center (CECC) said Thursday.
Speaking at a CECC press briefing, Health Minister Chen Shih-chung (陳時中) said anyone who has never had an ICVP can apply for one via a travel medicine clinic at a cost of NT$200 (US$7.20).
Those who already have one and are inoculated can get it stamped for proof of vaccination against COVID-19, Chen said, and the fee will be NT$150.
The Yellow Card, or Carte Jaune in French, is an official vaccination report created by the World Health Organization (WHO). As a travel document, it is a medical passport that is recognized internationally and may be required for entry to certain countries where there are increased health risks for travelers.
It records proof of vaccination against a wide range of diseases, such as meningitis, tetanus, polio and yellow fever.
On Thursday, the health minister said although people vaccinated receive a "COVID-19 Vaccination Record," a pamphlet issued by the Taiwan Centers for Disease Control, in Chinese and English, it is possible border control in some countries may also require the vaccination to be recorded in the Yellow Card.
View All