Path of tropical storm near Taiwan still uncertain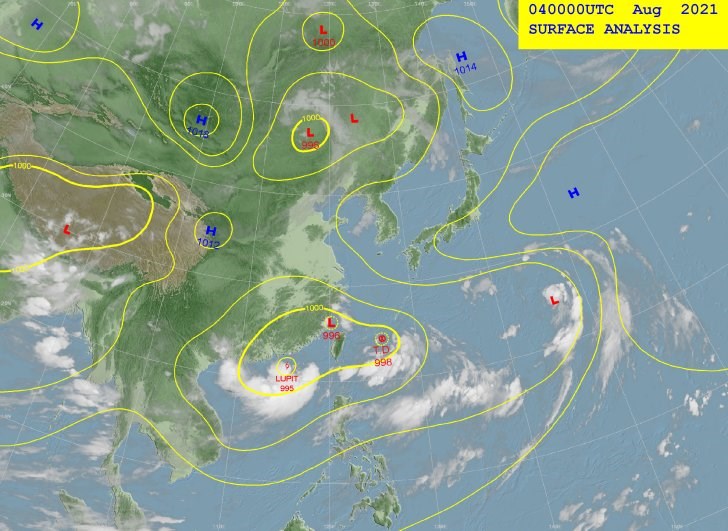 Update: Sea warning issued for Tropical Storm Lupit
Taipei, Aug. 4 (CNA) Tropical Storm Lupit is expected to come closest to Taiwan on Friday, but the Central Weather Bureau (CWB) could not yet say if a land warning will be issued because of the storm's uncertain trajectory.
As of 8 a.m. Wednesday, the tropical storm was located about 550 kilometers west of Taiwan's southernmost tip and was moving in an east-northeast direction at 10-14 km per hour.
The storm was carrying maximum sustained winds of 64.8 kph, with gusts of up to 90 kph, according to the CWB.
The CWB said it would likely issue a sea warning for Lupit on Wednesday night, but it could not determine whether a land warning will be necessary because of the storm's uncertain path.
It is currently projected to hug China's coastline in a northern direction through the Taiwan Strait.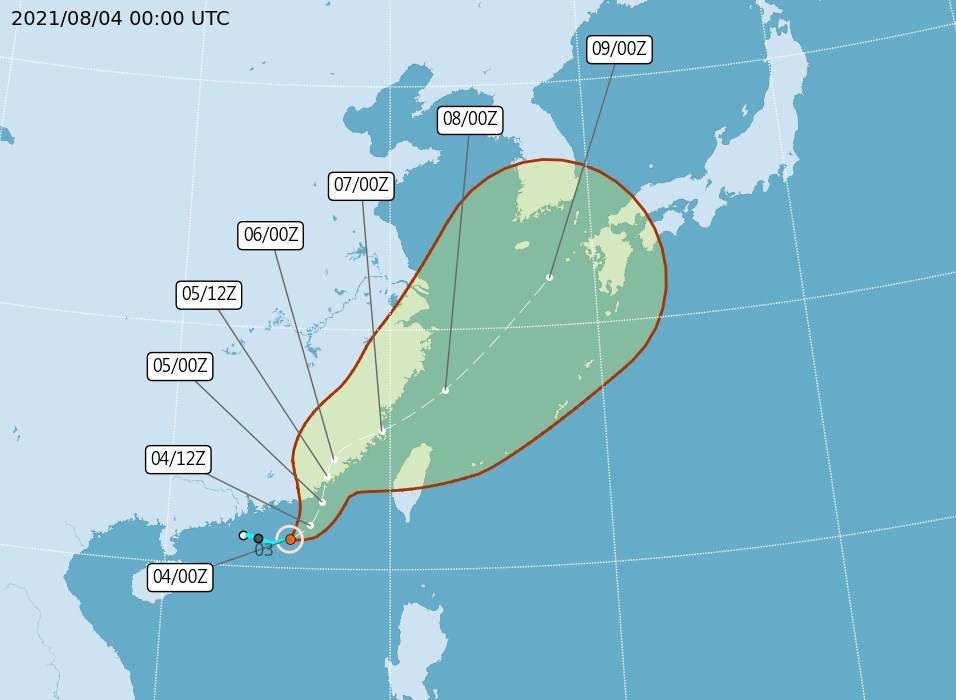 Taiwan's Kinmen islands, which are located just off China's southeastern coast, could be more affected by the storm than any other part of the country, the CWB said.
Meanwhile, Taiwan was expected to remain under the influence of seasonal southwesterly winds on Wednesday and face unstable weather conditions, with thundershowers and strong winds possible.
The CWB has issued a heavy rain advisory for Tainan and Kaohsiung cities, Pingtung County, and the Hengchun Peninsula, saying the warning will remain in effect until late Wednesday evening.
The CWB defines heavy rain as accumulated rainfall of 80 mm or more within a 24-hour period or rainfall of 40 mm or more in an hour.
Elsewhere, the CWB said, brief showers and thundershowers are possible in the east, while occasional precipitation is also expected in mountainous parts of western Taiwan.
The CWB said daytime temperatures are forecast to range between 30 and 32 degrees Celsius Wednesday.
The unstable weather conditions caused by the seasonal winds are expected to continue into Sunday, the CWB said.