CORONAVIRUS
/
Taiwan reports 33 new COVID-19 cases, 30 domestic cases in the north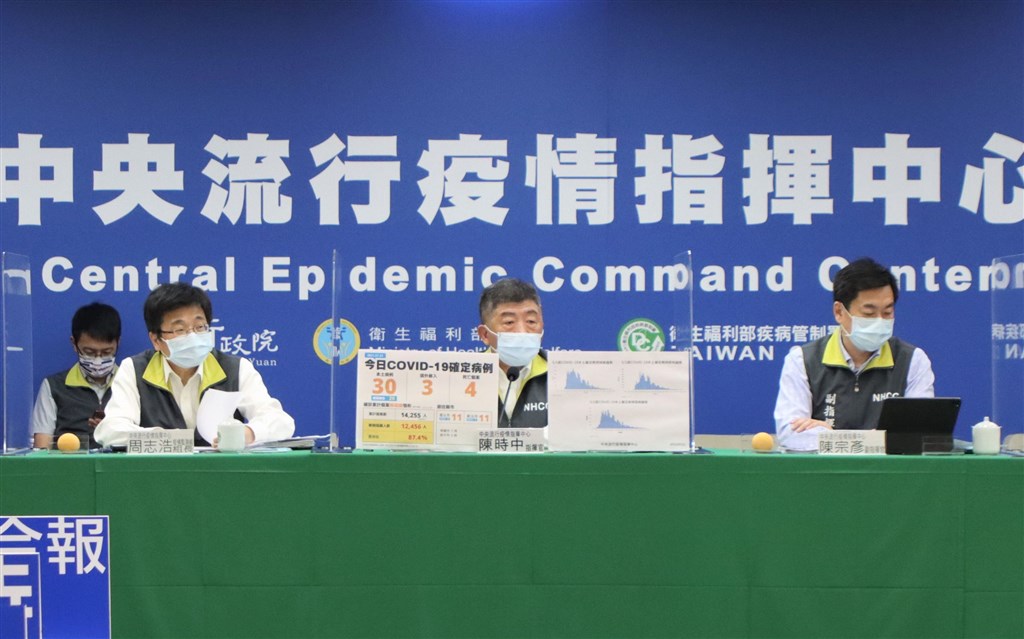 Taipei, July 22 (CNA) Taiwan on Thursday reported 33 new COVID-19 cases -- 30 transmitted domestically and three contracted overseas -- and four deaths from the disease, according to the Central Epidemic Command Center (CECC).
All of the domestic cases were reported in northern Taiwan, with 11 each in Taipei and New Taipei, seven in Taoyuan and one in Hsinchu, Health and Welfare Minister Chen Shih-chung (陳時中) said at the daily CECC press briefing.
Although the number of new cases is higher than the past few days, 24 of the domestic cases had a known source of infection, Chen said.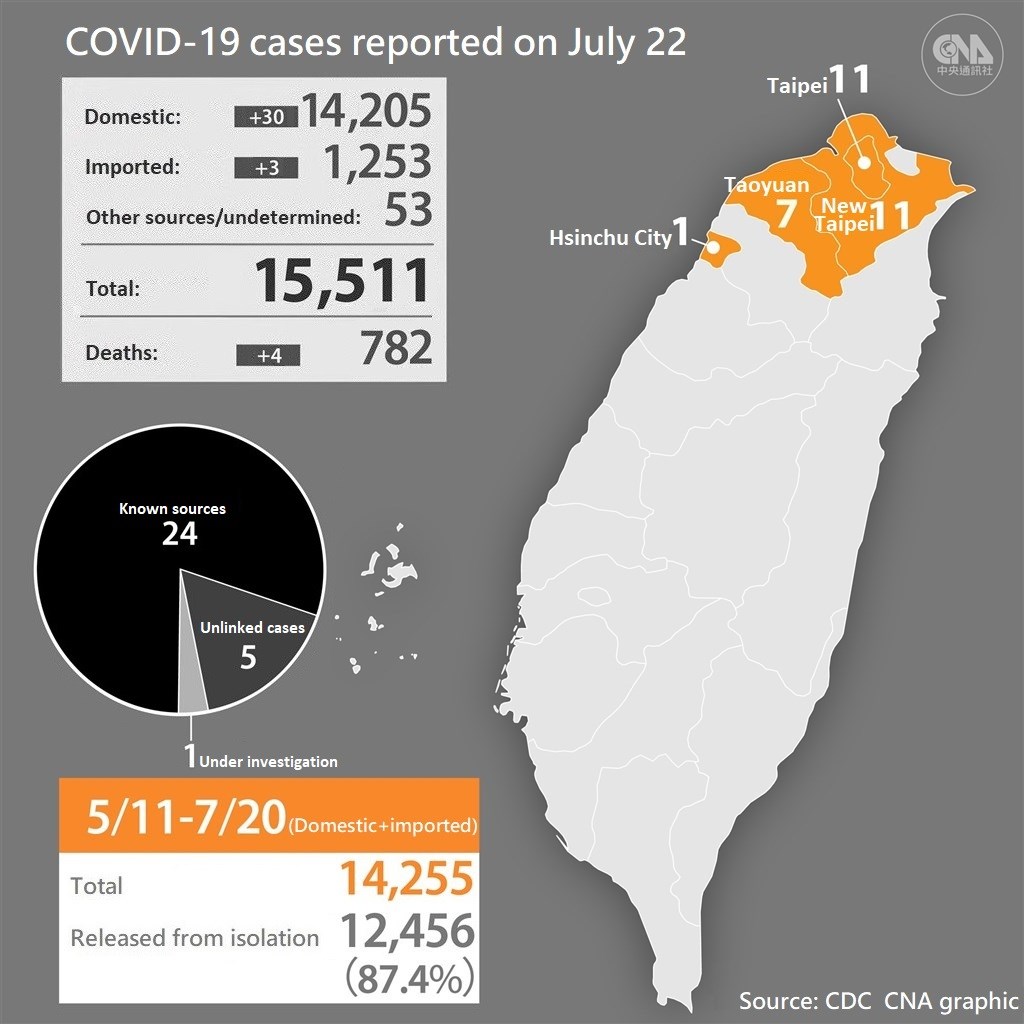 Only five of the patients had no apparent link to previously confirmed COVID-19 cases, and one was still under investigation, indicating that the situation is still under control, Chen said.
Chen reiterated that the CECC intends to lower the nationwide Level 3 COVID-19 alert level when it expires on July 26, as long as there is no surge in domestic cases with unknown sources of infection.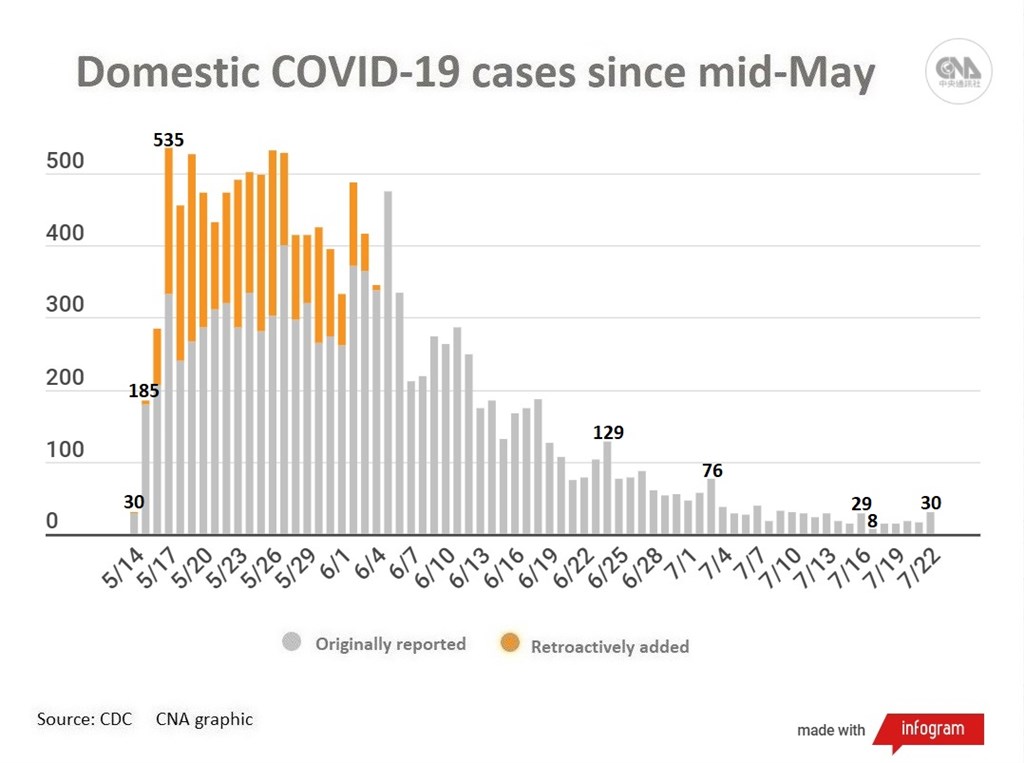 Meanwhile, the three imported cases involve two Taiwanese nationals and an American national who traveled recently to Taiwan from China, the United States, and the United Arab Emirates. They all tested positive while in quarantine, according to the CECC.
The four deaths reported Thursday were two men and two women,in their 60s and 70s, who passed away between July 19 and 21.
One of them, a woman in her 70s, is the first person in Taiwan to die after being infected by the Delta variant of the COVID-19 virus, according to the CECC.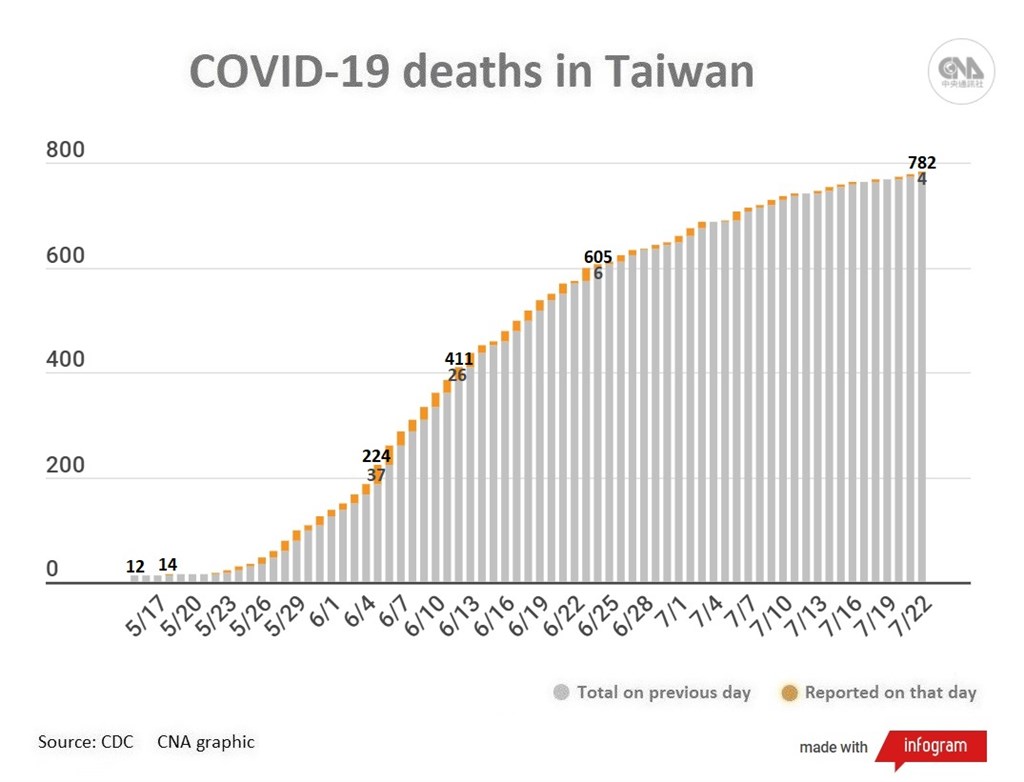 To date, Taiwan has confirmed a total of 15,511 COVID-19 cases, of which 14,041 are domestically transmitted infections reported since May 15, when the country first recorded more than 100 cases in a single day since the beginning of the pandemic.
The number of confirmed COVID-19 deaths in the country has risen to 782, with all but 12 recorded since May 15, CECC data showed.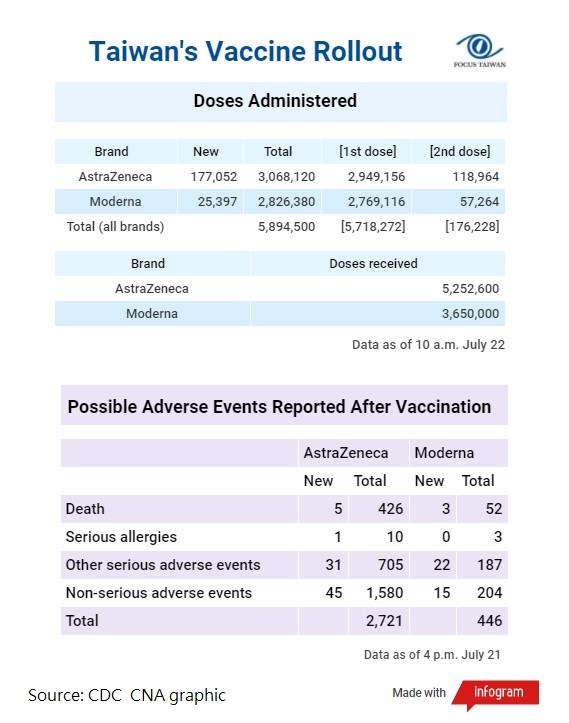 Recent cases
July 21: Taiwan reports 25 new COVID-19 cases, five deaths
July 20: Taiwan reports 24 new COVID-19 cases, lowering of alert level 'likely'
July 19: Taiwan reports 21 new COVID cases, restrictions to be lifted gradually
July 18: Taiwan adds 15 new domestic COVID-19 cases, but says trend stable
July 17: CECC to mull lowering Level 3 alert after fall in COVID-19 cases
View All