CORONAVIRUS
/
Taiwan reports 25 new COVID-19 cases, latest on vaccine appointments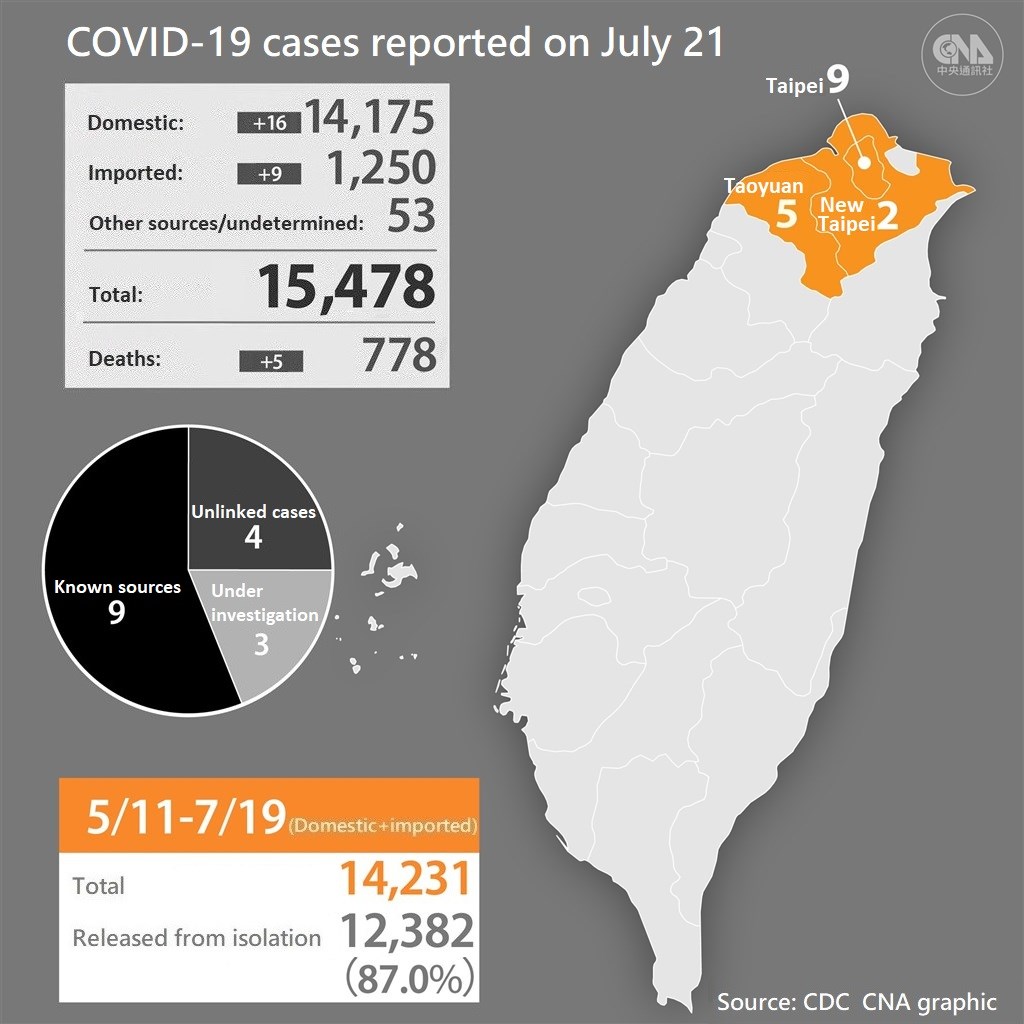 Taipei, July 21 (CNA) The Central Epidemic Command Center (CECC) on Wednesday said Taiwan recorded 25 new cases of COVID-19 and that 1.21 million people have made appointments to get their first COVID-19 vaccine shot between Friday and next Thursday.
Of the new cases, 16 were domestic infections and nine were contracted overseas, Health and Welfare Minister Chen Shih-chung (陳時中) said at the daily CECC press briefing.
Nine of the domestic cases were reported in Taipei, five in Taoyuan and two in New Taipei. Nine had known sources of infection, four had no apparent links to previously confirmed COVID-19 cases, and three were still under investigation, Chen said.
When asked about the potential lowering of the nationwide Level 3 COVID-19 alert, which has been in place since May 19, when northern Taiwan was grappling with a sudden surge in cases, Chen reiterated that it will happen if case numbers remain stable.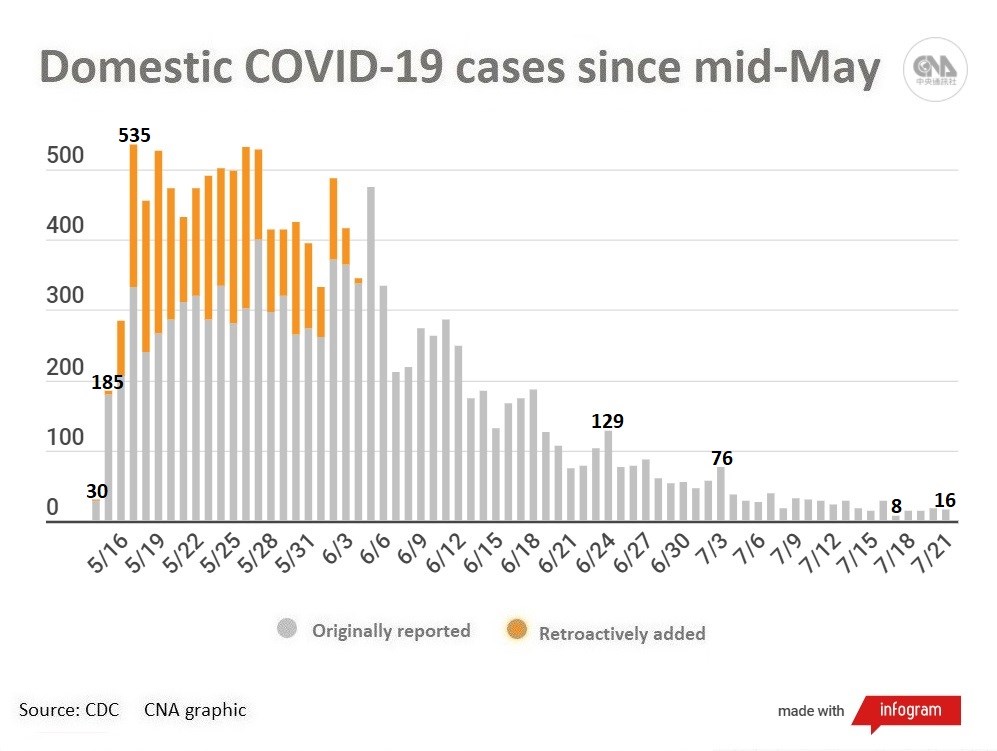 The CECC will release guidelines regarding lifting COVID-19 restrictions under the Level 3 alert in the next two days, including easing the ban on indoor gatherings of more than four people and outdoor gatherings of more than nine people, Chen said.
Of the nine imported cases reported Wednesday, three involved Philippine and Taiwanese nationals who traveled recently to Taiwan from the Philippines and Indonesia.
The remaining six cases were four Indonesian nationals and two Burmese nationals who are suspected of having been smuggled into Taiwan, Chen said.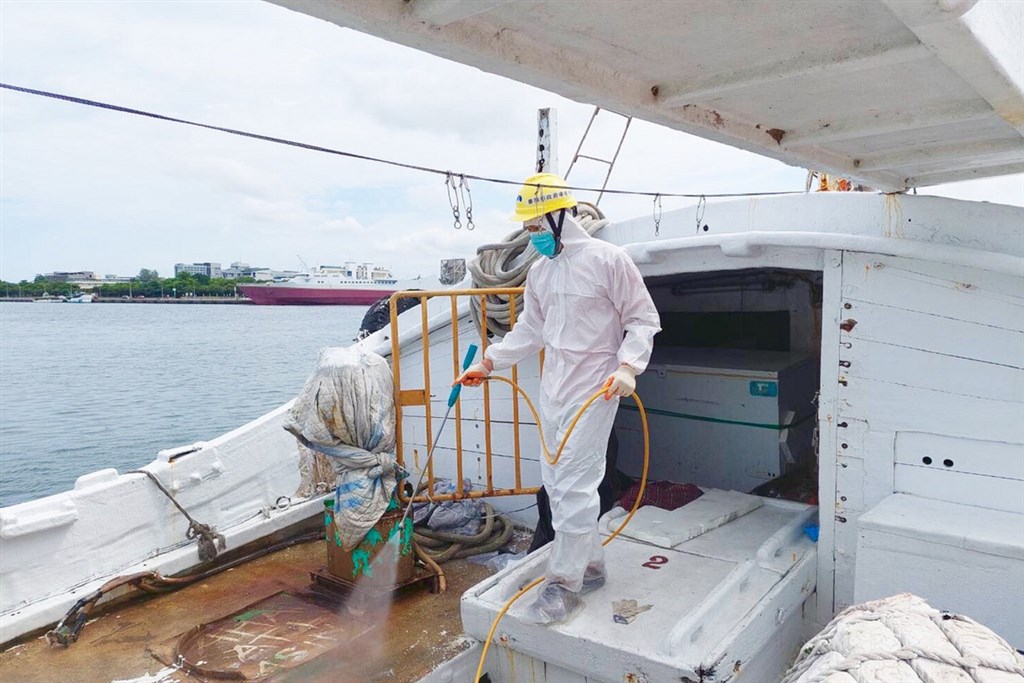 Acting on a tip-off, Coast Guard officials seized a Taiwanese fishing boat in waters near Tainan early Tuesday morning and found eight people illegally aboard the ship, according to the Tainan City government.
Six of the eight people tested positive for COVID-19, while the other two and three registered crew members on the ship tested negative.
Prosecutors are looking into the case, and the vessel's fishing license has been revoked, according to the Fisheries Agency.
To date, Taiwan has confirmed a total of 15,478 COVID-19 cases, of which 14,011 are domestically transmitted infections reported since May 15, when the country first recorded more than 100 cases in a single day since the beginning of the pandemic.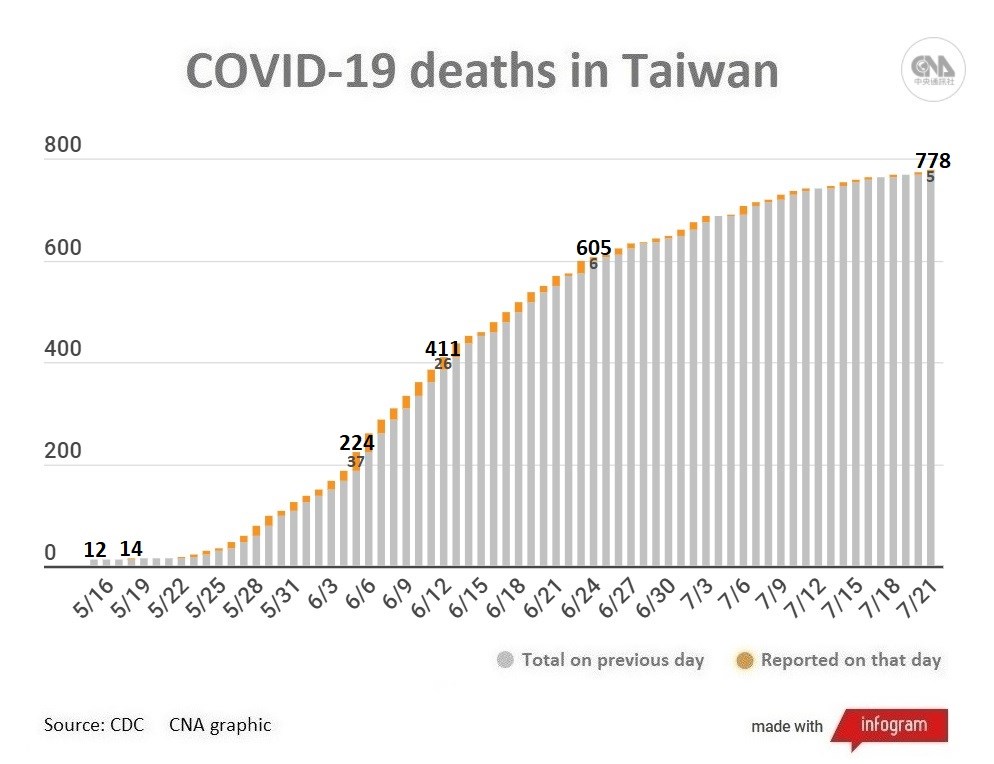 The number of confirmed COVID-19 deaths in the country has risen to 778, with all but 12 recorded since May 15, CECC data showed.
Also on Wednesday, the CECC said that of the nearly 1.53 million people who are eligible to make an appointment to get their first COVID-19 shot from July 23-29, 1.21 million, or 79.3 percent, have done so.
The rest have until Thursday noon to make an appointment, either through the government vaccination system, the national health insurance (NHI) app, or by going to a convenience store or pharmacy contracted by the NHI, according to the CECC.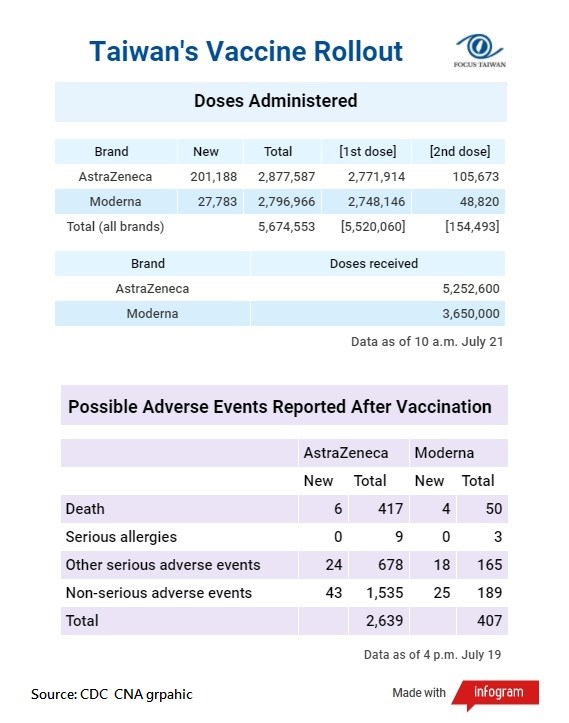 To date, 5.52 million people in Taiwan have received their first COVID-19 shot, which translates to 23.5 percent of the population, while 154,493 people, or 0.6 percent, have received the two doses needed to be fully vaccinated, CECC data shows.
Recent cases
July 20: Taiwan reports 24 new COVID-19 cases, lowering of alert level 'likely'
July 19: Taiwan reports 21 new COVID cases, restrictions to be lifted gradually
July 18: Taiwan adds 15 new domestic COVID-19 cases, but says trend stable
July 17: CECC to mull lowering Level 3 alert after fall in COVID-19 cases
July 16: COVID-19 trend moving in positive direction despite fluctuations
View All