CORONAVIRUS
/
MOL guide shows migrant workers how to register for COVID-19 vaccine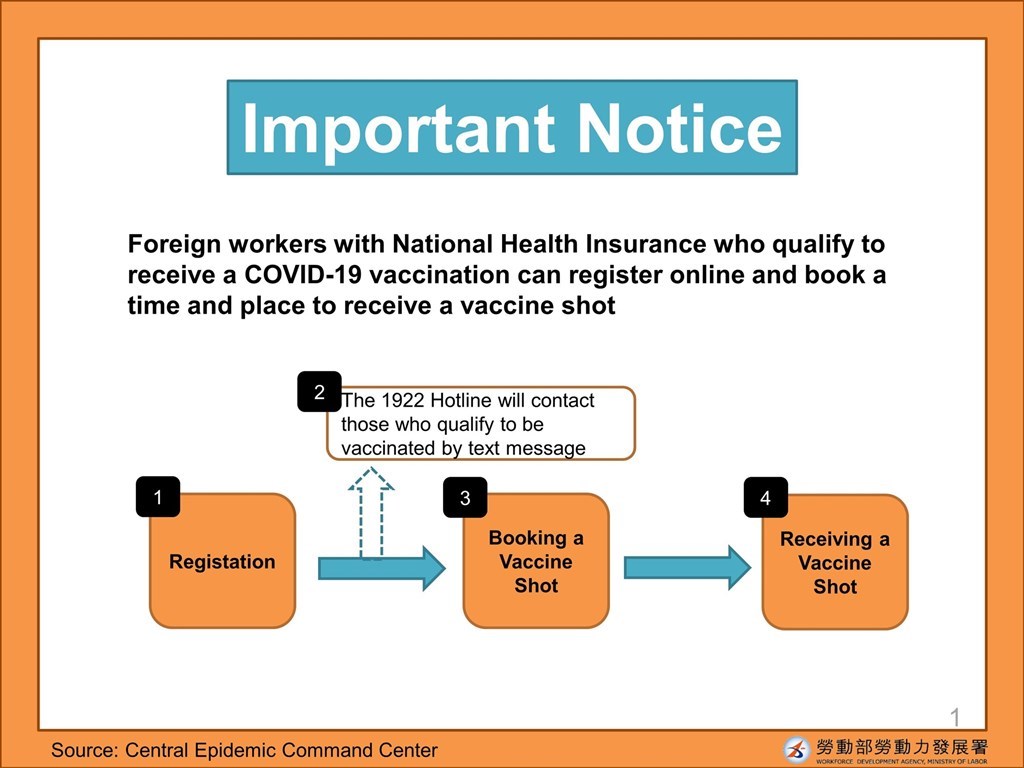 Taipei, July 14 (CNA) Taiwan's Ministry of Labor (MOL) on Wednesday published online guidelines in four foreign languages showing migrant workers how to register online to receive a COVID-19 vaccine shot.
The guidelines, available in English, Indonesian, Vietnamese and Thai, provide step-by-step instructions on how to use the government's new COVID-19 vaccination appointment system, which is currently only offered in Chinese.
According to the ministry, foreign nationals must first register for the system using their alien resident certificate (ARC) number and National Health Insurance (NIH) card number, and then indicate what vaccine brand they prefer and where they want to take it.
When the vaccine supply is adequate, they will receive a text message informing them to log back into the system and schedule an appointment.
Meanwhile, the ministry urged migrant workers to make sure they use the government's official COVID-19 vaccination appointment system, and to be on the lookout for fake sites that may be trying to steal their personal information.
People who encounter difficulties when using the vaccination appointment system can call the MOL's 1955 hotline or send a message to its Line customer service account, the ministry said.
A note on how the system works:
The government's COVID-19 vaccination appointment system divides people into "rounds" based on when they register. The current round (round 3) includes people who register between Tuesday and 5 p.m. Thursday, who will be notified between July 16 and July 18 if they are eligible for an appointment. Only the AstraZeneca brand vaccine is available in this round.
While the government has yet to announce the timing of the fourth round, it has said that the system will remain open at all times for those who wish to register. People only need to register once, and will receive a notification when they are eligible for an appointment, regardless of whether the notification period for the round in which they registered has passed.
As of 5 p.m. Wednesday, a total of 6.64 million people in Taiwan had registered on the system, of which 58.81 percent said they wished to receive the Moderna vaccine, 1.93 percent said they wanted the AZ vaccine, and 39.26 percent said they would accept either brand, according to the Central Epidemic Command Center (CECC).
To date, Taiwan has taken delivery of 3.3 million doses of the Moderna vaccine and just over 3.7 million doses of the AZ vaccine, and has administered just over 2 million doses of each, CECC data shows.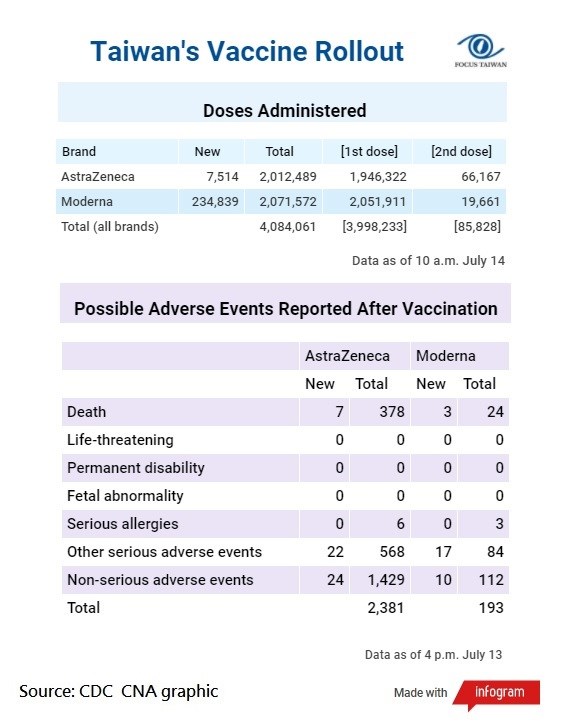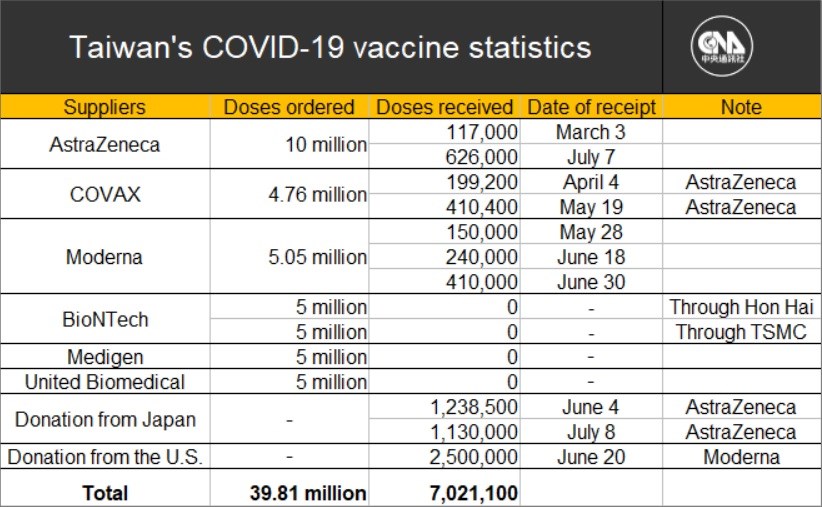 View All