CORONAVIRUS
/
Source of COVID cases in Taipei housing complex still unknown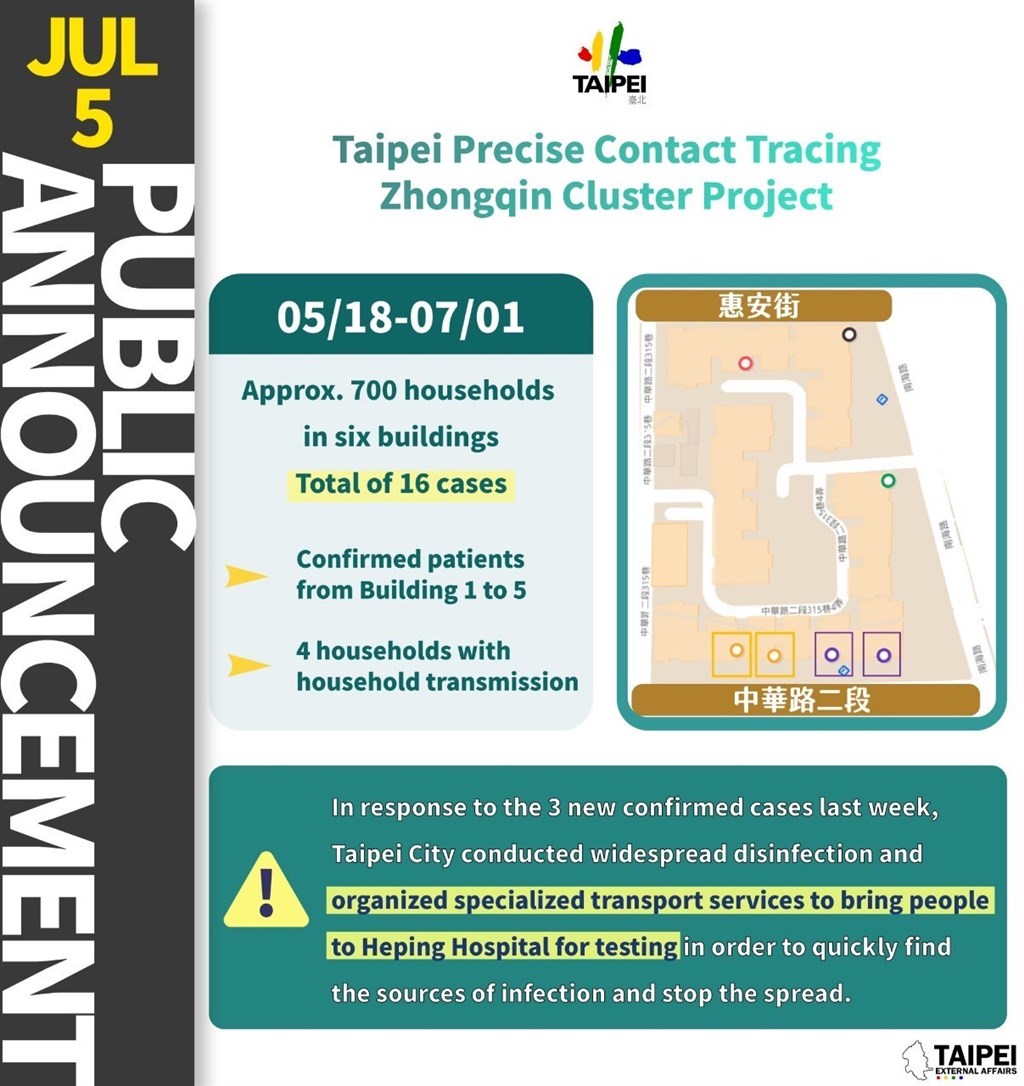 Taipei, July 5 (CNA) The source of three confirmed COVID-19 cases detected in a public housing compound in Taipei's Zhongzheng District remains unknown, Taipei Mayor Ko Wen-je (柯文哲) said Wednesday.
There have been 16 people diagnosed with the disease in the complex, consisting of over 700 households in six buildings, since the local COVID-19 outbreak began in mid-May, including the three cases confirmed last week, Ko told a daily COVID-19 briefing.
But the source of the most recent infections has yet to be identified, Ko said.
To see if there are other infections, some 300 of the complex's more than 2,000 residents who are willing to be tested will be taken Tuesday to the Heping Fuyou or Zhongxing branches of Taipei City Hospital to get a free polymerase chain reaction (PCR) test.
If the number of people in the complex willing to be tested increases to 1,000, however, a screening test station could be set up on-site, Ko said.
In response to criticism that city authorities should have acted earlier to test residents, Deputy Mayor Huang Shan-shan (黃珊珊) said that while the first COVID-19 cases in the compound erupted in mid-May, no new cases were confirmed there after June 3.
It was not until June 30, when the three cases were detected that the complex was listed as a COVID-19 hot spot, she said.
Since the recent COVID-19 outbreak in Taiwan that erupted in mid-May, Taipei and neighboring New Taipei have had the highest numbers of confirmed cases.
As of Monday, Taipei had confirmed a total of 4,606 COVID-19 cases, trailing only New Taipei's 6,588 cases, according to Central Epidemic Command Center statistics.
View All