Gov't, Hon Hai, TSMC reach consensus on Pfizer-BNT vaccine purchase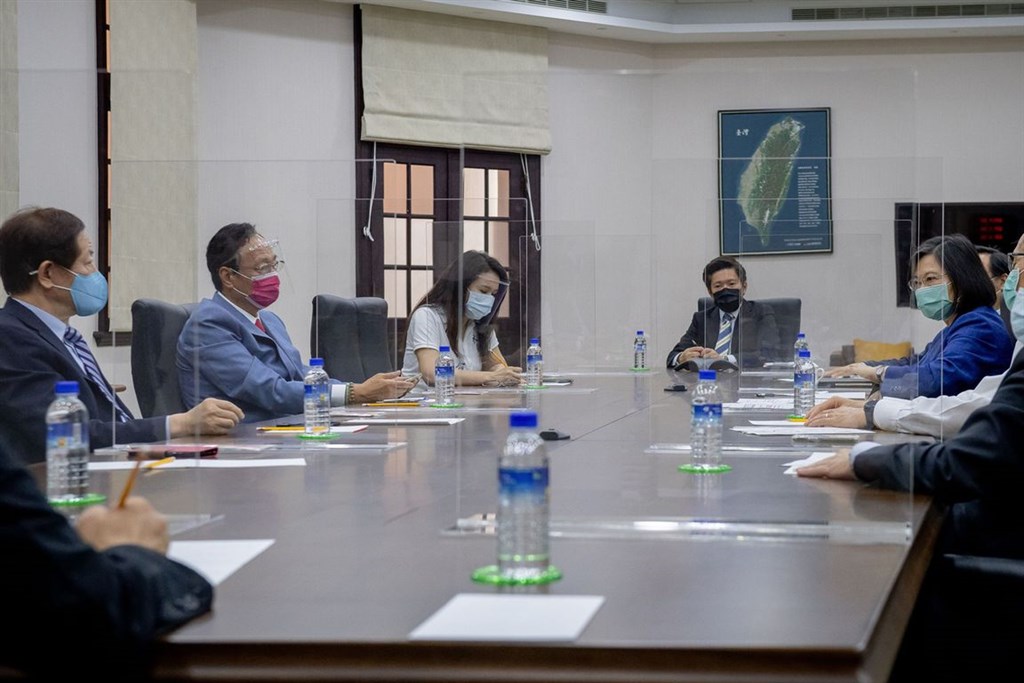 Taipei, June 18 (CNA) Taiwan's government and two of the country's top technology firms reached a consensus on the procurement of the Pfizer-BioNTech (BNT) COVID-19 vaccine after a three-way meeting held at the Presidential Office in Taipei on Friday.
The afternoon meeting, which lasted about 1.5 hours, was held between President Tsai Ing-wen (蔡英文), Hon Hai Founder Terry Gou (郭台銘) and Taiwan Semiconductor Manufacturing Co. (TSMC) Chairman Mark Liu (劉德音).
All sides agreed that the primary goal is to work together to expedite the BNT vaccine procurement process as soon as possible, Chief Executive Officer of YongLin Charity and Education Foundation Amanda Liu (劉宥彤) said after the meeting.
Citing Gou, who founded the charity foundation, Amanda Liu said the responsibility is great and they still have a long way to go, but will do their best to acquire the vaccines for Taiwan.
The meeting took place after Gou, in a Facebook post Friday morning, openly called for a meeting with President Tsai to obtain her approval or rejection with regard to his charity's weeks-long effort to buy BNT vaccine to donate to Taiwan's government.
"Without a clear statement from you (Tsai), the vaccine procurement process cannot truly begin," Gou wrote, expressing frustration over what he said was the government's continued hedging despite public shows of support.
Following Gou's Facebook post, the Cabinet announced on Friday that the government will authorize Hon Hai's YongLin foundation and TSMC to represent it in negotiations to purchase up to 10 million doses of the BNT vaccine, as long as they are made by BioNTech in Germany and donated to the government for distribution.
The Presidential Office also announced that the meeting between Tsai, Gou and Mark Liu would take place at the Office at 4 p.m.
In a press event held after the meeting, Presidential Office spokesman Xavier Chang (張惇涵) was asked what the president would think if Guo was to approach Shanghai Fosun Pharmaceutical (Group) Co., which is the distributor of the BNT vaccine for the Greater China region, to make the purchase.
In response, Chang said the Taiwan government can only grant legal immunity to the original vaccine maker, and all three sides have agreed that the vaccine should be sent directly to Taiwan from its original manufacturer.
"We all hope that the vaccines are made and packed from the original manufacturer and delivered directly to Taiwan," he said.
When asked whether the central government was only authorizing YongLin and TSMC to purchase vaccines from Germany's BioNTech, or if the authorization also allows them to buy the vaccines from Shanghai Fosun, as long as the doses are delivered from Germany, Chang said only that follow-up negotiations between YongLin, TSMC and the vaccine maker were still ongoing and the Presidential Office had no further comment.
The Friday meeting came amid ongoing efforts by Guo to privately procure 5 million BNT vaccines through his charity, an initiative the government initially treated with skepticism.
However, with Taiwan facing a continued vaccine shortage, officials, including Health Minister Chen Shih-chung (陳時中), have changed their tune and publicly expressed a willingness to cooperate with private procurement efforts, as long as they meet regulatory standards.
Taiwan's government was reportedly close to securing 5 million vaccine doses from BNT earlier this year, but the deal is now in limbo due to BNT's refusal to sign the final contract, citing a "re-evaluation of global vaccine supply and adjusted timelines."
Tsai has accused Beijing of interfering with the negotiations and getting BNT to hesitate in finalizing the deal with Taipei.
Last week, Shanghai Fosun warned that any sale of the vaccine to Taiwan, public or private, would have to go through its distribution network.
Taiwan's opposition party Kuomintang and Beijing have accused Tsai's administration of politicizing vaccine purchases by refusing to buy the BNT vaccines from the distributor Shanghai Fosun, but Tsai and other Taiwanese officials have insisted they want to ensure the safety of vaccines by purchasing them directly from the manufacturers.
Given the strong public demand for vaccines, it's unclear whether the government would now be open to Gou and TSMC buying the vaccines from the China-based distributor and having the doses sent from Germany, as a compromise, to ensure enough Taiwanese people are vaccinated quickly to achieve herd immunity and to allow Taiwan to reopen, as other places have.
So far, only around 3 percent of Taiwan's 23.5 million people have been vaccinated, giving it one of the lowest vaccination rates in the world.
(By Wen Kui-hsiang, Lai Yu-chen and Ko Lin)
Enditem/cs