CORONAVIRUS
/
Taiwan withdraws advisory limiting use of AZ vaccine jabs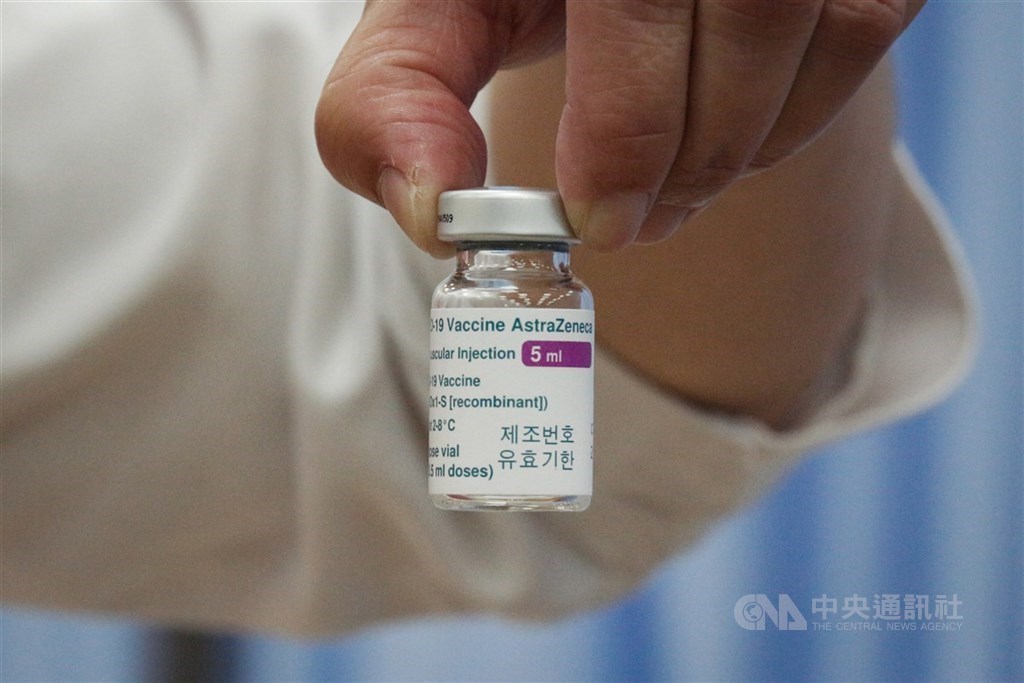 Taipei, May 21 (CNA) Taiwan's Central Epidemic Command Center (CECC) has withdrawn its recommendation that people taking oral contraceptives or undergoing hormone therapy not take the AstraZeneca COVID-19 vaccine, based on recent research findings.
When Taiwan began its rollout of the AstraZeneca COVID-19 vaccine on March 22, the CECC issued a warning of unconfirmed risks of an increased rate of blood clots associated with the vaccine.
Based on that warning, the vaccines were not recommended for people taking oral contraceptives or undergoing hormone therapy, until Friday.
CECC spokesman Chuang Jen-hsiang (莊人祥) told CNA that the CECC made the recommendation at that time after some people getting the AZ vaccine overseas reported getting blood clots.
More recently, however, there have been no studies overseas confirming that oral contraceptive use or hormone therapy is linked to the risk of blood clotting, Chuang said, and the CECC decided to withdraw the recommendation after discussions with its team of experts.
Huang Li-min (黃立民), who heads the National Taiwan University Children's Hospital and the Infectious Diseases Society of Taiwan, said that because blood clots are traditionally linked to hormones, it led the medical sector to caution those taking hormone medicines to avoid the AZ vaccine.
Since then, however, a growing number of countries found that the blood clots caused by the AZ vaccine were not traditional blood clots, but rather resulted from autoimmune problems, Huang said. "It's a different pathogenesis mechanism."
Hwang Kao-pin (黃高彬), deputy superintendent of Taichung-based China Medical University Hospital's infection control center, said blood clots are less common in Taiwanese because of genetic factors.
But he still recommended that people on oral contraceptives or hormone therapy get an AZ vaccine 28 days after stopping those treatments, he said.
Taiwan on Wednesday took delivery of its latest batch of the AZ vaccines, totaling 410,400 doses. Safety checks on the vaccines are expected to be completed on May 26 at the earliest, Food and Drug Administration chief Wu Shou-mei (吳秀梅) said Friday. Once they are certified, the vaccines can be distributed for use across the country, Wu said.
Also on Friday, Health Minister Chen Shih-chung (陳時中), who heads the CECC, said all people at high risk have an obligation to take the vaccine because it will not only protect themselves but also protect the health of people they come in contact with.
Chen's remarks came a day after Taipei Mayor Ko Wen-je (柯文哲) demanded that all medical personnel and hospital workers in the city get vaccinated.
"From hospital superintendents to janitors, even workers in charge of the laundry, they all must be vaccinated. Otherwise the hospital system's operations will be jeopardized," Ko said.
Taiwan had trouble getting people to accept being vaccinated for weeks after the first vaccines arrived but a recent surge in COVID-19 cases in the country has changed people's minds, sending demand up considerably.
Taiwan reported 315 new cases on Friday, which brought the total number of COVID-19 cases in the country to 3,139, of which 1,824 have been domestic infections confirmed in the last seven days, according to CECC data.
The CECC said 281,647 doses of the AZ vaccine had been administered as of Thursday out of the first two shipments totaling 316,200 doses of the vaccine.
So far no severe blood clots have been reported among people who have received a dose of the vaccine in Taiwan.
View All