CORONAVIRUS
/
CECC puts forth 6-point plan to halt community spread of COVID-19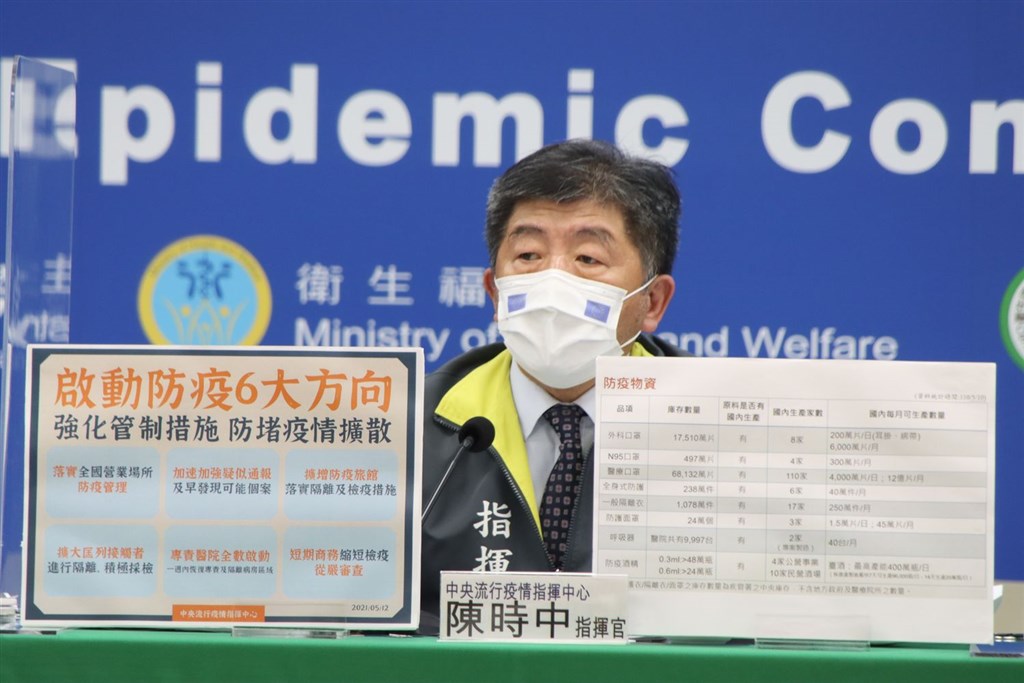 Taipei, May 12 (CNA) The Central Epidemic Command Center (CECC) said Wednesday it will implement a six-pronged strategy to curb the recent rise in domestic COVID-19 cases, which will include registration of contact information at all business places.
At a CECC press conference, Health Minister Chen Shih-chung (陳時中) said that under the new plan, contact tracing will be expanded and all persons identified as possibly infected will be tested and quarantined, with the goal of erecting a "firewall" to prevent further community transmission.
Testing and reporting of COVID-19 results will be broadened and expedited to quickly identify new cases, said Chen, who heads the CECC.
Hospitals and clinics will be asked to quickly refer anyone with suspicious symptoms to one of the country's 164 designated COVID-19 testing sites, he said.
Chen said special quarantine wards at specific hospitals will be opened within 10 days and more hotels rooms will be designated for quarantine purposes, with stricter enforcement of quarantine rules.
Review of applications by business travelers seeking shortened quarantine period will also be tightened, Chen said. Applicants will be required to prove that their visit to Taiwan is necessary and time-critical, he said.
At business places nationwide, epidemic prevention measures will be mandatory, which means people will be required to wear masks and register their contact information to facilitate quick contact tracing, Chen said.
Enterprises that fail to follow CECC epidemic prevention protocols will be fined or shut down, he said, adding that inspections of high-risk venues will be carried out by disease prevention and control personnel.
Businesses in the leisure and entertainment sectors may be ordered to close, if it is deemed necessary, Chen said.
The new six-point strategy was put forth as the CECC reported another 16 new domestic COVID-19 cases on Wednesday, the highest number of locally transmitted infections in a single day in Taiwan since the start of the pandemic.
Earlier in the day, President Tsai Ing-wen (蔡英文) said she was aware that stricter COVID-19 prevention rules would impact people's lives and cause them to worry.
"But I ask our fellow citizens not to panic," she said. "We must maintain a cautious approach, continue to act with vigilance, and comply with the epidemic prevention measures set forth by the CECC."
Speaking at a meeting of the Democratic Progressive Party, Tsai called on the nation to "unite around the epidemic prevention efforts to protect Taiwan," as the threat posed by COVID-19 has "clearly grown" in recent days with the emergence of community spread.
Nevertheless, she said, Taiwan's health system remains sound, its stocks of medical supplies are adequate, and COVID-19 vaccines are being delivered.
According to the Presidential Office, Tsai is scheduled to meet with senior national security officials in the next few days to discuss the current COVID-19 situation.
View All