CORONAVIRUS
/
One more CAL pilot tests positive for COVID-19
Taipei, May 8 (CNA) Taiwan added five new COVID-19 cases Saturday, including a pilot with the country's flagship carrier, China Airlines (CAL), and the pilot's wife, according to the Central Epidemic Command Center (CECC).
The two infections brought the total number of potentially related infections among CAL pilots, employees of the Novotel hotel at Taoyuan International Airport, and some of their relatives to 31 as of Saturday.
The CAL pilot who tested positive Saturday may have contracted the disease after coming into contact with another pilot, whose infection was confirmed on Tuesday, during a pilot training session on April 28, said CECC chief Chen Shih-chung (陳時中) at a press briefing.
Even though the pilot, a Taiwanese man in his 50s, flew to Vietnam and Thailand on April 19 and April 22, respectively, the chance of him being infected overseas was low, said Chen, who is also Taiwan's health and welfare minister.
The pilot tested negative for the virus on April 24 and was given his first AstraZeneca vaccine jab on April 29, but it appears he was infected before getting the shot, said Chen, who noted that it usually takes two weeks before a vaccine offers protection against the virus.
Nevertheless, his source of infection will not be confirmed until the CECC completes genome sequencing of the virus found in the two pilots who took part in the training, Chen said.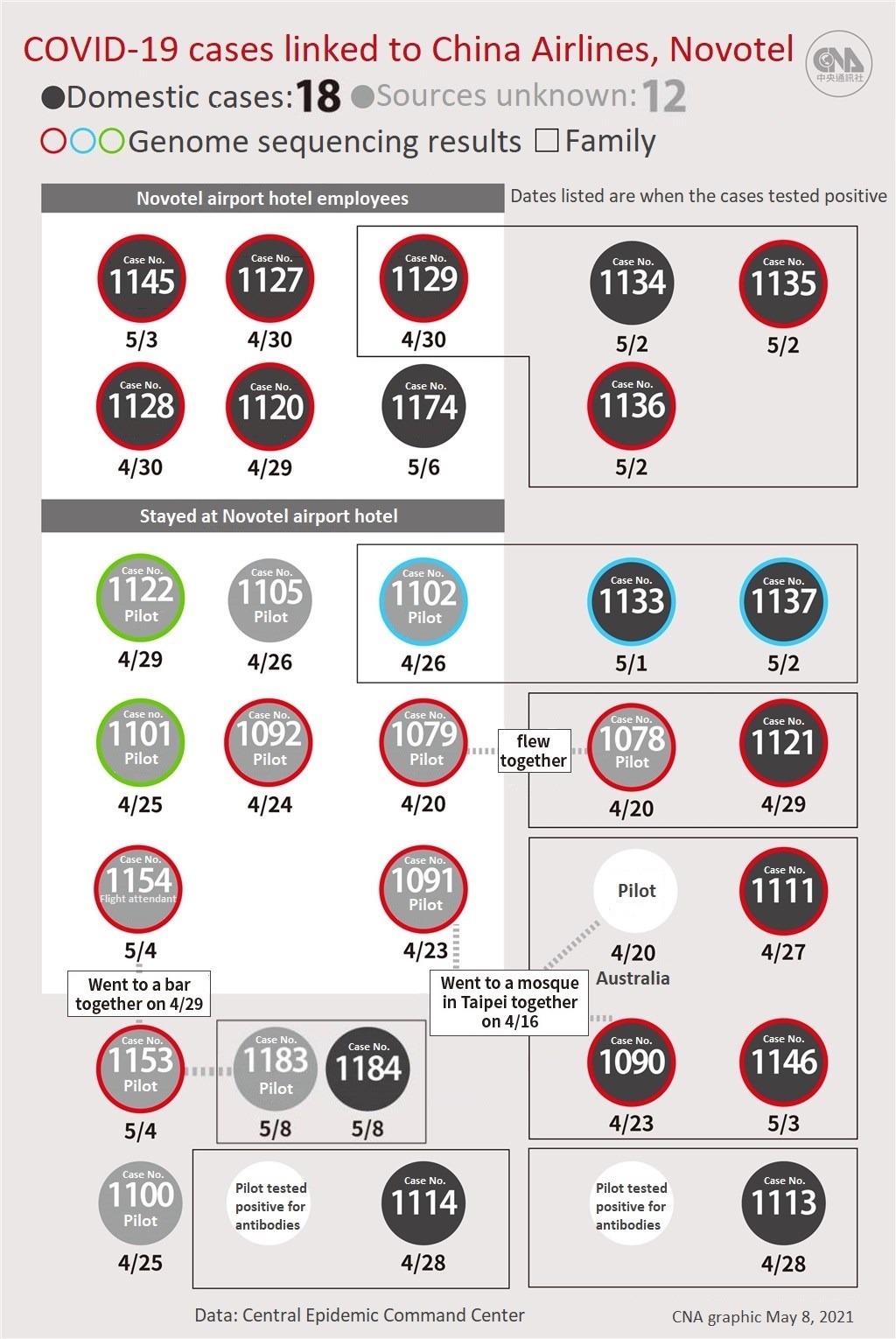 Another pilot who also participated in the training in Taiwan on April 28 tested negative for COVID-19, but has been instructed to isolate himself, as were two others who were listed as contacts of the infected pilot, Chen said.
The pilot's wife in her 50s also tested positive for COVID-19 on Saturday. The CECC is still investigating whom the woman has come into contact with, Chen said.
The three other new cases confirmed on Saturday were imported from the Philippines and the Netherlands, according to the CECC.
The three people infected -- two men and a woman -- came to Taiwan in April to work with a certificate of a negative COVID-19 test taken three days prior to their departure for Taiwan, the CECC said.
View All