Tainan man sets record with new 25-character name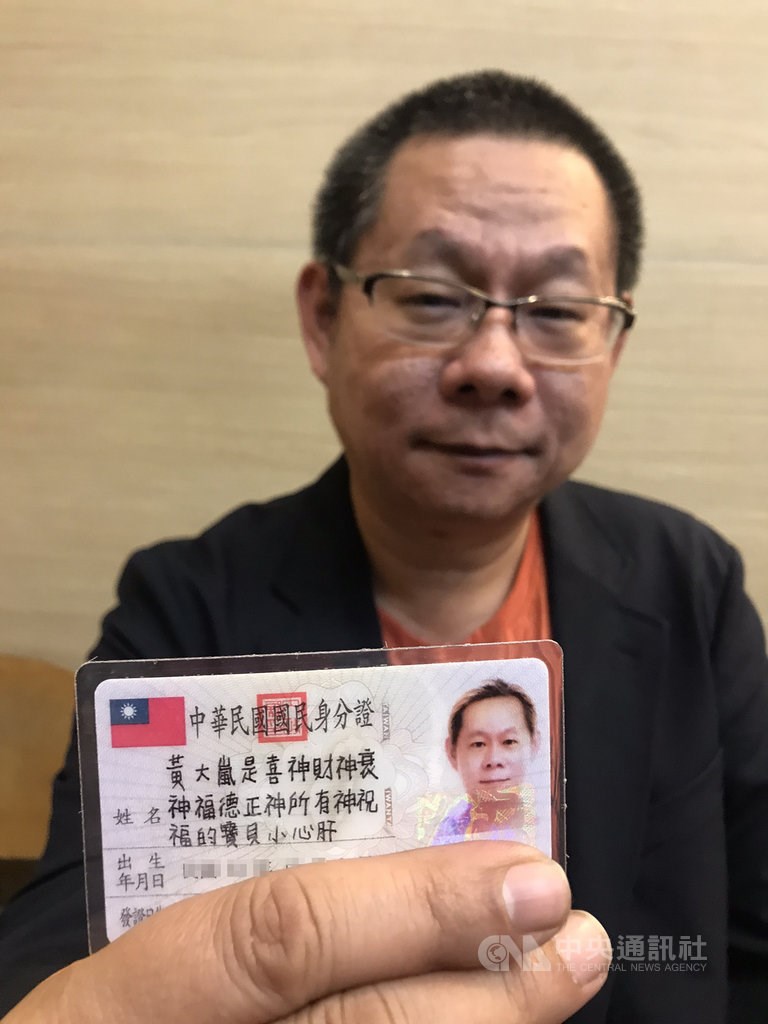 Tainan, March 3 (CNA) A Tainan-based taxi driver has been recognized as the holder of the longest name in Taiwan, after completing the paperwork last week for a new moniker containing no less than 25 characters, according to the city's Anping District Household Registration Office.
The 47-year-old man, formerly known as Huang Hsin-hsiang (黃鑫翔), applied for the name change on Feb. 26, in the hope that it would bring him good luck.
His new name, "黃大嵐是喜神財神衰神福德正神所有神祝福的寶貝小心肝," can be roughly translated as "Huang Da-lan is the blessed darling and sweetheart of the god of joy, god of wealth, god of misfortune, god of earth and all the gods."
Huang Mao-kun (黃茂崑), director of the Anping office, told CNA on Wednesday that in his 30 years in the civil service, he had seen only a handful of names that exceeded five characters but nothing close to Huang's 25 characters.
With the change, Huang takes the title for the longest name in Taiwan, which was previously held by a YouTube personality who adopted a 19-character name last May at the household registration office in Taipei's Nangang District.
Huang, a devout Daoist, said he hopes the new name will bring him luck. Despite this, he said he decided to invoke multiple deities in the name, including the god of misfortune, in the belief that one must accept life's highs and lows in good faith.
For the sake of simplicity, however, he said he had decided to use the three-character name Huang Da-lan on social media and is comfortable with his friends calling him whatever they like, such as "Old Huang."
Because Huang's name exceeds the 15-character limit on Taiwan's national identification cards, an official at the household registration office had to copy it by hand onto his new ID card.
Under Taiwanese law, people can change their names a maximum of three times, meaning that Huang can change his name again in the future should he decide to do so.