CORONAVIRUS
/
CECC discloses places visited by COVID-infected doctor, nurse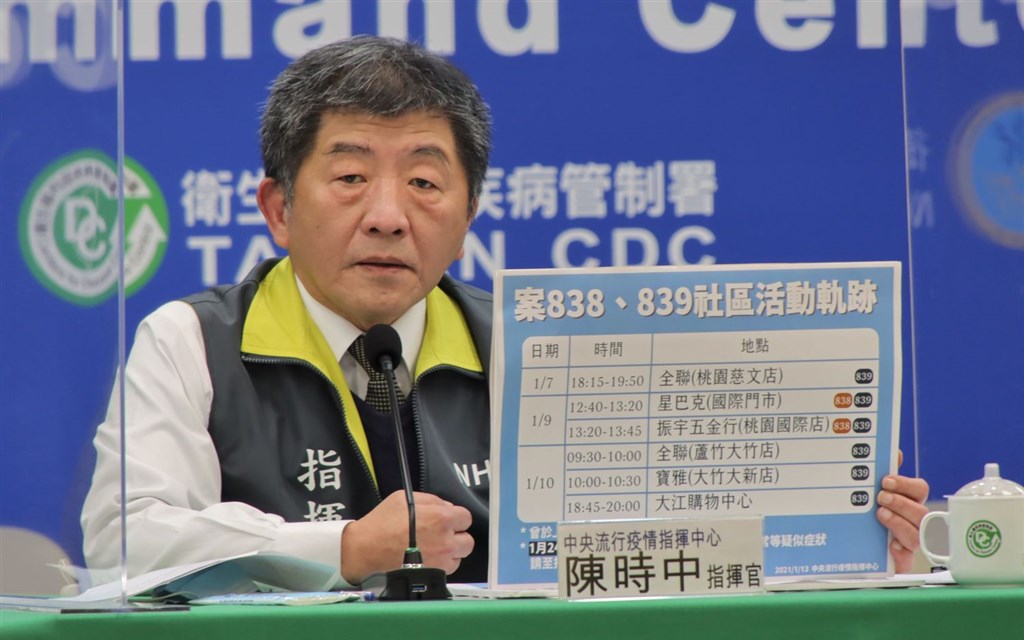 Taipei, Jan. 13 (CNA) The Central Epidemic Command Center (CECC) on Wednesday announced a list of places in Taoyuan that a local doctor and nurse had visited before being confirmed as having contracted COVID-19 the previous day.
According to the CECC, the doctor works at a hospital in northern Taiwan and helped treat COVID-19 patients. He began to have symptoms of the disease on Jan. 8 and his positive test result was announced on Tuesday.
The doctor's girlfriend, a nurse at the same hospital, also tested positive on Tuesday, the CECC said.
That same day Minister of Health and Welfare Chen Shih-chung (陳時中), who heads the CECC, said the doctor probably contracted the disease while treating a severe case of COVID-19 and later infected his girlfriend, with whom he lives.
As the two individuals visited several local businesses in Taoyuan before testing positive, the CECC has decided to disclose the locations so that others who were there at the same time can be more alert toward any symptoms they might develop.
Those who do develop symptoms should inform a doctor or call the 1922 hotline, Chen said on Wednesday, although he stressed that the possibility of infection is low.
On Jan. 7, from 6:15 p.m.-7:50 p.m., the nurse visited the PX Mart on Taoyuan's Ciwen Road, Chen said.
On Jan. 9, from 12:40 p.m.-1:20 p.m. the doctor and the nurse went to a Starbucks outlet on Guoji Road and then walked to the Zhen Yu hardware store nearby, where they stayed until 1:45 p.m.
On Jan. 10, the nurse headed to the PX Mart on Daxin 1st Street at 9:30 a.m. and stayed there for half an hour, after which she went to a Poya cosmetics store on Dashin Road, where she stayed until 10:30 a.m.
In the evening, she spent a little over an hour at the MetroWalk Shopping Center, from 6:45 p.m.-8 p.m., Chen said.
All of the locations listed have been disinfected, according to the businesses concerned.
As of Wednesday, no contacts of the two cases have tested positive for COVID-19, including 464 people at the hospital at which they work, according to Chen.
An additional 47 contacts of the doctor and 39 of the nurse have also tested negative, with 11 test results still being processed, he added.
The hospital plans to test all of its 2,200 employees and 300 others who provide subcontracted services at the hospital for COVID-19, with details of the plan to be determined in the coming days, said Chen.
View All