Overturned SUV kills two Taiwanese, two Vietnamese on freeway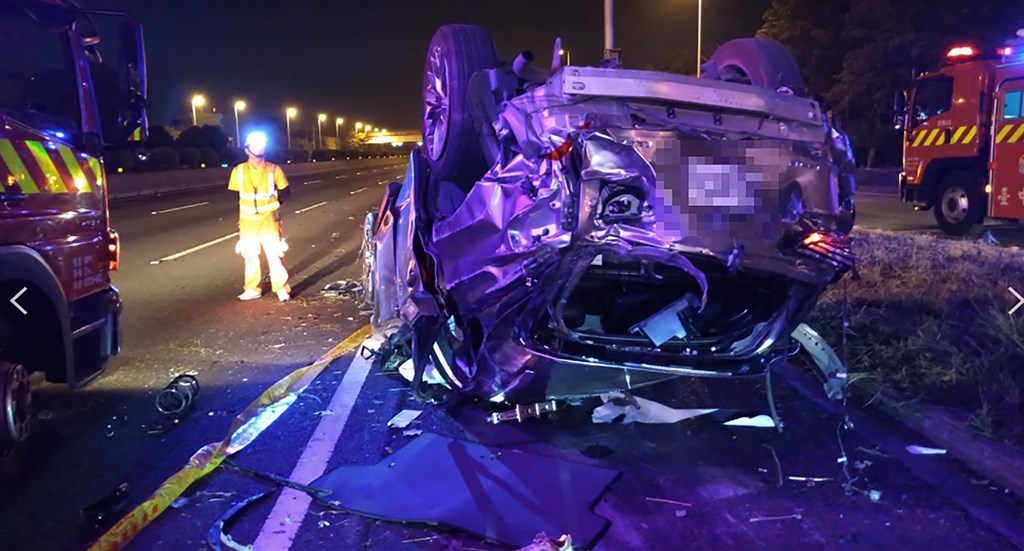 Taichung, Nov. 22 (CNA) A sport utility vehicle (SUV) smashed into a freeway guardrail before overturning early Sunday in accident that killed four people in the car while injuring the other two, according to highway police.
The SUV, driven by a 43-year-old Taiwanese man surnamed Wang (王), had just entered the No. 1 National Freeway from the No. 4 Freeway at the Shengang Interchange and was heading south at around 2 a.m. when it hit a guardrail and flipped over, highway police said in a statement.
All six people in the car were thrown out of the vehicle, and Wang and three passengers, a Taiwanese surnamed Yeh (葉), and Vietnamese nationals surnamed Võ (武) and Lê (黎), showed no vital signs when rescuers arrived on the scene.
They were later pronounced dead by local hospitals.
The two other passengers, a Vietnamese and Taiwanese surnamed Nguyễn (阮) and Lin (林), suffered from critical and relatively minor injuries, respectively, and were being treated, police said.
According to the preliminary findings of highway police, Wang, the owner of a factory, was driving five of his employees home following a company barbecue event.
Police suspect that none of them were wearing seatbelts at the time of the accident and that the SUV, which has a maximum capacity of five people, was overloaded.
Initial tests found that three of the six had high blood alcohol levels, but Wang's blood sample was compromised and it was not clear if Wang was drunk at the time of the crash, police said.
Further tests need to be done to determine if Wang was driving under the influence of alcohol and if that was the cause of the deadly accident, police said.