CORONAVIRUS
/
Man tests positive for COVID-19 after contact with positive returnees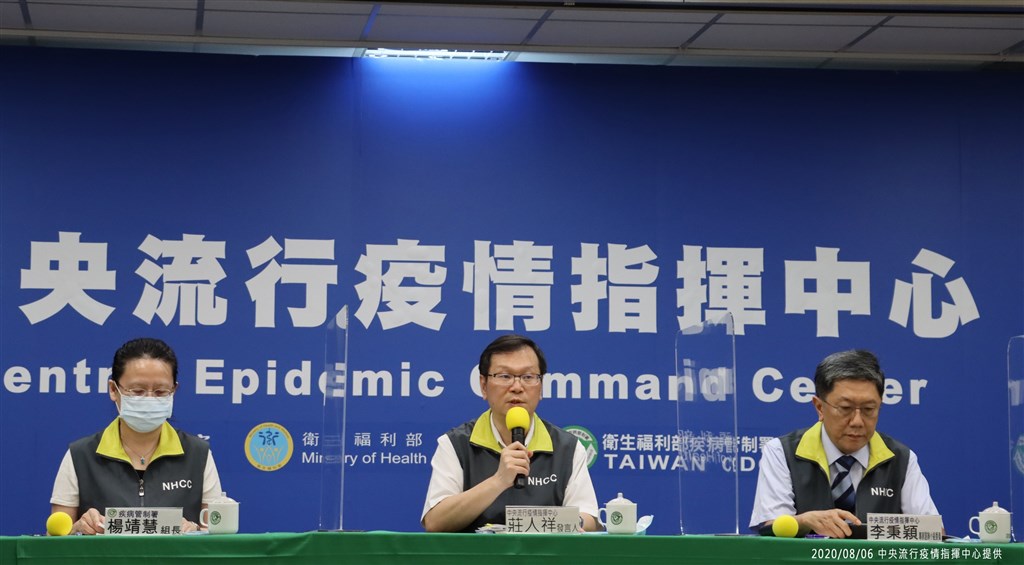 Taipei, Aug. 6 (CNA) A new imported case of COVID-19 was recorded in Taiwan Thursday after a man who returned to the country last month on the same flight as two people already confirmed as having the coronavirus, tested positive, the Central Epidemic Command Center (CECC) said.
The latest positive case, a man in his 60s, who lives and works in South Africa, returned to Taiwan July 25, after traveling with his neighbor, a woman in her 50s, and her son in his 20s, to the airport, boarding the same flight and transiting through Dubai, the CECC said in a statement.
The man, who last exited Taiwan in November 2016, was asymptomatic on his return and quarantined in a hotel. He was notified to undergo isolation on July 27 after the mother and son tested positive for COVID-19 that day, the CECC said.
While in isolation, the man developed symptoms on Aug. 3 and was tested by local health authorities, with the result coming back positive Thursday, the CECC said.
He is currently receiving treatment and under quarantine in hospital, the CECC said.
The mother and son came into contact with nine other people on their flight to Taiwan, with one later showing symptoms, but testing negative for COVID-19, the CECC said.
The new case brought the total number in Taiwan to 477, with 385 classified as imported.
To date, 443 COVID-19 patients in Taiwan have recovered and seven have died, while the others are in hospital, the CECC said.
Globally, COVID-19 has infected 18,777,706 people in 187 countries and regions, with a total of 707,147 fatalities, according to CECC statistics as of Thursday.
The CECC also provided an update regarding the 462 people who potentially came into contact with a Belgian national who tested positive for COVID-19 last week.
Currently, a total of 461 have tested negative for COVID-19, and 427 tested negative for COVID-19 antibodies. The remaining tests are still being processed, the CECC said.
The Belgian man in his 20s, who entered Taiwan on May 3 and went through the standard two-week quarantine, had two positive PCR tests for the disease last week.
The man who worked as as technician in Taiwan was asymptomatic but needed a COVID-19 test to return to his country of origin, and that is when he tested positive for the disease.
The CECC learned that the Belgian national sought treatment twice in March in Belgium for a loss of sense of taste and smell, potential symptoms of the disease.
He was not diagnosed with COVID-19 at the time, but his symptoms, combined with a positive IgG antibody test indicate he could have contracted COVID-19 a while ago. As a result, the CECC suspects he was first infected in March and that the original infection is still in his system.
The CECC has yet to classify the case as a domestically transmitted or imported case.
Meanwhile, 77 of 85 people have been tested after being identified as coming into contact with a Japanese engineer who worked in northern Taiwan for just over a month and tested positive for COVID-19 after returning to Japan on Aug. 1, the CECC said.
Seventy-one people tested negative, 65 of which were also negative for COVID-19 antibodies, the CECC said, adding that the remaining tests are still pending.
View All