CORONAVIRUS
/
COVID-19 in Taiwan -- 6 months on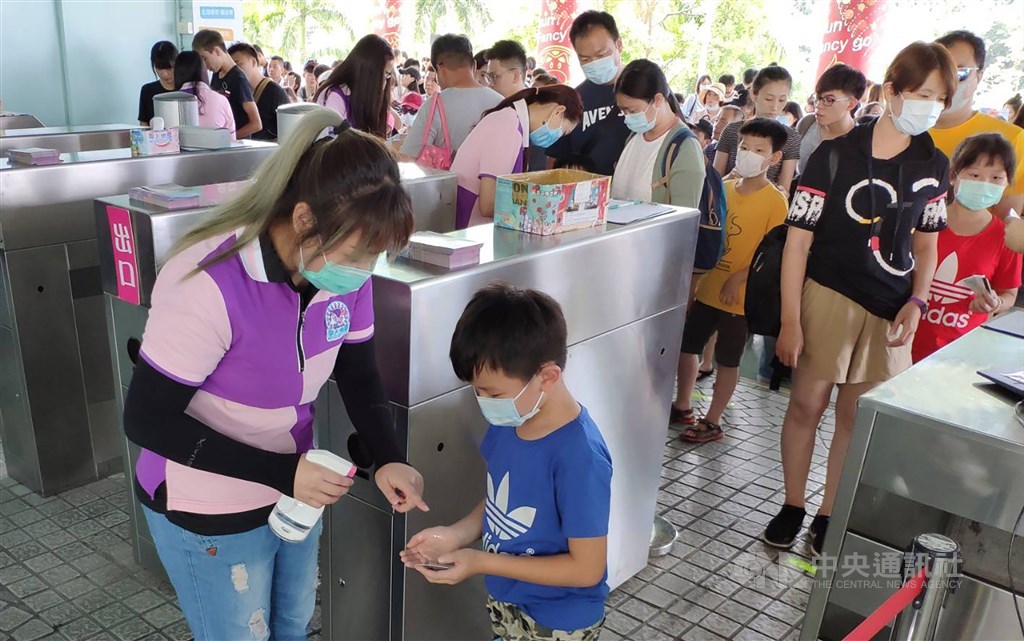 Over the past six months, Taiwan and the rest of the world have undergone dramatic changes because of a novel coronavirus first reported in central China late last year, which causes a respiratory disease later named COVID-19 by the World Health Organization.
As of June 30, Taiwan had confirmed 447 COVID-19 cases, including seven deaths, 437 recovered patients, and three in hospital, while global infections had climbed to more than 10 million, according to data from Taiwan's Centers for Disease Control.
During the first four months of 2020, Taiwan introduced a series of COVID-19 control measures, ranging from tighter border controls and delayed opening of schools for the spring semester to social distancing rules.
The following are some of the key developments in Taiwan in the past six months:
Government response
Jan. 21: Taiwan confirms 1st Wuhan coronavirus case
Feb. 25: Law to cope with coronavirus impact clears legislative floor
March 19: Foreign passengers caught unawares by Taiwan entry ban
April 10: In Taiwan, games going on behind closed doors despite COVID-19
A video marking the 100th day since the establishment of Central Epidemic Command Center (CECC).
Face masks - the new normal
Feb. 3: Taiwan approves new rationing system for surgical masks
March 12: New online sales of surgical masks begin
April 27: Taiwan citizens can now donate masks to countries in need
June 1: Cosmetic chains to begin selling surgical masks this week
June 30: Government to continue requisitioning masks until year-end: CECC
The patients
Only few patients were willing to come forward and share their COVID-19 experiences.
April 21: Recovered COVID-19 patient describes trip to 'alien planet' and back
June 18: Taiwan COVID-19 patient released from hospital after 75 days
The economy
June 16: Number of furloughed workers hits high on overseas lockdowns
June 27: COVID-19 affects fund raising activity in Taiwan: accounting firm
June 29: Taiwan economy remains sluggish despite weaker COVID-19 impact
June 30: Taiwan banks' pre-tax profits in May dip nearly 18% due to COVID-19
Taiwan Donates face masks around the world
In May, after days of no new domestically transmitted COVID-19 cases in Taiwan, the government began considering easing some restrictions, such as the ban on mass gatherings, and reopening the borders.
May 8: Pro baseball games open to fans
June 7: Taiwan eases COVID-19 rules as domestic transmissions stay at zero
Border Control
June 22: Visitors to Taiwan increase as doors open to business travelers
June 24: Taiwan to partially reopen to transit passengers Thursday
June 24: Taiwan to allow foreign nationals to apply for non-tourist entry
June 30: Taiwan excluded from EU's 'safe' travel list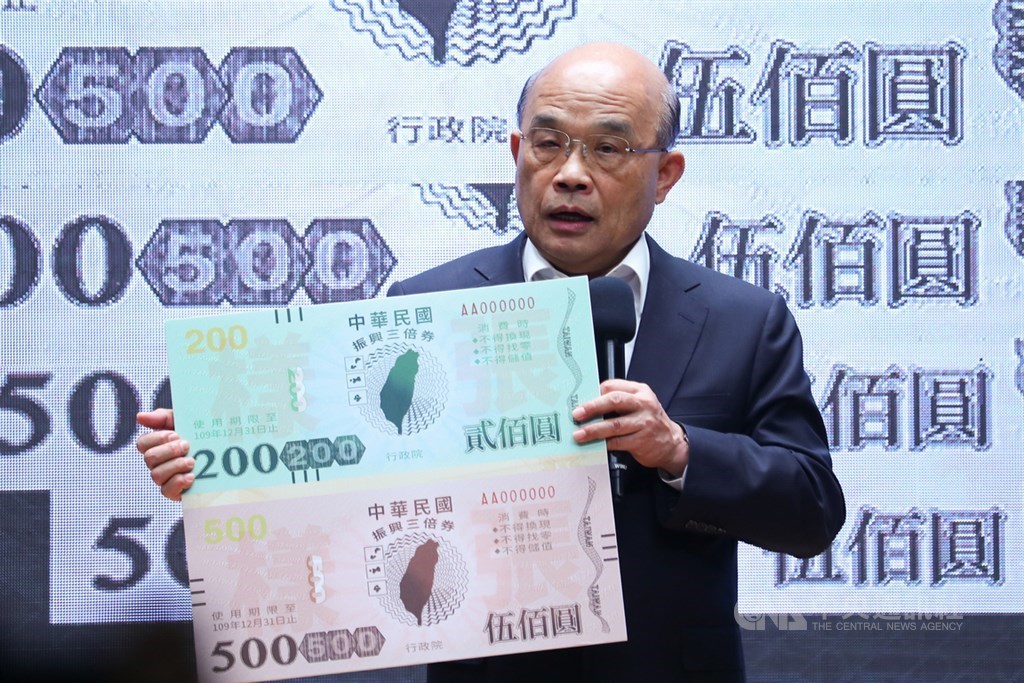 Government stimulus
May 4: Taiwan to extend aid plan to uninsured workers, farmers, fishermen
June 2: Taiwan nationals, foreign spouses to receive stimulus vouchers
June 29: Cabinet highlights pre-ordering, digital format of stimulus vouchers
Tests, treatments abd vaccine development
June 3: Taiwan may enter clinical trials for COVID-19 vaccine by year-end: CECC
June 10: Researchers planning to sell Chinese medicine for COVID-19
June 29: COVID-19 patient recovers with help of rheumatoid arthritis drug
June 30: Taiwan scientists develop rapid test for potential severe COVID-19 cases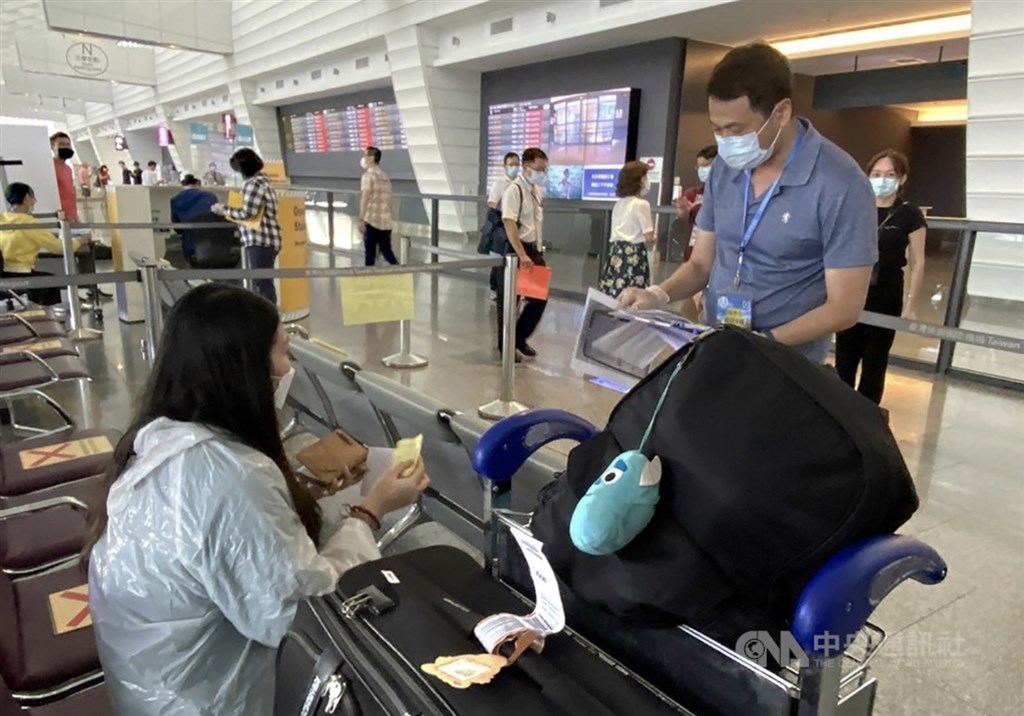 From July 1
July 1: Over 20,000 complete pre-ordering of vouchers in 5 minutes
July 1: Taipei sees largest growth in furloughed workers in late June
July 1: CECC reports no new cases of COVID-19, keeping total at 447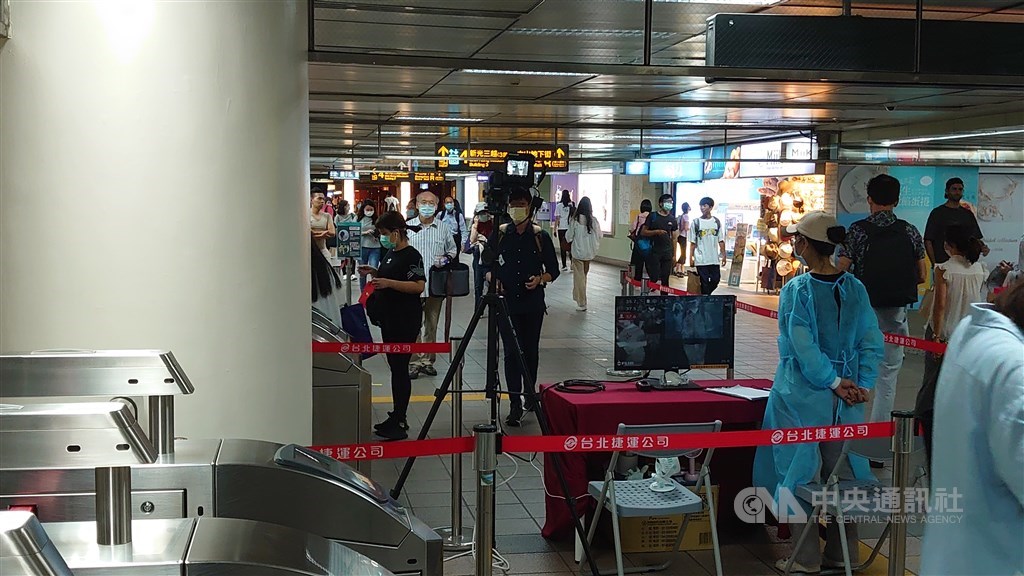 July 2: Taiwanese man tests positive for COVID-19 on return from Mexico
July 2: Taiwan adjusts rules on COVID-19 testing of foreign travelers
July 2: Taipei airport launches fake flights to revive travel interest
July 2: Taiwan cancels this year's William Jones Cup due to COVID-19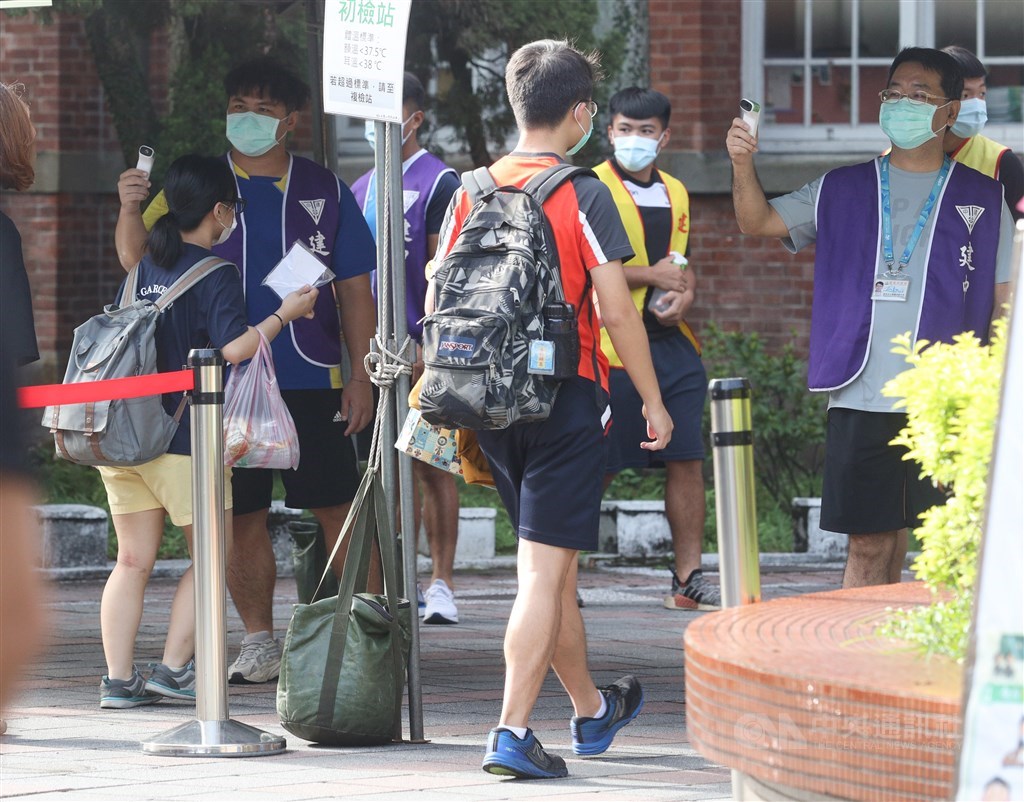 July 3: Taiwan records new COVID-19 case for second day this week
July 4: U.K. includes Taiwan among its safe travel corridors
July 4: Rollout of Taiwan's new eID card unlikely this year: interior ministry
The postponed Baishatun Matsu pilgrimage begins in the early hours on July 5.
July 5: Baishatun Matsu pilgrimage begins with thousands in attendance
July 5: Local tourism sector readjusting to COVID-19 world
July 5: Filipino transit traveler did not contract COVID-19 in Taiwan: CECC
July 6: Health experts push COVID-19 testing for all inbound passengers
July 6: German companies in Taiwan troubled by travel bans: survey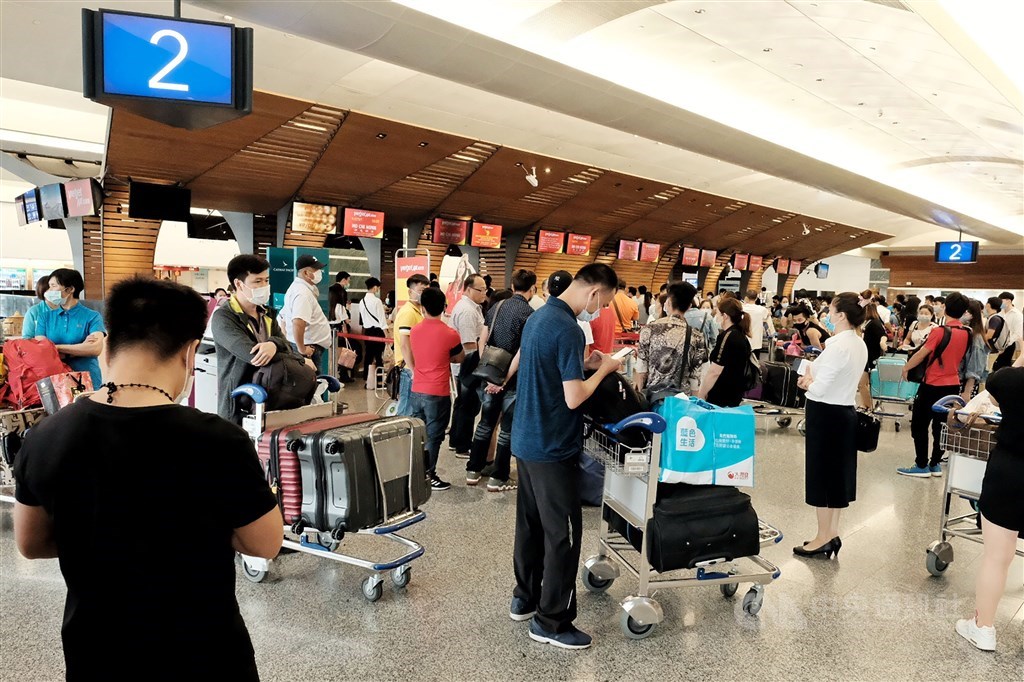 July 7: 240 Vietnamese repatriated from Taiwan on second charter flight
July 7: Taiwan's June exports shrink due to COVID-19 pandemic
July 7: FDA considers NT$1bn for clinical trials of COVID-19 vaccines
July 10: Taiwan reports two new imported COVID-19 cases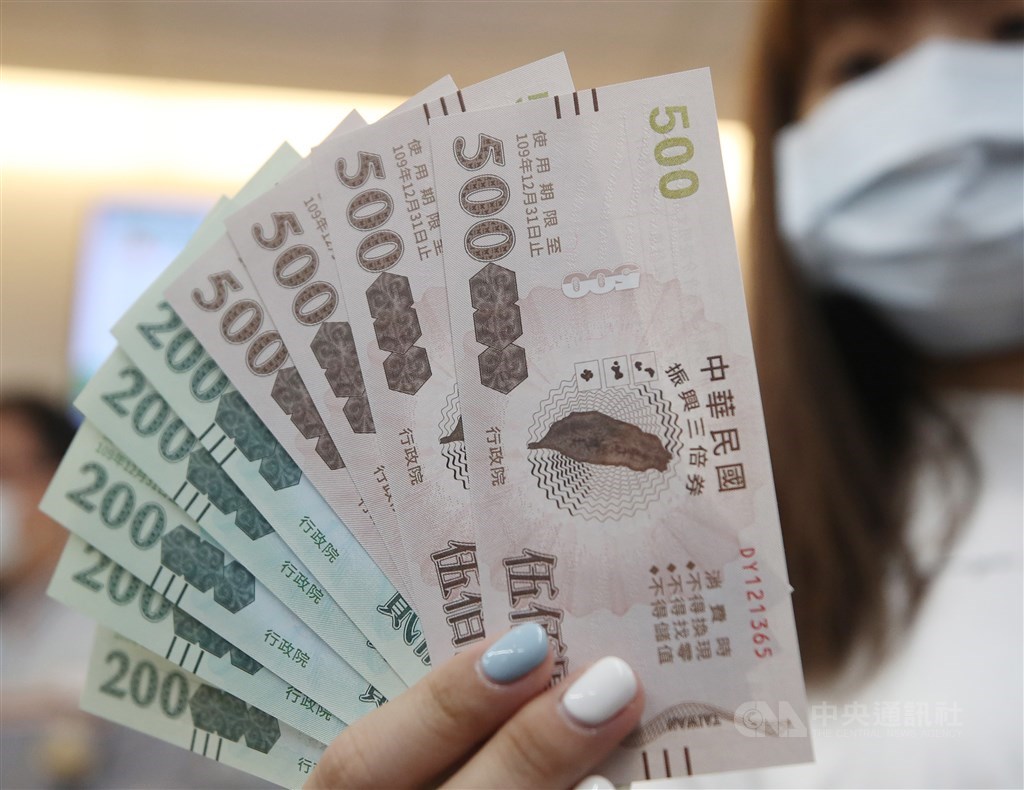 July 15: Post office voucher collection gets off to smooth start
July 15: Taiwan sees no new COVID-19 cases, mulling easing test rules
July 15: Taiwan to allow return of young Chinese children with residence permits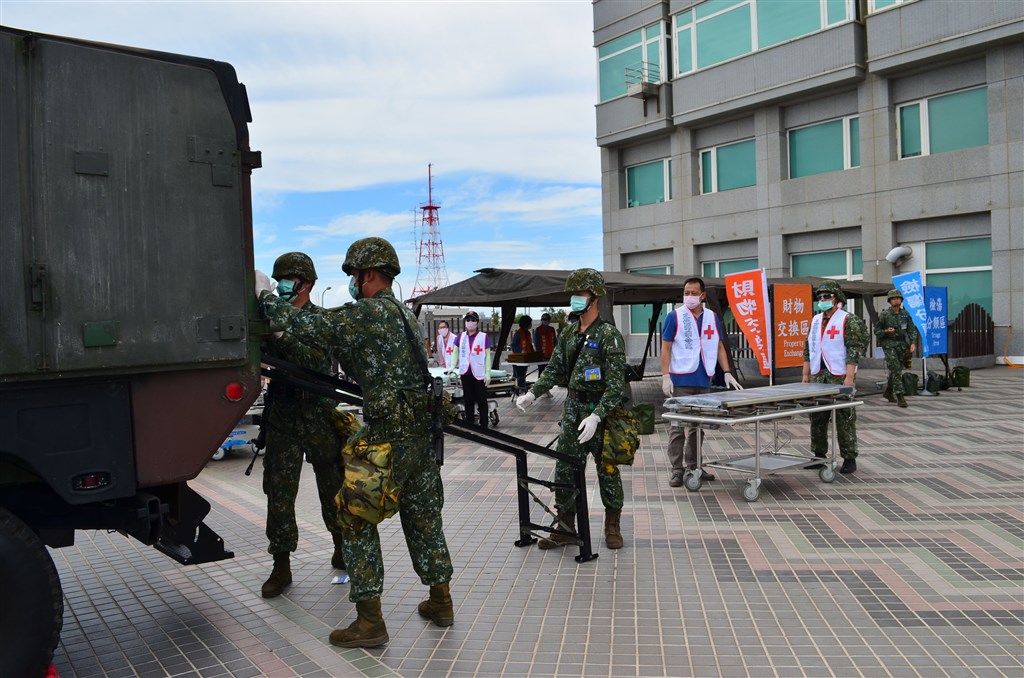 July 16: One new imported case of COVID-19 recorded in Taiwan
July 17: Taiwan records two new imported cases of COVID-19
July 17: Taiwan allows fifth extension of stay for foreign visitors
July 19: Taiwan records fourth imported COVID-19 case in four days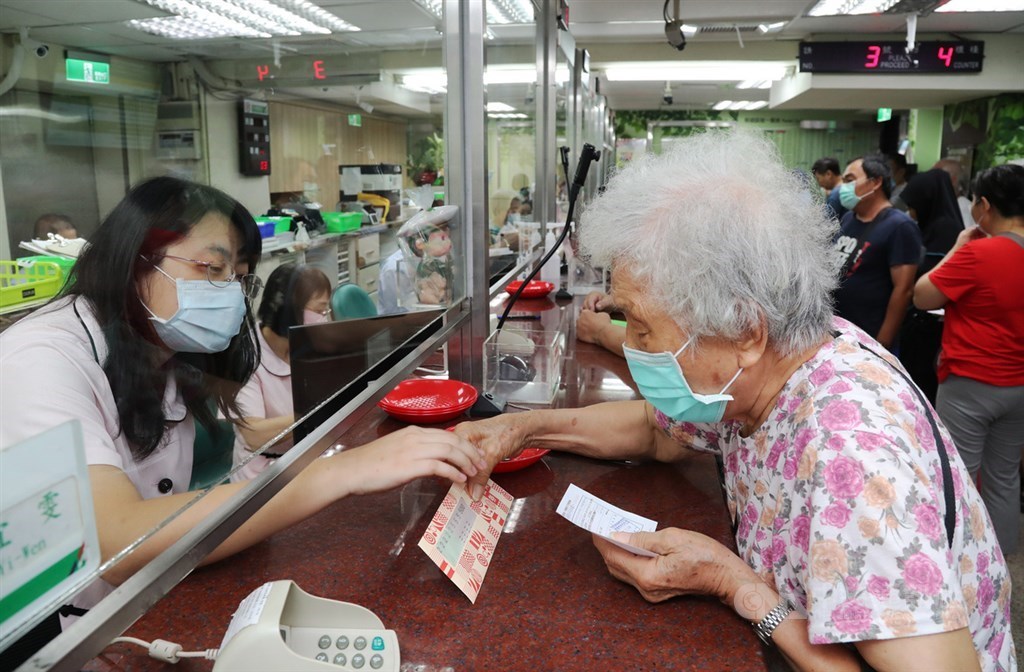 Economic stimulus measures:
July 18: Stimulus vouchers being scooped up in Taiwan
July 21: Over 2.1 million people in Taiwan win cultural vouchers
July 21: 1.35 million register for sports spending vouchers
July 22: Taiwan reaches 101 days with no new local COVID-19 cases
July 23: Cabinet presents additional NT$210 billion budget for COVID-19 relief
July 24: Three new imported COVID-19 cases reported in Taiwan
July 24: Government to subsidize COVID-19 vaccine clinical trials: CECC
July 24: Taiwan extends suspension on all overseas tours until end of August
July 27: Four more imported COVID-19 cases confirmed in Taiwan: CECC
July 27: Thai national found to have COVID-19 after returning from Taiwan
July 27: Taiwan scrambles to trace possible domestic COVID-19 case contacts
July 28: Taiwan records five new imported COVID-19 cases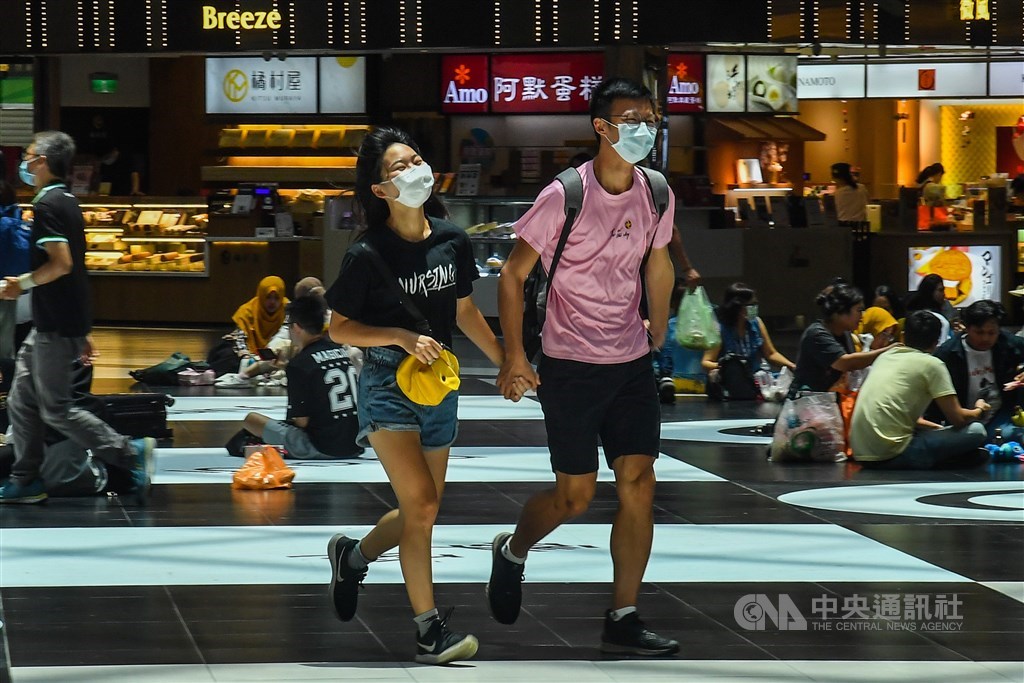 July 29: No need to test all arrivals in Taiwan for COVID-19: CECC
July 29: 2020 Yonex Taipei Open badminton tournament canceled
Aug. 1: Taiwan reports 7 new COVID-19 cases, one case still a mystery
Aug. 2: Taiwan sees new COVID-19 case while following-up on mystery case
Aug. 4: Taiwan records new COVID-19 case from the Philippines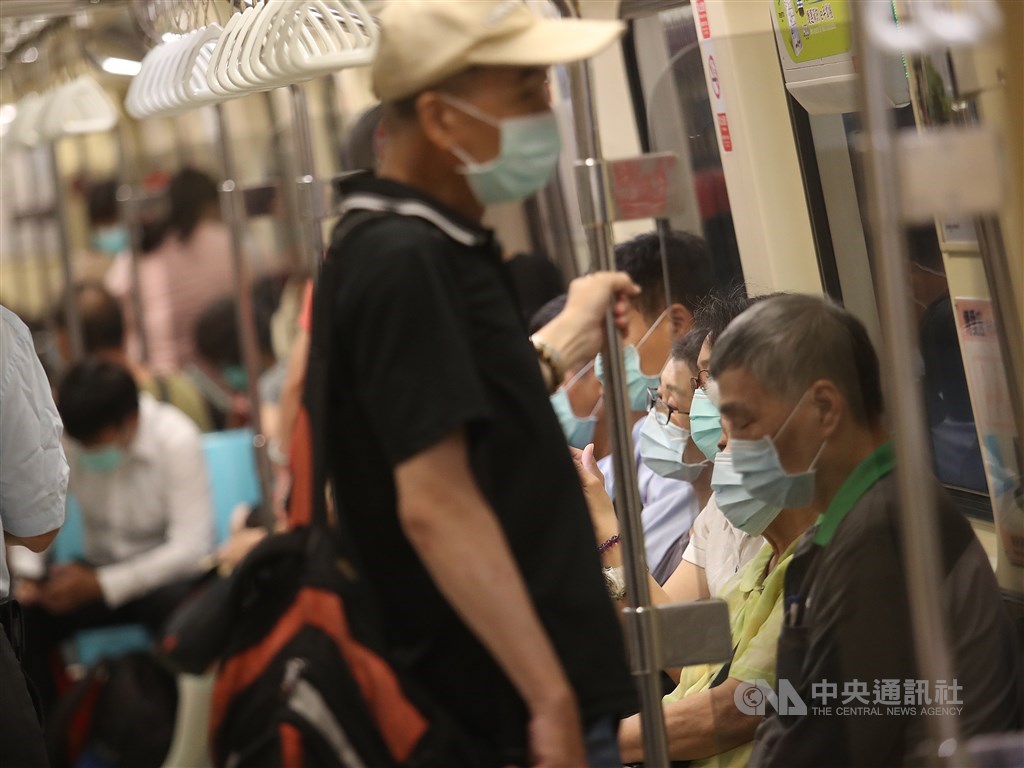 Aug. 5: Japanese engineer diagnosed with COVID-19 after working in Taiwan
Aug. 5: Cities again mandate mask-wearing in indoor spaces as virus resurges
Aug. 6: Man tests positive for COVID-19 after contact with positive returnees
Aug. 6: Taiwan authorities tracing contacts of Taiwanese COVID-19 patient in HK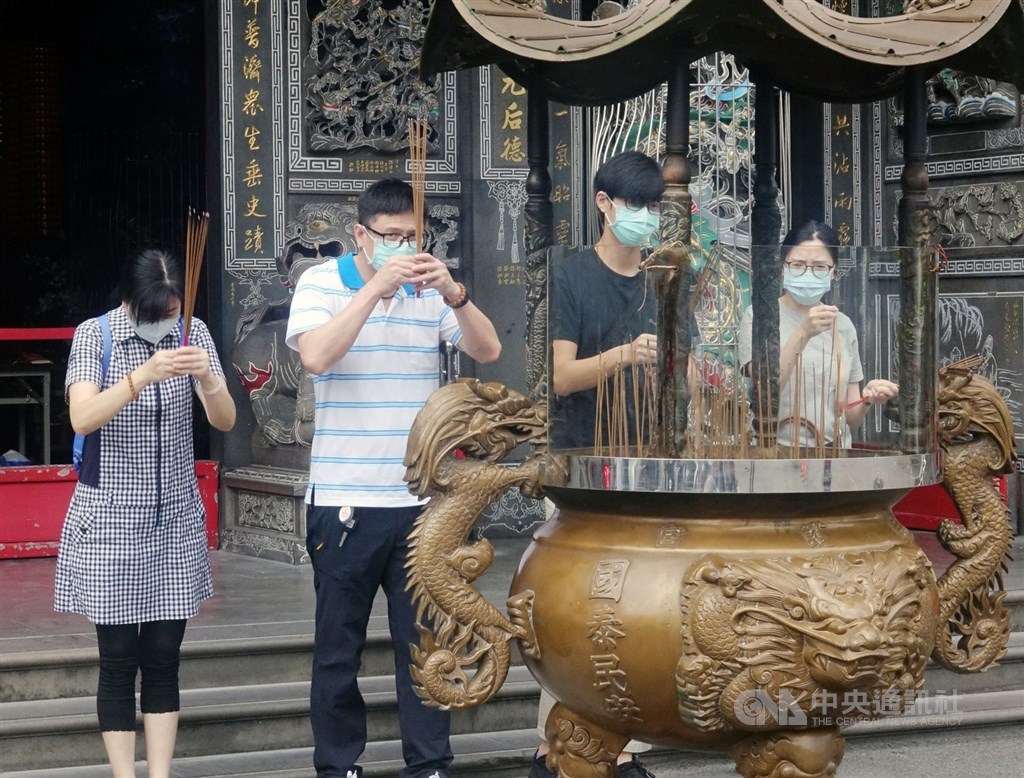 Aug. 7: Taiwan office in France confirms another COVID-19 case: MOFA
Aug. 7: U.S. lists Taiwan as very low-risk destination for COVID-19
Aug. 9: Positive cases found in mass local COVID-19 antibody test: experts
Aug. 9: Arrivals from Philippines to be collectively quarantined amid new case
Aug. 9: No community outbreak despite positive antibodies in Changhua: CECC
U.S. Secretary of Health and Human Services Alex Azar meets President Tsai Ing-wen on Aug. 10 during his visit to Taiwan.
Aug. 12: Taiwan reports new COVID-19 case, reclassifies Vietnam disease risk
Aug. 15: Taiwan sees new COVID-19 case imported from Philippines
Aug. 15: CECC seeking info on man diagnosed with COVID-19 after leaving Taiwan
Aug. 15: Taipei MRT introduces mask vending machines 
Aug. 16: Two new imported COVID-19 cases recorded in Taiwan
Aug. 18: Yunlin man breaks home quarantine, caught at local karaoke club
Aug. 18: Taiwan reports new COVID-19 case, updates status of Malaysian case
Aug. 19: CECC looking into 3 COVID-19 cases that Taiwan may have exported
Aug. 20: Adimmune gets green light to start human trials of COVID-19 vaccine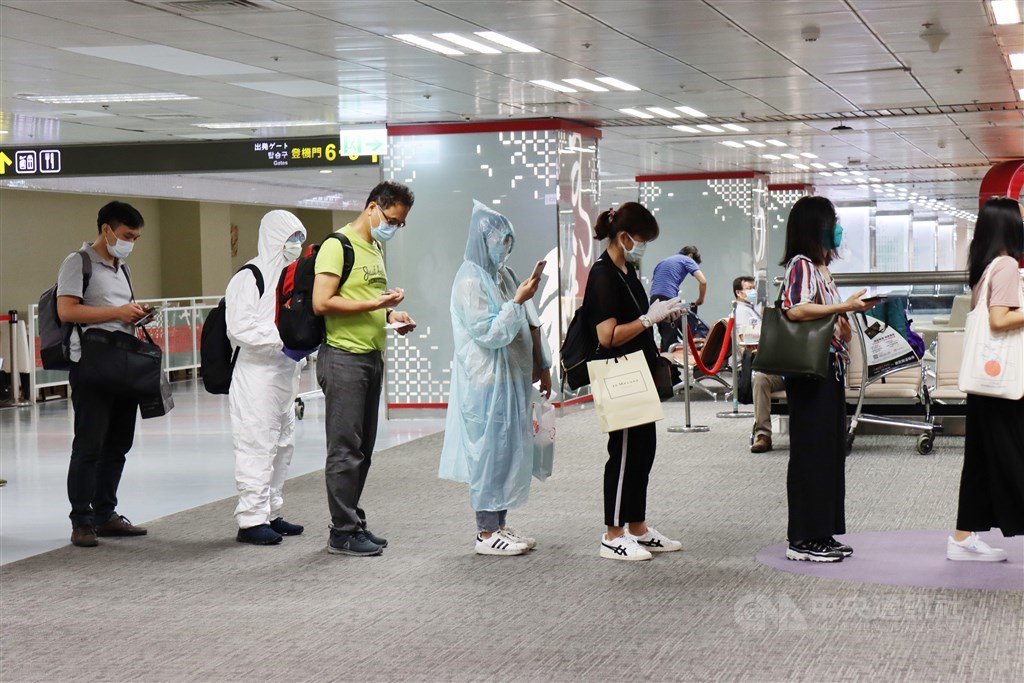 Aug. 22: Taiwan reports new imported case of COVID-19
Aug. 24: Shanghai reports imported COVID-19 case from Taiwan
Aug. 26: CECC to fine non-mask wearers if serious COVID-19 outbreak occurs
Aug. 27: Adimmune starts COVID-19 vaccine trial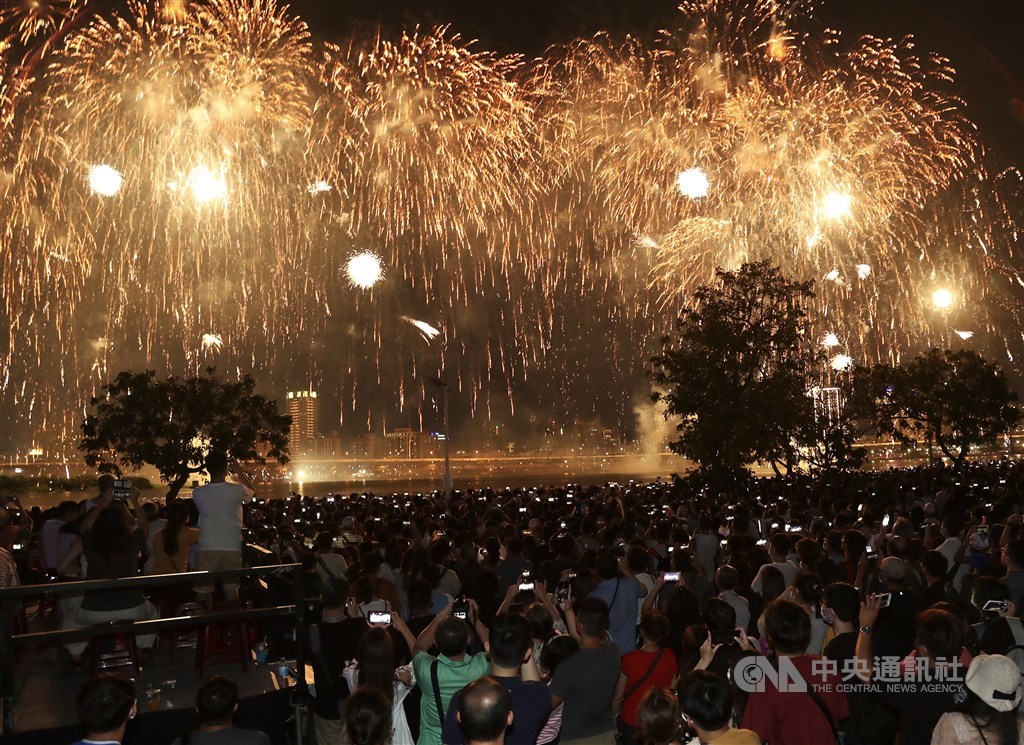 Aug. 29: Taiwan confirms new imported case of COVID-19
Sept. 2: Taiwan sees new imported COVID-19 case, reclassifies Myanmar risk
Sept. 5: Taiwan confirms two new imported COVID-19 cases
Sept. 6: Taiwanese businessman has COVID-19 after leaving Philippines
Sept. 8: Taiwanese tests positive for COVID-19 after returning from France
Sept. 9: Taiwan's envoy to share COVID-19 success at French Senate
Sept. 11: New Taipei company owner fined NT$1 million for quarantine violation
Sept. 11: Taiwan reports 2 imported cases of COVID-19 from the Philippines
Sept. 12: Taiwan disproves 'health or economy' COVID-19 argument: study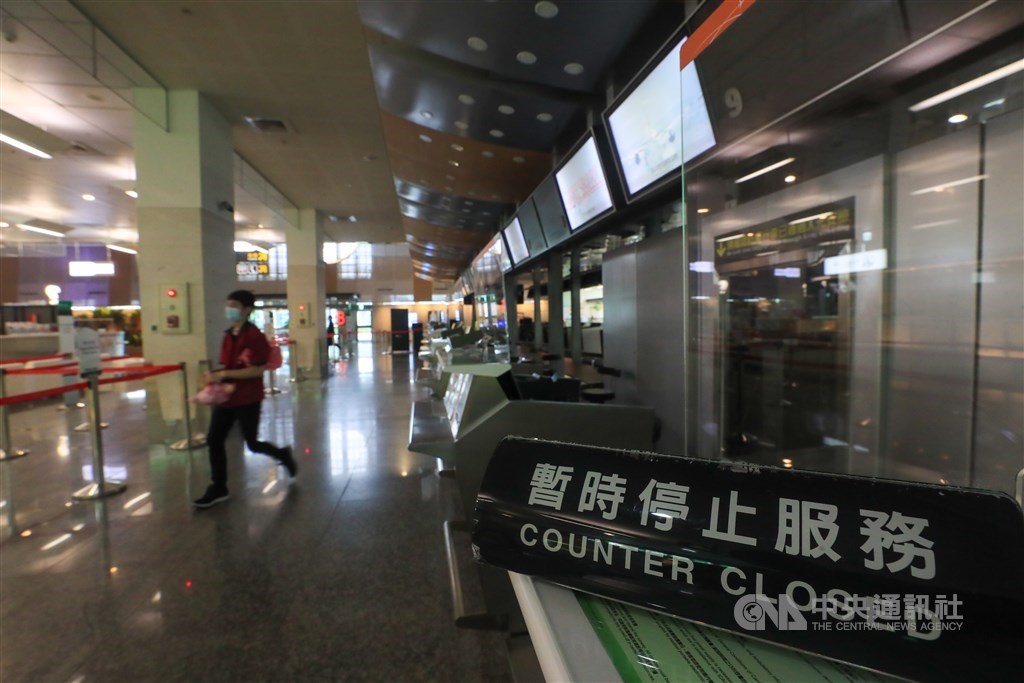 Sept: 16: Number of total comfirmed COVID-19 infactions in Taiwan hits 500 
Sept: 16: Six Filipinos test positive for COVID-19 after leaving Taiwan
Sept. 16: Taiwan businesses help Saint Lucia deal with COVID-19 fallout
Sept. 17: Taiwan reports three new imported cases of COVID-19
Sept. 19: Taiwan confirms 3 new imported cases of COVID-19
Sept. 20: One new imported COVID-19 case brings total in Taiwan to 507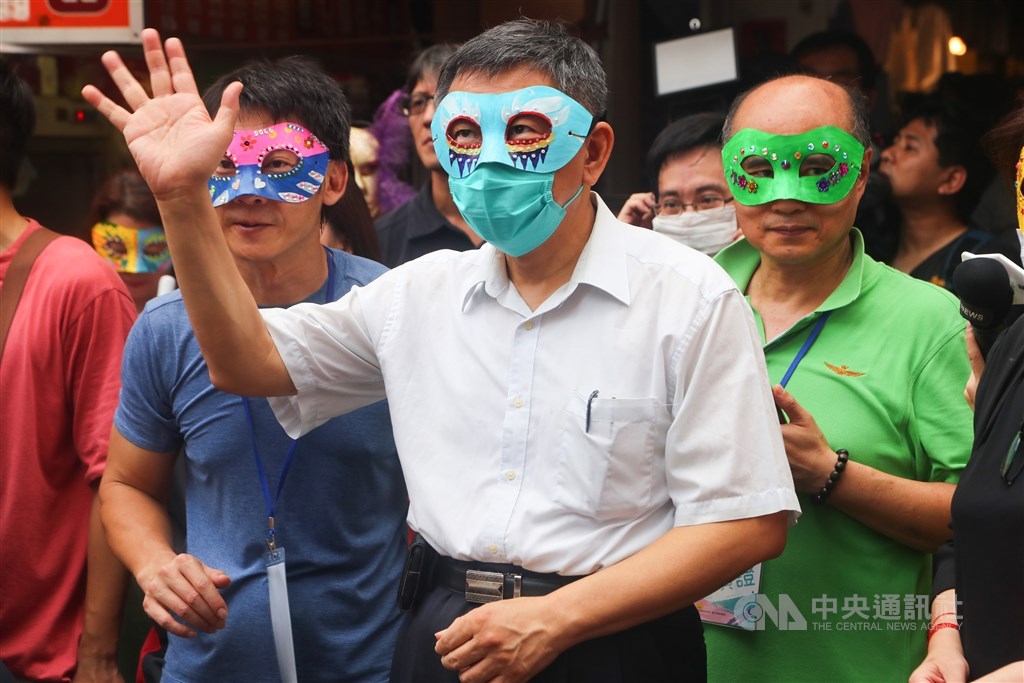 Sept. 21: Two new imported COVID-19 cases reported in Taiwan
Sept. 25: Taiwan reports new imported case of COVID-19
Sept. 28: Three new imported cases of COVID-19 reported in Taiwan
Sept. 30: Third Taiwanese COVID-19 vaccine candidate authorized for human trials
Sept. 30: French national tests COVID-19 positive after quarantine release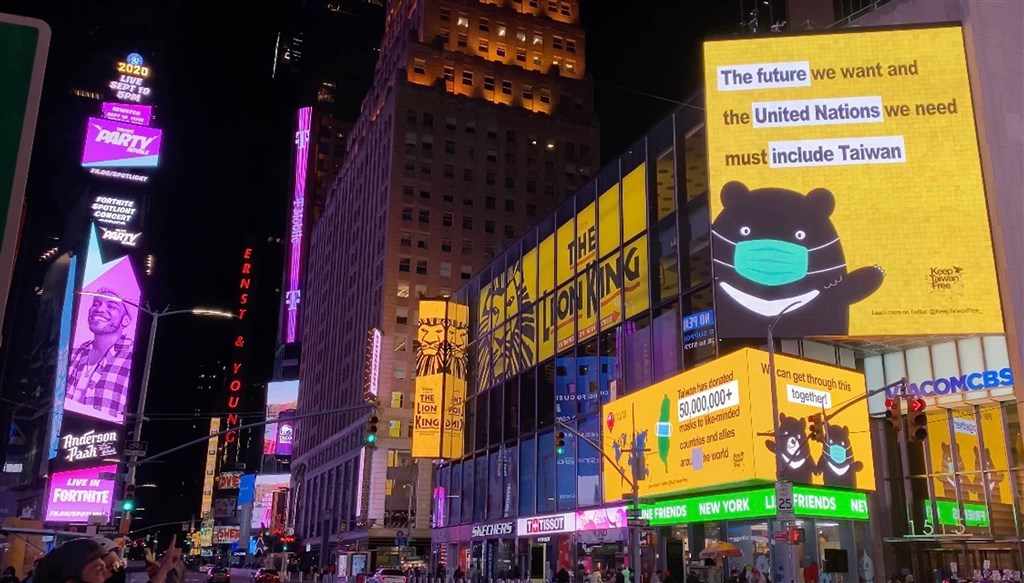 Oct. 1: One new imported COVID-19 case reported in Taiwan
Oct. 2: Taiwan reports two new imported cases of COVID-19
Oct. 3: Cruise ship outbreak decisive in Taiwan COVID-19 policy: health minister
Oct. 5: Taiwan records one new imported case of COVID-19
Oct. 5: Free flu shots now available in Taiwan for high-risk groups
Oct. 6: Taiwan confirms three new imported cases of COVID-19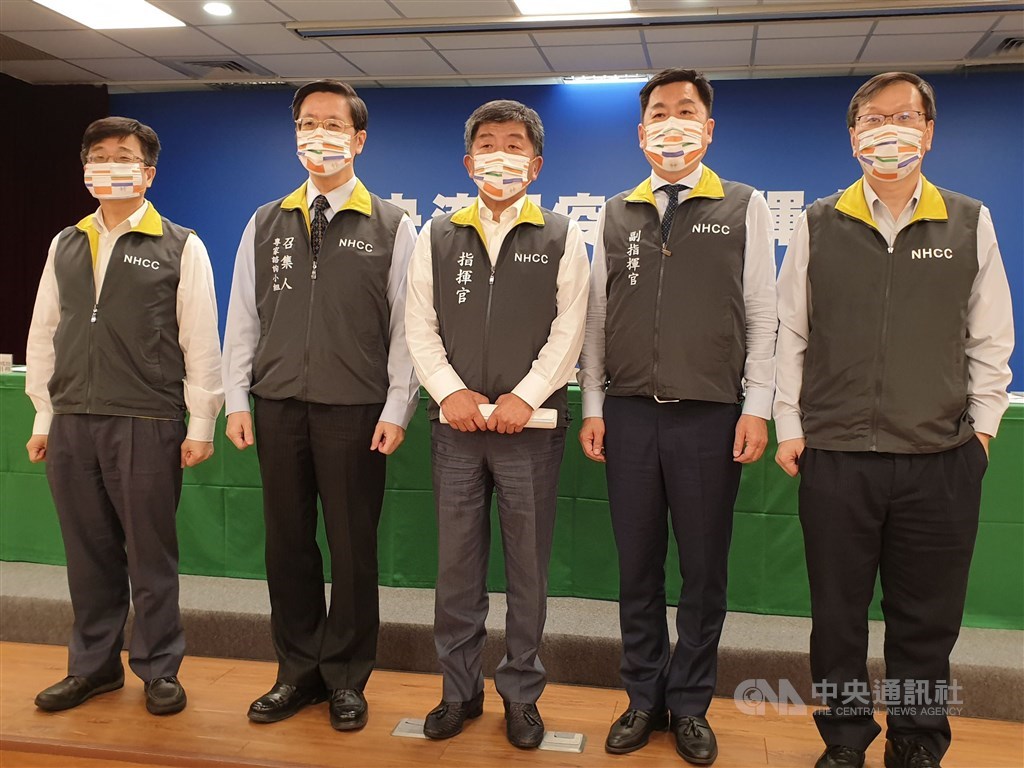 Oct. 7: Two new imported COVID-19 cases reported in Taiwan
Oct. 7: CECC eases quarantine rules for people to attend funerals
Oct. 8: Taiwan reports one new imported case of COVID-19
Oct. 9: Three new imported COVID-19 cases recorded in Taiwan: CECC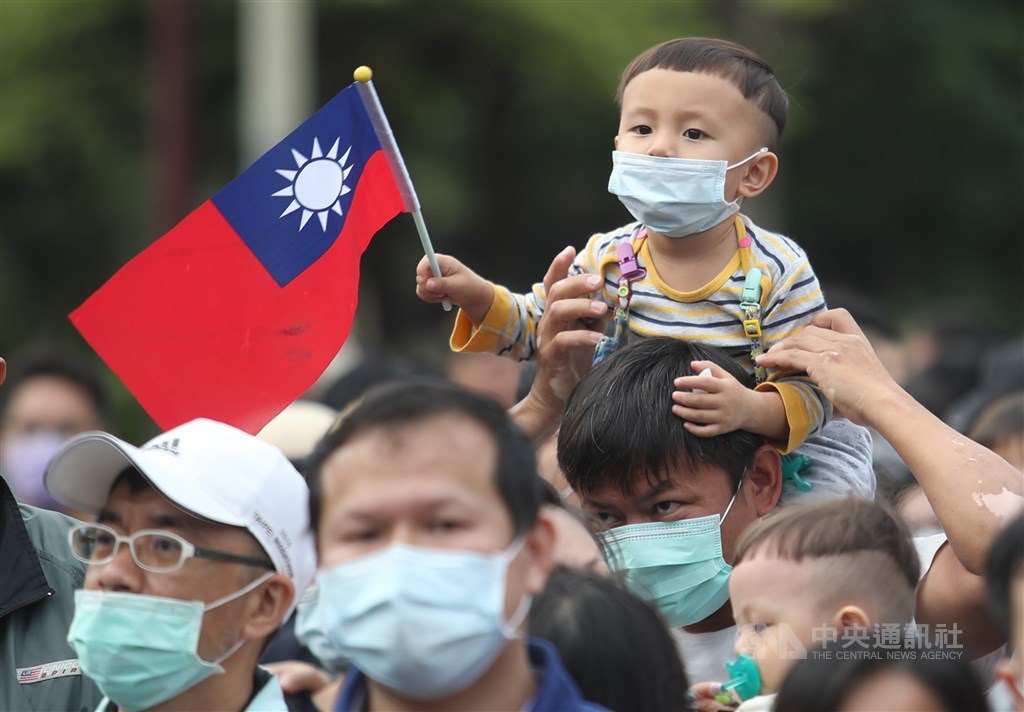 Oct. 12: Two new imported COVID-19 cases reported in Taiwan
Oct. 13: Taiwan confirms first imported COVID-19 case from China in 8 months
Oct. 14: 3 arrivals from Taiwan test positive for COVID-19 in Japan
Oct. 15: Taiwan reports one new imported case of COVID-19
Oct. 16: Taiwan records four new imported COVID-19 cases
Oct. 16: Travel agency opens gym to diversify business amid COVID-19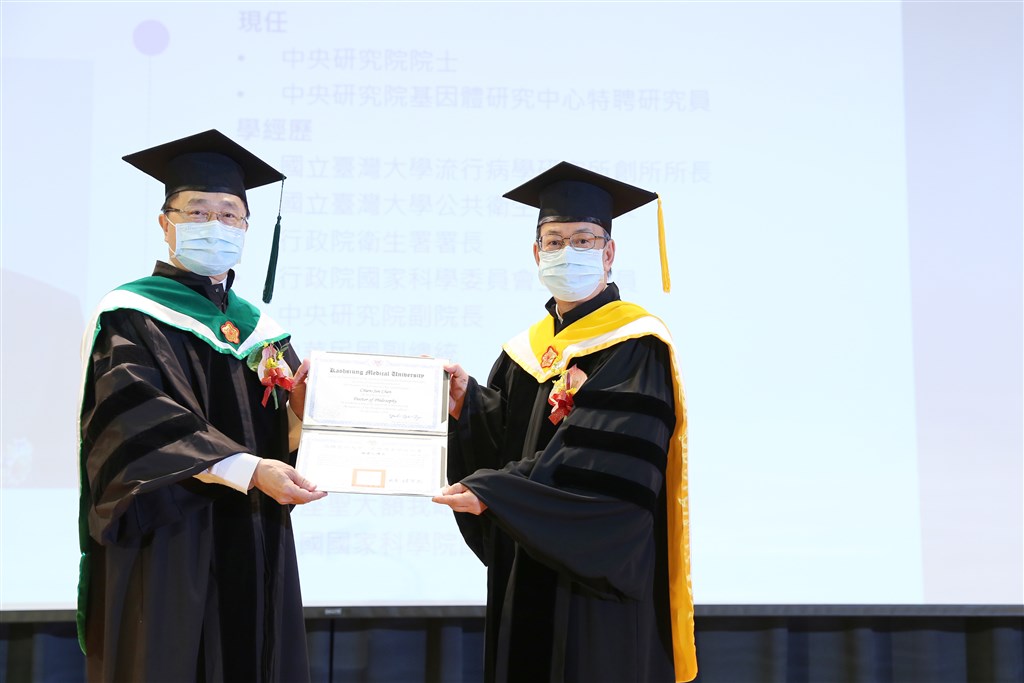 Oct. 19: Five new imported COVID-19 cases recorded in Taiwan
Oct. 19: Post-COVID-19 health care policy proposal submitted to president
Oct. 20: Taiwan records three new COVID-19 cases from Philippines
Oct. 21: Three Taiwanese test positive for COVID-19 in Japan
Oct. 22: Taiwan records 4 new imported COVID-19 cases
Oct. 23: Legislature passes new special budget for economic relief, stimulus
Oct. 27: Taiwan researchers develop multi-functional COVID-19 rapid test
Oct. 28: CECC reports 1 new COVID-19 case; 3 test positive after leaving
Oct. 29: Taiwan reports 3 COVID-19 cases, marks 200 days without local infection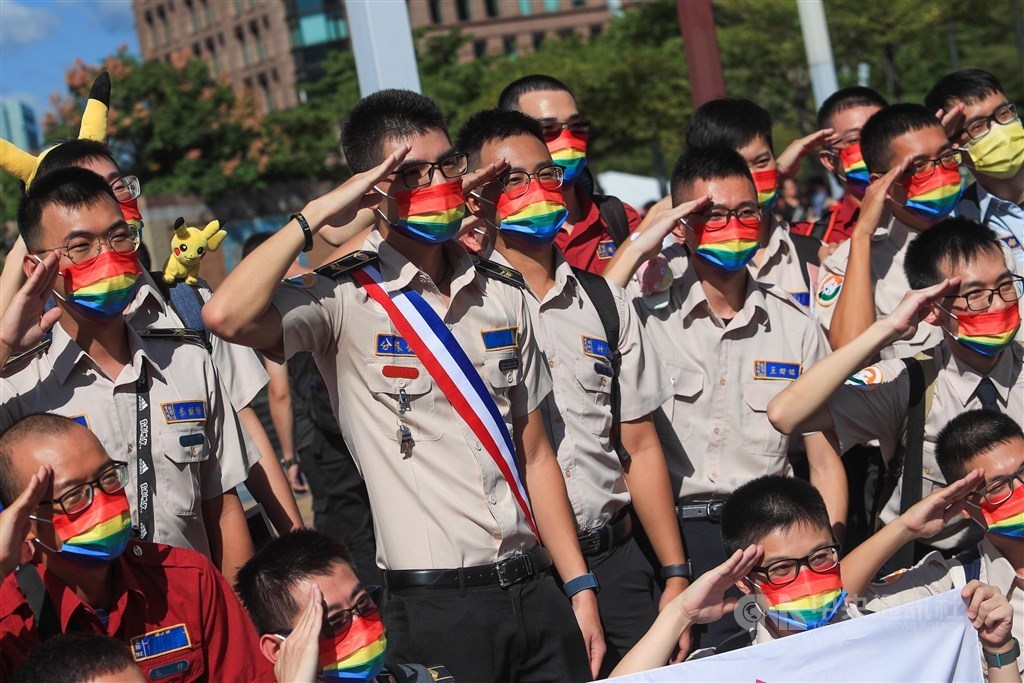 Oct. 31: Taiwanese returning from India latest confirmed COVID-19 patient
Nov. 1: Taiwan reports 3 new imported COVID-19 cases
Nov. 1: Visitors to travel fair drop by 50 percent due to COVID-19
Nov. 2: Five foreign nationals test positive for COVID-19 in Taiwan
Nov. 2: Taiwan company to enroll Vietnamese nationals in COVID-19 vaccine trial
Nov. 3: Four students in Taiwan test positive for COVID-19
Nov. 4: Taiwanese woman back from Poland tests positive for COVID-19
Nov. 5: Taiwanese student tests positive for COVID-19 on return from Czech
Nov. 6: Taiwan records four new imported case of COVID-19
Nov. 7: Doctors recognized for contributions in fight against COVID-19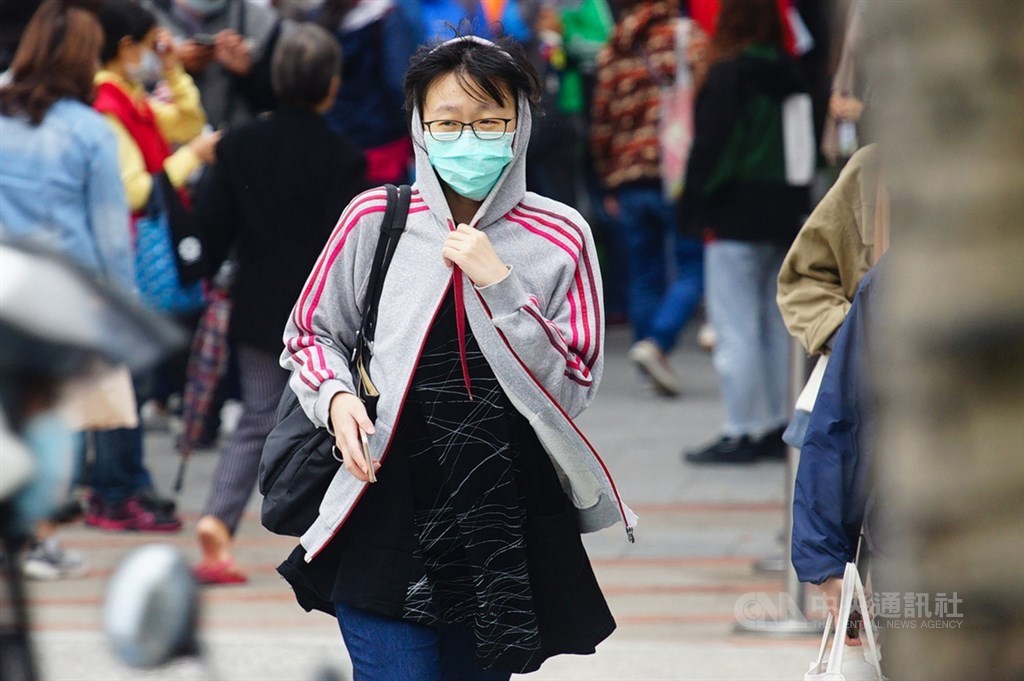 Nov. 8: Four new imported cases of COVID-19 recorded in Taiwan
Nov. 9: Taiwan records one new imported case of COVID-19
Nov. 10: Two Indonesian women test positive for COVID-19 in Taiwan
Nov. 10: Taiwan could buy Pfizer-BioNTech vaccine through COVAX: CECC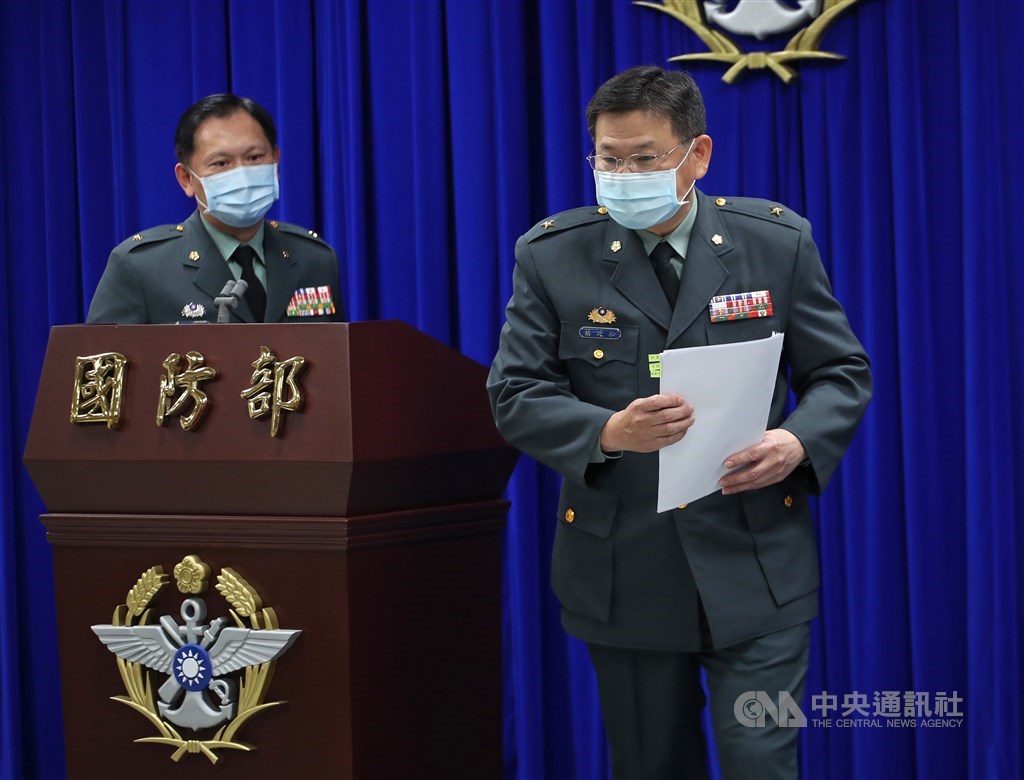 Nov. 11: Taiwan approves first 'economic bubble' visit
Nov. 11: Yo-Yo Ma praises Taiwan's COVID-19 measures in live Taipei concert
Nov. 11: Taiwan reports four new imported cases of COVID-19
Nov. 11: CECC recruiting 20,000 volunteers for COVID-19 vaccine trials
Nov. 14: Taiwan's COVID-19 cases hit 600 with confirmation of 3 new ones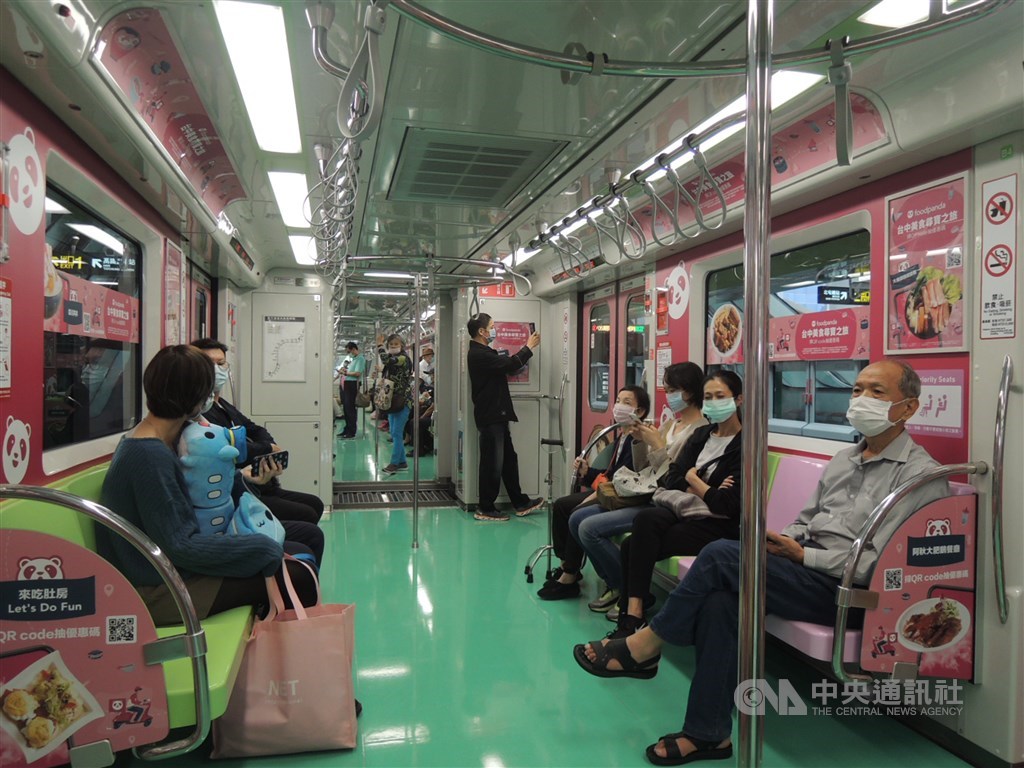 Nov. 17: Man in Taiwan tests positive for COVID-19 for second time: CECC
Nov. 17: COVID-19 vaccine may become available in Taiwan by mid-2021: CECC
Nov. 18: Indonesian migrant workers face new quarantine rule
Nov. 18: Taiwan records two new imported cases of COVID-19, announces winter measures
For latest COVID-19 information: Taiwan Centers for Disease Control
View All