Setting sun alignment photo-ops forecast for Nantou, Kaohsiung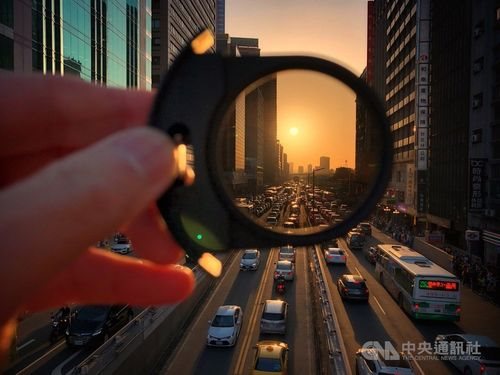 Taipei, Nov. 9 (CNA) The sunset will align with streets in Nantou and Kaohsiung over the weekend, the Central Weather Bureau (CWB) said Friday, in a release detailing its fourth forecast of sun alignments across the country this year.
The bureau said the sun alignment in Nantou County, central Taiwan, will take place on Minzu Road (west of Nanyang Road) on Saturday and Sunday, between 4:46 p.m.- 5:06 p.m. and 4:48 p.m.-5:08 p.m., respectively.
In southern Taiwan's Kaohsiung City, the phenomenon will occur during the same time on Cingnian 1st Road (west of Minquan 1st Road).
The best time to take a photo, weather permitting, is in the middle of the 20-minute period each day, the bureau added.
The CWB will also hold an event via its app to solicit photos of the views, including when and where they were taken, to improve its ability to forecast setting sun alignments in the future.
Such occurrences, which often take place on east-west roads in a city's main street grid, has drawn increased interest in recent years as local residents share the information online, attracting large numbers of photographers hoping to capture the view.
There were two such major events earlier this year, in Chiayi and Taichung cities in central Taiwan and in Taipei.
The bureau cautioned that people hoping to photograph the moment should wear dark glasses to protect their eyes.
It said it will continue to compile information from members of the public and run astronomical data to provide similar forecasts in the future.