Food delivery platforms fined for 'poor safety management'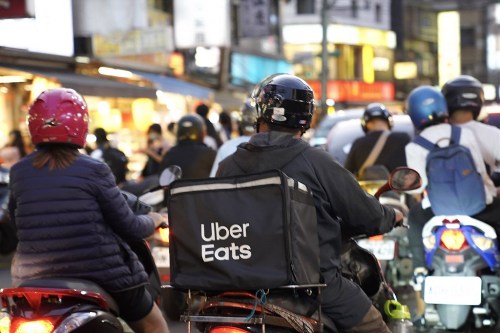 Taipei, Oct. 15 (CNA) The three food delivery companies that claim to be contractors rather than employers as defined by the traditional labor-management framework were fined NT$9,000 (US$293) each for poor management of food courier traffic safety, the Directorate General of Highways under the Transportation Ministry said Tuesday.
The administration said Foodpanda, Uber Eats and Lalamove, which have permission to operate or partner with local commercial automobile services, have violated the Regulations for Automobile Transportation Operators by failing to introduce proper training and management policies to ensure safe working conditions.
The companies must make improvements or face fines of up to NT$90,000, the administration said, adding that it will continue to conduct labor inspections at other food delivery platforms, amid scrutiny of labor laws after the deaths of two delivery men.
Questions have been raised about the labor practices of the food delivery platforms after Uber Eats and Foodpanda delivery people were killed in separate traffic accidents last week.
The Labor Ministry claimed the previous day that food couriers working at those companies, who are deemed contract workers and therefore do not qualify for the benefits to which employees are entitled, should be considered employees.
However, although the ministry insisted those companies must provide labor insurance, it failed to indicate on which law its assertion was based.
Moreover, there were mixed reactions from couriers in the industry to the ministry's move.
Some said it is good that the government is stepping in to better protect their rights, while others expressed concern that if the operational costs of the platforms increase due to labor insurance coverage, they could cut bonuses.
A Foodpanda courier surnamed Wu (吳) said he felt that the current looser work relationship should be maintained as the companies have urged because he is concerned about changes being made to the bonus system, which is the primary reason he took the job.
There are other ways individuals can get labor insurance, including through labor unions, he said.
On Oct. 10, a 29-year-old Foodpanda delivery man surnamed Ma (馬) was killed when his scooter collided with a truck driven by a 25-year-old man surnamed Tseng (曾) at 11 p.m. in Taoyuan, police said.
Three days later, a 20-year-old food courier for Uber Eats surnamed Huang (黃) was killed after his scooter was rammed by a car in Taipei's Shilin District at around 6 p.m.
Food delivery is seen as a high risk job in which couriers rush through traffic to make more deliveries and increase earnings, particularly on the streets of Taiwan, where wide use of scooters contributes to a complex traffic situation.