Filipino, Indonesian fishermen recount how they survived bridge collapse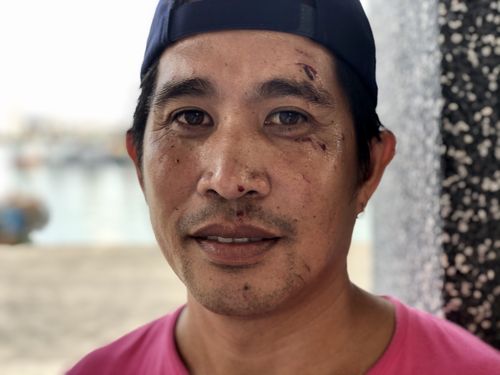 Taipei, Oct. 3 (CNA) Filipino and Indonesian fishermen injured when their fishing boats were crushed by the collapse of a bridge in Yilan Tuesday shared with CNA how they escaped serious injury and worse on Thursday.
The bridge above the entrance to the port of Nanfang'ao collapsed at around 9:30 a.m. Tuesday, crushing three fishing boats, which carried about 20 migrant fishermen at the time.
One of the injured who was discharged from hospital Thursday, 37-year-old John Vincente Royo from the Filipino province of Romblon, said he was able to jump off his boat because he was on the deck.
John Vincente Royo
"I heard loud noises above me coming from the bridge when I was working on the deck. The bridge started to collapse and I ran to the back of the ship and jumped into the water to be pulled up later by another boat in the area," he said.
The whole ordeal happened very fast, taking only seconds, he said, adding that he still feels scared.
Royo said he is grateful to be alive because he has three children aged between 10 and 15 in the Philippines.
However, he lost all his belongings, including his passport, wedding ring, and cash savings of up to NT$10,000 (US$324) because he lived on the boat, Royo said.
Meanwhile, 46-year-old Indonesian Miswan from Central Java said he was pulled onto land from his boat because it was docked next to the pier at the time.
"Even though I am lucky to be alive, I have co-workers who have died and a friend who is traumatized to the point he is still unable to speak," he said. Miswan suffered gashes to his back.
Miswan
Ministry of Transport and Communication Political Deputy Minister Huang Yu-lin (黃玉霖, center) with injured Indonesian and Filipino fishermen
Vice Premier Chen Chi-mai (陳其邁, left) comforts a traumatized Indonesian fishermen
Jiang Rong-hua (江榮華), the Taiwanese captain of one of the boats, said he treats each crew member as family and feels deeply sad that fishermen died on his boat.
"I have been taking fishermen out to sea for decades and never lost anyone. But now I feel very sad because I have lost people while in the harbor," he said, adding that he was driving to the harbor at the time of the accident.
The six victims are 29-year-old Indonesian Wartono, 44-year-old Filipino Andree Serencio, 32-year-old Indonesian Ersona, 46-year-old Filipino George Impang, 28-year-old Indonesian Mohamad Domiri, and 29-year-old Filipino Romulo Escalicas, according to the Yilan Emergency Operation Center.