Mass held for fishermen who died in Yilan bridge collapse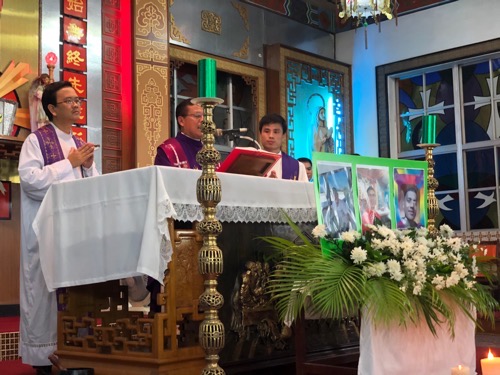 Taipei, Oct. 3 (CNA) Local Filipino migrant fishermen attended a mass at a Catholic church in Yilan Thursday to pray for compatriots who died when the boats they were on board crushed under a collapsed bridge in the county.
About 50 Filipino fishermen recited passages and hymns from the Bible for three of their friends who died Tuesday when the bridge above the entrance to the port at Nanfang'ao collapsed and crushed three fishing boats at around 9:30 a.m that day.
A total of six migrant fishermen, three Filipinos and three Indonesians, were killed in the incident.
Father Toto Bula, who served in Yilan's Nanfang'ao between 2011 until earlier this year was invited by the local community to preside over the mass, which was held at Holy Trinity Catholic Church Suao.
The Filipino victims of the bridge collapse were 44-year-old Andree Serencio, 46-year-old George Impang, and 29-year-old Romulo Escalicas, according to the authorities.
Jose Toquero, president of the Illongo Seafarer's Organization (ISO), which brings together Filipino fishermen in Yilan and who served as one of the alter servers, told CNA that he is truly saddened by the deaths.
"I see some of them nearly everyday after work at the ISO, and now suddenly I was told they are dead," he said.
Fernando Tabor, 39, from the region of Bicol in the Philippines, who survived said that he and the other crew miss their colleagues and hope the mass helps those who are still traumatized.
"I am lucky to be alive because my boat was closest to land when we were refueling and I was able to jump off the boat onto land when the bridge started to come down," he said.
Meanwhile, 39-year-old Adones Geguira from the Philippine city of Iloilo thanked God for helping him survive.
"My boat was the second furthest away from land and when the bridge started to collapse, someone on the boat closest to land was able to pull me onto his boat and then onto land," he said.
The mass is one of several services held for the three dead Filipino fishermen since the collapse of the bridge Tuesday.
Father Toto Bula (left) and Father Gioan Tran Van Thiet (center)
Migrant fishermen leave mass with food and daily necessities donated by Taipei's Saint Christopher's Church and Taiwan Foreigners Service and Care Association