Deadly quake led survivor to embark on life as rescuer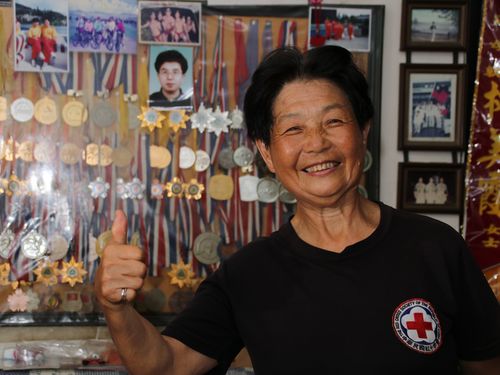 By Chang Ming-hsuan and Elizabeth Hsu, CNA staff reporter and writer
Lin Mei-shia (林美霞) still rushes to the scene when there are lives to be saved in the wake of a catastrophic disaster, wearing her Red Cross rescue uniform.
At the age of 70, Lin is the oldest female rescuer in Taiwan. She survived the devastating 921 earthquake, the magnitude-7.3 temblor that struck Jiji Township in Nantou County, central Taiwan on Sept. 21, 1999.
The earthquake left more than 2,400 people dead or missing and over 11,000 severely wounded, while some 44,000 homes were completely destroyed. The total damage has been estimated at NT$300 billion (US$9.7 billion), according to official figures.
Over the past 20 years, Lin has continued to live at her home in Puli Township. Like her, the house survived the monster quake, although it did sustain some damage.
Today, the home is decorated with photos of Lin at a younger age, along with certificates of appreciation for her volunteer services, charting a life that has been devoted to rescue missions across the nation since the 921 earthquake.
On the night when the earth trembled, Lin was in the house along with her daughter and a boy she was fostering. She grabbed the children and fled, Lin recalled.
"My daughter seemed to be in great shock and petrified. Showing signs of a nervous breakdown, she yelled: 'The Chinese Communists are coming!' and refused to leave," Lin said.
It took a great deal of effort to convince her daughter that it was an earthquake and not an air strike, she said, but after they ran out of the shaking house into the street, they saw other people scattered around, wailing and crying.
"Our neighbors, still wearing their pajamas, were trying to pull people out of the debris and rubble, while an explosion was heard from the nearby Puli Winery, triggering a fire," Lin recounted.
Fearing there could be aftershocks coming any moment, many Puli residents dared not return to their damaged homes, instead making makeshift beds of cardboard on the ground, she said.
There, alongside the road or in parks, she and her children, as well as many other survivors, stayed for over 10 days before arrangements were made for them to be settled in shelters, she said.
Lin noted that it was not until seeing rescue personnel moving between houses that could collapse at any time to search for and save survivors that she realized the importance of rescue work.
This realization prompted her, already a licensed volunteer lifeguard for the Red Cross Society, to receive training as a rescue professional, according to Lin.
(Puli Township after the 921 earthquake)
Over the past two decades, she has participated in numerous rescue missions both at home and abroad, including one in China's Sichuan Province in May 2008 following a magnitude-8 earthquake that took over 69,000 lives.
She also took part in rescue missions in the wake of Typhoon Morakot in Taiwan in August 2009, a deadly landslide in Shenmu Village in Hsinyi Township, Nantou County in June 2012, and strong earthquakes that struck southern Taiwan and Hualien County in the east in 2016 and 2018, respectively, causing severe casualties and property damage.
"The dead are unfortunate, but those who remain living (in a catastrophic disaster) suffer more," according to Lin, who is now a member of the Republic of China Red Cross Society's Nantou Branch.
In every rescue mission, she has encountered life-threatening danger, hard work and a tough environment, without even being able to take a shower for days.
What keeps her going is nothing but the faith that "it deserves all the hard work as long as I can save a life," Lin said.
"I will never give up on anyone that I can save," she said firmly.
Enditem/J