13 Taiwanese nabbed in Thailand on telecoms fraud charges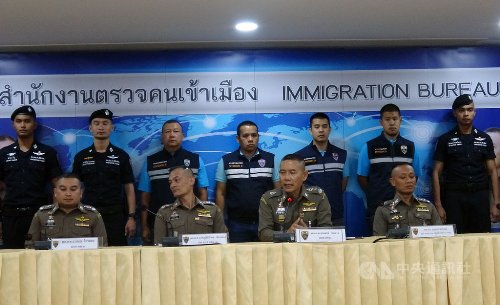 Taipei, Aug. 15 (CNA) Thirteen Taiwanese have been arrested in Thailand on suspicion of telecoms fraud, the Criminal Investigation Bureau (CIB) announced at a news conference Thursday.
A man surnamed Wu (吳) along with 12 accomplices were recently detained by the Thai authorities with the assistance of their CIB counterparts in a villa in the southern suburbs of Bangkok on information provided by victims after a six month investigation, according to the CIB.
Wu, who is believed to be a senior figure in the criminal ring, was found to have set up telecommunications equipment in the villa to conduct fraud schemes when investigative officers raided the premises, the CIB said.
An initial investigation found that the Taiwanese fraud ring allegedly swindled NT$30 million (US$955,261) from 20 people in Taiwan by posing as law enforcement and national health officials, the CIB said.
The 13 Taiwanese will be taken back to Taiwan by CIB investigators and be referred to the Taoyuan District Prosecutors' Office for further investigation, it added.
From May 2016 to Aug. 14, 2019, 244 Taiwanese were convicted of cross-border fraud crimes in foreign countries, and are currently serving their sentences in those countries, CIB statistics show.
A total of 770 fraud suspects have been deported to Taiwan, while 652 have been sent to China, the figures indicate.